Reading Time:
4
minutes
This article was updated to add a link.
ALTO XINGU, Brazil – This year, we won't celebrate Kuarup, the most important traditional ritual in Upper Xingu, the first indigenous territory demarcated in Brazil in 1961. Through Kuarup we celebrate our dead with dances, fights and painted bodies, and invite guests from the territory and beyond to participate. Eight ethnic groups get together to say goodbye to the departed. But for the first time in history, we will stay in mourning until our ritual can be performed again in the next dry season, in August 2021. Until then we will cry for the many more who will succumb to this new threat.
Well before the coronavirus reached our territories and caused its first death — a 45-day-old baby — the indigenous peoples of Brazil were facing another dangerous threat: President Jair Bolsonaro. He has made clear with his rhetoric that he is against indigenous causes and the environment, and we fear that the president will use this health crisis to let the virus spread and kill many native Brazilians, as happened with the measles outbreak in 1954, still very much alive in our memory.
We, the Kuikuro people of Upper Xingu in Mato Grosso state, are very afraid. We have been left to fend for ourselves by the government, to deal with this disease and protect our people from the pandemic on our own. Here in the Ipatse village we have a small health clinic and one trained nurse to serve 700 people. The nearest hospital equipped with an intensive care unit is 370 miles (600 kilometers) away in Cuiabá, the state capital.
Preventive care is also difficult. We bathe and fish in the Xingu river, but we are not able to drink from its contaminated waters, filled with pesticide runoffs from the soy plantations that surround our territory. To avoid that poison, we use a well and cisterns to cook and clean. We know that this poor infrastructure and the distance to a hospital mean our chances of dying from COVID-19 are double that of other Brazilians.
Our culture is collective. Unlike whites, who think individually, we do everything together — we live in communal houses, we cook, clean, work and celebrate our rituals with the entire village. The only option for us is to isolate together. When we first saw on the news on TV and the internet that the disease was getting close to Xingu, we decided to cut all physical contact with the closest towns and the other villages, and now any travel or visits only happen in extreme cases. An isolation house, built using our traditional techniques and forest materials, will shelter anyone who shows symptoms.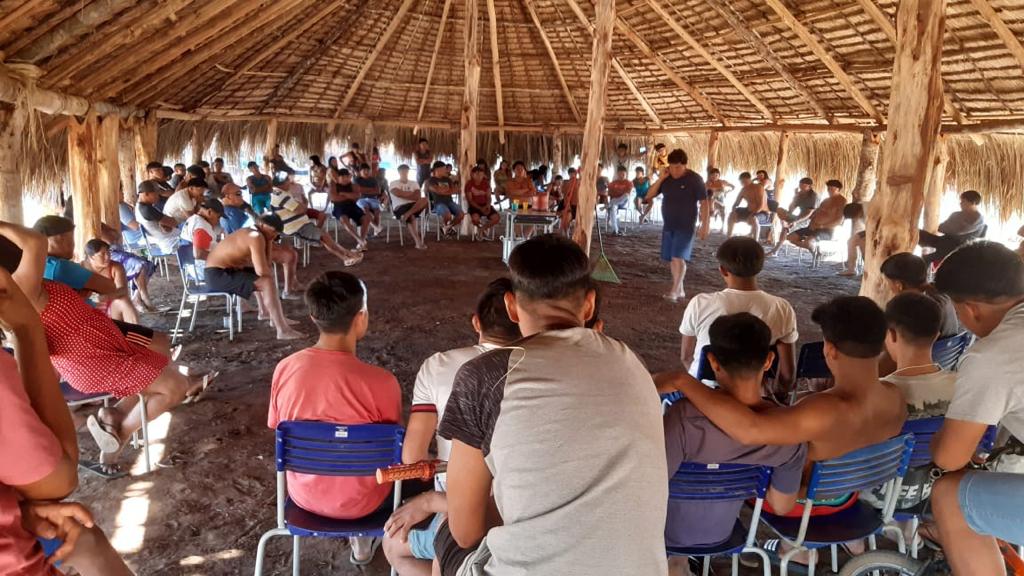 This has only been possible with the support of civil society, such as the People's Palace Projects, a cultural partner for the past six years. We used to do art exchanges, with foreign artists coming to our village and our artists going to London. Now, this partnership has become entirely dedicated to help us navigate the pandemic. The London based theater company Complicité and its director Simon McBurney also organized a campaign to raise funds so that our association of the Kuikuro people of Upper Xingu, AIKAX, can buy basic food staples, hygiene and cleaning products, protective equipment, fuel for our boats, and generators for the village. This way we don't need to leave the village to go to shops and businesses in town.
We also launched a tracing app with the support of the Pennywise Foundation, the National Museum of the Federal University of Rio, and a center for scientific and cultural studies of the Amazon, the Emílio Goeldi Museum. Three people in our village were trained to use this simple tool. This way we can monitor who enters and who leaves our village and can isolate for 14 days whoever hasn't followed the recommendations set by our leaders. If this pilot works, the app could be expanded to the entire Upper Xingu, to help community health agents monitor the vital signs of infected patients remotely. With international help, we are buying hospital equipment, oxygen tanks, masks, alcohol and soap. Not one penny came from the municipal, state or federal governments, or any private entity or large corporation.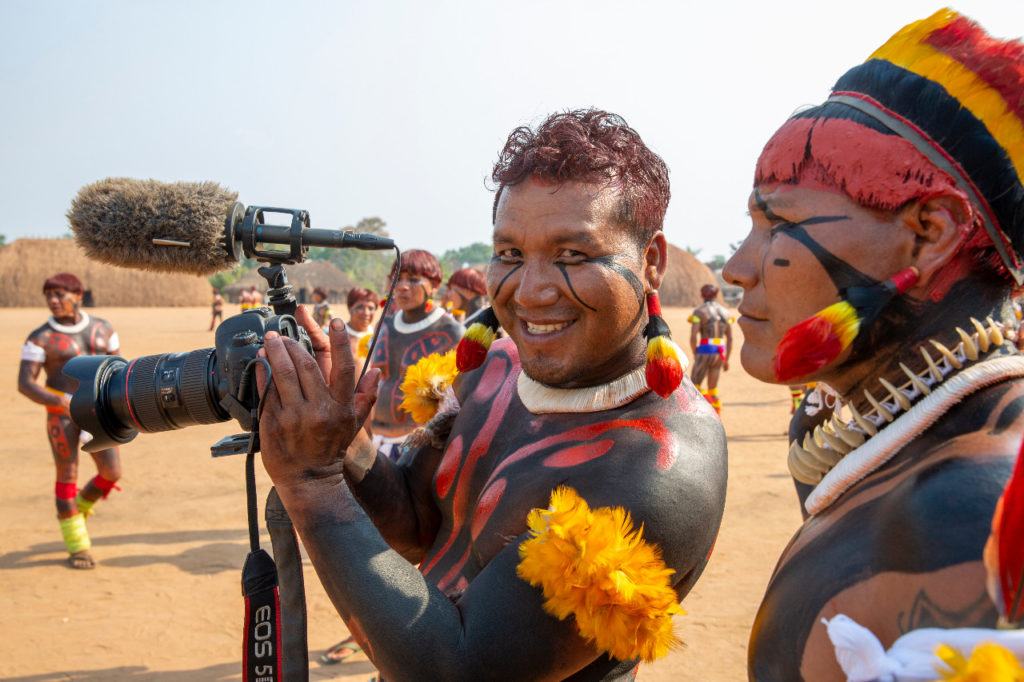 "My own work as a filmmaker has helped us develop and share educational campaigns in the Kuikuro language."
Takumã Kuikuro
We also have the help of archeologists, anthropologists, linguists and medical doctors specialized in Xingu health. They've helped us understand the enormity of the risk and learn about prevention. My own work as a filmmaker has helped us develop and share educational campaigns in the Kuikuro language, including audio-visual materials shared within the village, with support of the elders and our chief. But it is still hard for us to accept the cultural differences that this disease is imposing on us.
While we don't have a cure or a vaccine for COVID-19, chief Afukaká and the president of the Kuikuro Association, Yanamã, recommend that those who are infected not be taken to hospitals and should instead be put in isolation in the village to be treated with the equipment we are acquiring and with the help of our shamans and indigenous medicine.
We don't want to die and be buried the same way the whites die. Here in Upper Xingu, of the 16 ethnic groups, nine paint and decorate the deceased for a beautiful arrival in the land of the dead. But with COVID-19 infected bodies, we have to abandon yet another ritual of passage. And without the traditional farewell celebration at Kuarup, we are now in a prolonged mourning, and fear that a possible erasure of our history and our memory is under way.
We only ask that we not be forgotten.
—
Takumã Kuikuro is a filmmaker based in Upper Xingu.
Tags:
Brazil
,
coronavirus
,
covid-19
,
Indigenous Rights
,
Kuarup
,
Xingu