Reading Time:
5
minutes
Brazil's catastrophic mismanagement of the COVID-19 pandemic is going from bad to worse. Under President Jair Bolsonaro's watch, the country has registered roughly 260,000 COVID-19-related deaths and more than 10.7 million infections. Today it is one of just a few large countries where cases and deaths are still rising – and to new records. Intensive care units are nearing capacity in 19 of Brazil's 26 states. Just 3.8% of the population has been vaccinated. An average of 1,220 people per day are believed to have died from COVID-19 over the past week, the highest level since the pandemic began, and up 16% compared to just two weeks ago.
Much of the blame for this nightmarish scenario lies at the feet of Bolsonaro and his circle of advisers. Rather than step up to address the issue, they have repeatedly played down the threat, ignored the advice of health experts and peddled conspiracy theories. In just the past two weeks, Bolsonaro has publicly warned about dangerous "side effects" from wearing masks (citing a German university study that did not actually exist), lashed out at governors and mayors trying to pass new restrictions to deal with the recent spike in cases, and continued to tout unproven drugs as cures. Through it all, the president has remained defiant: "I haven't made any mistakes since March of last year," he said on Monday.
To be sure, other countries have also struggled to get this terrible virus under control over the past year. On a per-capita basis, the rate of confirmed COVID-19 deaths in Brazil since the pandemic began is roughly comparable to that of other regional countries including Peru and Colombia (though under-reporting and different standards make accurate comparisons difficult). But Brazil poses a uniquely urgent and truly global emergency, for two main reasons. First: Its sheer size, as the world's sixth-most populous country with 210 million people, which makes it a particularly dangerous place for the virus to run rampant – fueling the rise of new variants like the one seen in Manaus that has caused great concern among scientists. And second: Because Bolsonaro has shown no willingness to change his destructive rhetoric or policies – raising fears that Brazil could become even more of an outlier in coming months as much of the rest of the world gets the virus under control.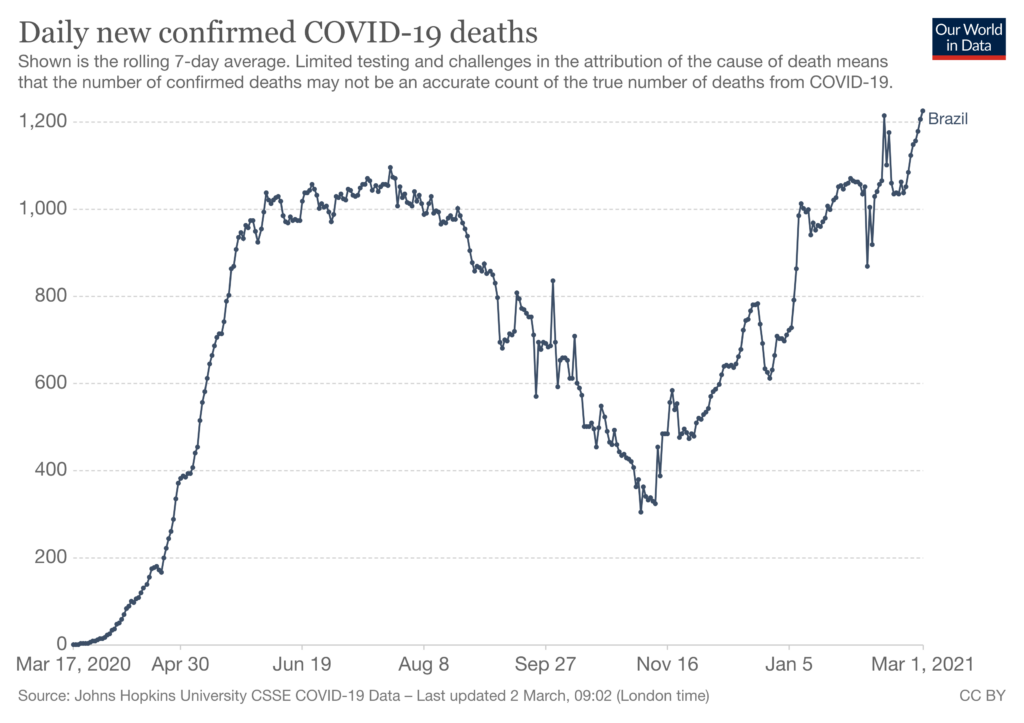 Indeed, the outbreak in Manaus, the capital of the northern state of Amazonas, reveals the sheer scale of the threat. After having been ravaged by the virus in 2020, the city of 2 million people was hit again in January 2021. Instead of preparing preventive measures and medical supplies, the president and his supporters celebrated the end of lockdown measures in December. The congressman and former Citizenship Minister, Osmar Terra, at first described media reports of rising cases of infections as "alarmists." The city's hospitals were soon overwhelmed and ran out of oxygen supplies, leaving patients to die in the street. For his part, the president deflected blame.
The nightmare in Manaus has had national and international consequences. Close to 600 critically ill patients were transported to another 19 states, resulting in the spread of a dangerous new variant of COVID-19. Among the most vulnerable to the disease are the country's indigenous communities. According to an indigenous network – APIB – over 50,000 indigenous people have been infected and almost 1,000 have died. Meanwhile, recent studies suggest the P.1 strain that fueled the recent wave in Manaus has the ability to infect some people who had gained immunity from previous cases of the virus, according to The New York Times. It could also weaken the effectiveness of the Chinese-made vaccine being used in Brazil, the Times said.
Through it all, Bolsonaro has continued to publicly advocate for untested and unproven remedies. Under his leadership, the Ministry of Health instructed the country's most respected health provider – Fiocruz – to produce 4 million tablets of chloroquine. Controversially (and possibly illegally), he urged these tablets to be distributed to patients with COVID-19 rather than as part of the country's malaria control plan. Bolsonaro diverted roughly 23 million reais (almost $4 million) from the budget to advertise his cure. Meanwhile, the federal government has spent just 9% of the emergency funding released to help respond to and recover from COVID-19. As recently as last week, the ministry of health was on the hunt to purchase yet more chloroquine.
Making matters worse, Bolsonaro is actively obstructing states from implementing more stringent health measures to prevent the spread of COVID-19. Despite healthcare and ICU facilities strained to the breaking point, Bolsonaro and his hard-core supporters have urged citizens to ignore curfews, physical distancing and mask-wearing. During a visit to Ceará state at the end of February, Bolsonaro criticized lockdown measures and urged his supporters to defy state orders. A constant refrain is that the threat of infection is over-blown and that health measures are destroying jobs.
There is a cynical political logic to Bolsonaro's efforts to undermine the advice of health experts and the orders of governors. By deepening suspicion and polarization, he strengthens his own base. Faced with declining popularity since the beginning of the year, fanning the flames of division is a useful motivator. Bolsonaro seems ready to take even more radical measures to secure his power: during a cabinet meeting in April 2020, he admitted that his efforts to dismantle gun laws and arm the population was to help them "resist" local government lockdowns.
Criticism of Bolsonaro's failed response to COVID-19 from within Brazil is growing. The Brazilian Bar Association (OAB) has denounced the government's failures to the Organization of American States. Last year, coalitions representing over 1 million Brazilian medical professionals filed a complaint to the International Criminal Court accusing the president of committing a crime against humanity by responding to the pandemic with "contempt, neglect and denial." Advocacy groups such as Human Rights Watch accuse Bolsonaro of sabotaging COVID-19 prevention measures. And for its part, the World Health Organization has issued repeated alerts to Brazil's federal government to take a more proactive stance, all of which have fallen on deaf ears.
There are also signs that Bolsonaro's reckless negligence could result in legal action. Brazil's Attorney General (PGR) recently requested that the Supreme Court open an investigation into Health Minister Eduardo Pazuello's disastrous mishandling of the COVID-19 outbreaks in Manaus. Both Supreme Court Justice Ricardo Lewandowski and the Federal Police have opened up multiple enquiries into Pazuello, including for fraud. Another 30 senators recently signed a petition to initiate a Parliamentary Investigation (CPI) into Bolsonaro's pandemic response. This latest effort is being stalled by the recently installed president of the Senate, a Bolsonaro ally.
The Bolsonaro government's handling of the pandemic represents a clear threat not just to Brazilians, but the world. Global leaders, including the new administration of Joe Biden in the U.S., should do everything in their power to urge Brazil to adopt more responsible policies and language that treat COVID-19 as the threat that it is – before even more lives everywhere are lost.
Tags:
Bolsonaro
,
Brazil
,
covid-19
,
pandemic