Reading Time:
3
minutes
This article is adapted from AQ's special report on Lula and Latin America
Some places on Earth seem barely fit for human life. The opening scene of Alejandro Loayza Grisi's debut feature, Utama, puts on display one such region: the Andean altiplano, which, despite its forbiddingly cold and arid terrain, was once home to the Inca Empire. Today, more than 2 million people in Latin America, mostly of Indigenous descent, live in the highlands. Through its patient observation of the region's most vulnerable inhabitants, Loayza Grisi's film stunningly captures the limits of human endurance in the face of forces outside of one's control.
Utama means "our home" in Aymara. The film's protagonists, Virginio and Sisi, a Quechua elderly couple, share an isolated but quiet life. Their demanding routines mark the rhythm of each day. Virginio grazes his small herd of llamas, while Sisi takes care of household chores and, most importantly, brings water from the nearest village. There is little to no room for variation—until a prolonged drought begins to threaten their austere self-sufficiency.
Dry spells are nothing new for highland residents. But as weeks turn into months without rain, Virginio and Sisi's small Indigenous community begins to lose hope. The villagers sacrifice a llama to the rain gods, and a group of men embarks on a challenging mountain trek in search of water. Both efforts are in vain. As desperation mounts, Virginio and Sisi's grandson, Clever, arrives from La Paz. Clever makes a strong case for the city and its better services in his attempt to persuade his grandparents to leave their lifelong home behind.
---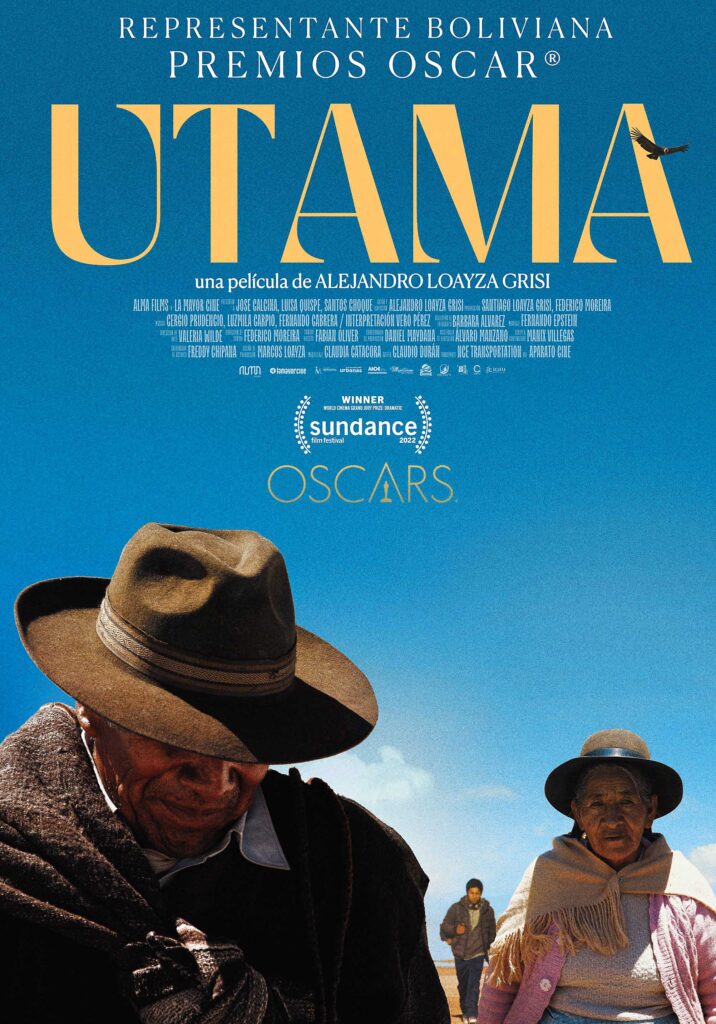 Utama

Directed by Alejandro Loayza Grisi
Screenplay by Alejandro Loayza Grisi
Distributed by Alma Flims
Starring José Calcina, Luisa Quispe and Santos Choque
Bolivia

AQ Rating: 3/5
---
The tensions at the heart of Loayza Grisi's Utama are simultaneously Bolivian and universal. On one hand, pressure to abandon the western highlands, where most of the country's Indigenous population once lived, has been intense for decades. Since 1960, Bolivia's urban population has almost doubled, from 37% to 70%. Today, the dominant trend in the country continues to be "one of migration from west to east"—from the highlands to the lowlands of the Santa Cruz department, as journalist Thomas Graham recently observed in these pages.
But beyond Bolivian geopolitics, Utama invokes a timeless intergenerational dilemma. Virginio wishes to preserve his way of life—one rooted in centuries of Quechua tradition. His stubbornness reflects the very human desire to honor and protect cultural customs and values. This explains, for example, why he insists on speaking to Clever in his native tongue, even though his grandson can only understand Spanish. To know your own children will be unable to make sense of the building blocks of your everyday life is painful. This process, which affects every aging generation to varying degrees, is one of loss and heartbreak.
Before Ernesto Guevara became el Che, he undertook a now-legendary expedition throughout Latin America, immortalized in his posthumously published memoir, The Motorcycle Diaries. It remains telling that his "first objective was to visit the Bolivian highlands, where he hoped to become familiar with the hardships experienced" by Indigenous people. If one were to retrace his steps in the near future, it is likely there would be less and less to witness. Nearly a year after Utama's release, real-life Indigenous communities in the region are praying for rain and trying to survive. Loayza Grisi's film documents not only an endangered way of life but also the spectacular landscape that nurtures it, with each shot—from lunar-like sunsets over the cracked earth to thin, meandering rivers reflecting the pale blue sky—serving as a small testament to the sublime.
—
Alvarado is a writer and former assistant editor at The Atlantic
Tags:
Bolivia
,
Cultura
,
film review
,
indigenous