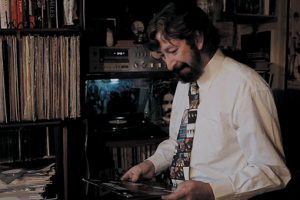 Stay up-to-date with the latest trends and events from around the hemisphere with AQ's Panorama. Each issue, AQ packs its bags and offers readers travel tips on a new Americas destination.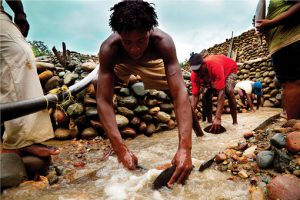 Some of our hemisphere's emerging leaders in politics, business, civil society, and the arts.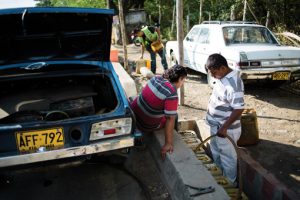 Colombia's pimpineros struggle to survive in the shadowy, violent world of border gas smuggling.
Likely top stories this week: Evelyn Matthei will be the UDI's new candidate in Chile's presidential election; Pope Francis I arrives in Brazil; Colombian government sends troops to Arauca; U.S. lawmakers debate the KIDS Act; Venezuela ends its attempt to normalize relations with the U.S. Chile's New Presidential Candidate: The Unión Demócrata Independiente (Independent Democratic … Read more
Colombian President Juan Manuel Santos traveled to Cali on Tuesday for the largest demobilization of members of the National Liberation Army (Ejército de Liberación Nacional—ELN) in Colombian history. A 30-member unit of the guerilla group, which included three pregnant women, surrendered in the southwestern city. The ELN, with its estimated 3,000 members, has shown interest … Read more
The Colombian government and the Revolutionary Armed Forces of Colombia (Fuerzas Armadas Revolucionarias de Colombia—FARC) concluded their eleventh, and shortest, round of peace negotiations in Havana, Cuba, on Tuesday. This round of talks focused on whether to allow the guerillas to hold political office—one of the most contentious points in the five-point peace agenda. This … Read more
The Colombian government and the Revolutionary Armed Forces of Colombia (Fuerzas Armadas Revolucionarias de Colombia—FARC) began their tenth round of peace negotiations in Havana, Cuba on Monday. This round of talks will address the second point in the five-point peace agenda: integration of the rebel group into Colombian politics. The FARC's post-conflict participation in Colombian … Read more
Ambassador Alexander Vershbow, deputy secretary general of the North Atlantic Treaty Organization (NATO), and Juan Carlos Pinzón Bueno, Colombia's defense minister, signed an Agreement on the Security of Information in Brussels on Tuesday. While the tailored cooperation treaty does not recognize Colombia as a NATO partner, it marks the first agreement of its kind between … Read more
Top stories this week: Brazilian President Dilma Rousseff responds to national protests; The U.S. Senate will vote on immigration reform; Coca farmers clash with police in Colombia; Uruguayan voters uphold abortion law; Judicial leaders meet in Bolivia; Ecuador considers asylum request. Protests Expand Across Brazil: Hundreds of thousands of Brazilians marched in cities across the … Read more
The peace negotiations in Cuba between the Fuerzas Armada Revolucionarias de Colombia (Revolutionary Armed Forces of Colombia—FARC) and the Colombian government, set to reconvene today, are not the only peace agreements being conducted in Latin America. One year ago, the two main drug gangs in El Salvador, Mara Salvatrucha (MS-13) and Barrio 18, agreed a … Read more
Ecuadorian Minister of Defense María Fernanda Espinosa and her Brazilian counterpart, Celso Amorim, expressed their "concern" over Colombia's ongoing discussions with the North Atlantic Treaty Organization (NATO) during a press conference yesterday in Quito, Ecuador. The defense ministers' reaction came in response to a series of statements by the Colombian government over the past week … Read more
Top stories this week are likely to include: Barack Obama will speak about closing Guantánamo Bay; Venezuela says it is open to normalizing relations with the United States; the FARC says that more time is necessary for peace negotiations; an OAS report calls for a discussion on marijuana legalization; and Colombia's Juan Manuel Santos will … Read more
On Wednesday, after a nearly two-week recess, the Colombian government and the Fuerzas Armadas Revolucionarias de Colombia (FARC) resumed peace talks in Havana, Cuba, with this ninth round seeking to reach an agreement on agrarian reform. Talks originally began in November 2012. Only the first of five items on the agenda at the talks, … Read more
Top stories this week are likely to include: Colombian civil society holds forum on political participation; Venezuela's election audit begins on May 6; the U.S. Supreme Court upholds a lower court's immigration ruling; Honduran police officials resign in the midst of a police crisis; and Brazil's Maracanã stadium reopens after three years. Colombian Civil Society … Read more
Leaders of the Fuerzas Armadas Revolucionarias de Colombia (Revolutionary Armed Forces of Colombia—FARC) responded on Thursday to a letter signed by members of the U.S. Congress in March in support of the Colombian peace negotiations, which resumed this week in Havana. In a press conference on Thursday, FARC member Victoria Sandino Palmera read a letter … Read more