Reading Time:
4
minutes
GUATEMALA CITY – Following the most recent corruption allegations against Guatemalan President Alejandro Giammattei, Attorney General Consuelo Porras issued a new round of arrest warrants for anti-corruption prosecutors from her own office, which had been investigating the president and other high-level officials. Some are now behind bars. Many others have resigned or fled the country.
These are just the latest in years of attacks that have left Guatemala's democracy hanging by a thread. The coming year is set to be decisive for the country's future: Pressure from the United States and Europe will be critical to preserve human rights and the rule of law.
There is certainly heavy competition for international attention in Central America. Daniel Ortega has consolidated his autocratic grip over Nicaragua, Nayib Bukele is working to dismantle the last few checks on his power in El Salvador, and many wonder whether Xiomara Castro will be able to pull Honduras out of its institutional and security crisis. It would be easy for Guatemala to get lost in the mix. But the challenges facing the country are serious and urgent.
For years, Guatemala's leaders have undermined the rule of law and democracy in an apparent effort to avoid accountability for widespread high-level corruption. In 2019, former President Jimmy Morales kicked out the UN-backed international commission investigating corruption at high levels. Since Giammattei took office in 2020, he has worked with Congress and the current attorney general to block the remaining investigations, by attempting to remove the last few independent judges and packing the Constitutional Court.
This year, the president and Congress will appoint three key figures: the attorney general, the human rights ombudsperson, and the comptroller general. These appointments may shape the political landscape, installing administration allies in important positions ahead of the presidential election in June 2023.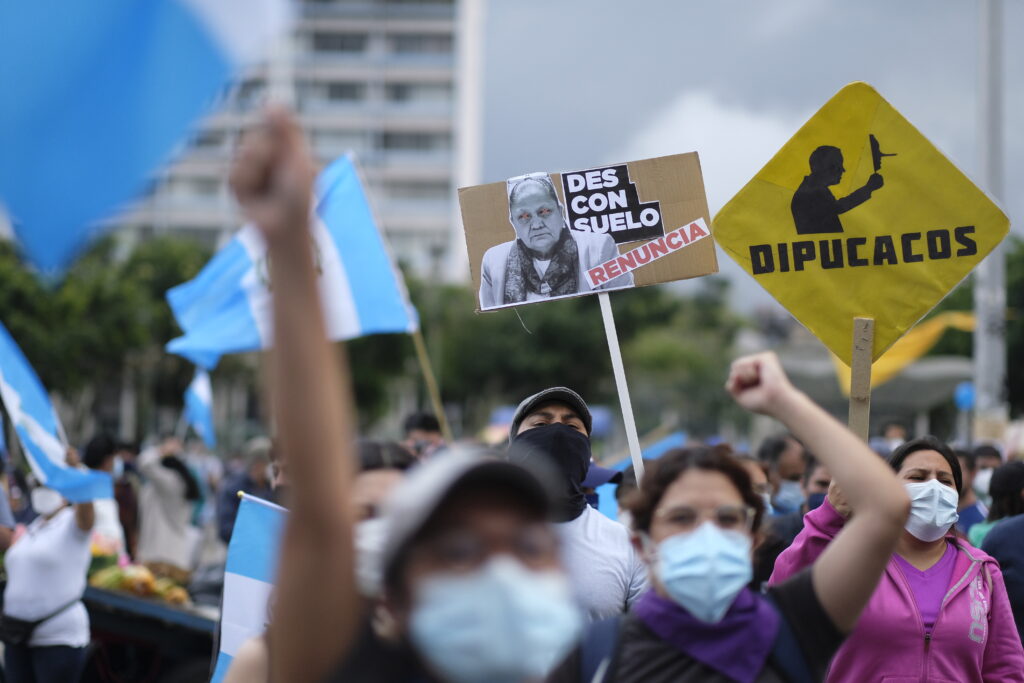 Guatemala's current attorney general, Consuelo Porras, has used her mandate to block corruption investigations that implicated senior politicians and weaponized the justice system against government critics, journalists, and independent judges.
In May, the president will appoint an attorney general from a list of nominees chosen by a commission of law school deans, bar association members, and the Supreme Court president. Porras is seeking re-election.
Guatemala's human rights ombudsperson's office is arguably the country's last remaining independent government entity. Jordán Rodas, its head, has denounced attacks on judicial independence, freedom of expression, and human rights defenders. Congress, which will select his replacement, has repeatedly tried to block his funding, and legislators have sought his removal on politically motivated grounds, such as supporting LGBT rights.
The comptroller general, whose office audits public funds, is also named by Congress and has an important role to play in the lead-up to the 2023 presidential election. Anyone who wishes to run for public office must obtain a certificate from the comptroller, confirming they are not under investigation for misuse of public funds.
Some international actors have taken limited steps to protect Guatemala's rule of law. The U.S. and the U.K. have frozen the assets of a congressman and a political operative who were caught interfering with judicial nominations to avoid accountability for alleged corruption. And the U.S. has canceled visas for some current and former political operatives and justice officials, including the attorney general. The EU and some European governments, most notably Sweden, have denounced abuses in the country. But these measures have not dissuaded continued attacks on the rule of law.
Much more can and should be done. First, the EU should join the U.S. in sanctioning Guatemalan officials who are engaged in ongoing attacks on the rule of law. Some EU member states – notably Italy and Spain – are holding the bloc behind. Whatever their reasons, they should stop holding the bloc back.
Second, the U.S., U.K., and EU should recognize that officials who attack the rule of law are often allied with private actors who stand to benefit from a politicized judiciary. Years of investigations have shown how businesspeople have acted in coordination with corrupt officials to pack the courts and how money obtained through corruption and criminal activity is often used to finance electoral campaigns. Few of them have been hit with sanctions, and observers have noted that corruption remains entrenched among some of Guatemala's business elites. The US, UK, and the EU should make it clear that no one who corrupts the rule of law is out of bounds for sanctions – including businesspeople.
Giammattei and the business sector think they have a winning card to play against the United States: immigration. The president has taken enthusiastically to U.S. efforts to enlist his help to stop migrants from travelling through Guatemala to reach the U.S. border.
But the U.S. logic is self-defeating. Corruption in Guatemala has enabled violence, affected health and other basic services, and eroded democratic accountability, contributing to the poverty and lack of rights protections that fuel migration.
Corruption is winning in Guatemala – and destroying human rights and the rule of law on its way. The need to act is as urgent as ever. After 2022, it might be too late.
__
Mattiace and Pappier are Americas researchers at Human Rights Watch.
Tags:
Alejandro Giammattei
,
Anticorruption
,
Central America
,
Guatemala
,
Human Rights