Reading Time:
5
minutes
Bolivia's newly elected vice president struck a conciliatory note when he took office last October. "We want agreements between the right and the left," David Choquehuanca said, suggesting that after the violent upheavals of 2019 and the deeply divisive transitional government of 2020, Bolivia was bound for a period of greater stability. "The truth is very simple. The condor takes flight only when its right wing is in perfect balance with its left wing," Choquehuanca added, drawing on the communitarian traditions of Bolivia's indigenous communities.
A year later, the promised harmony has failed to materialize. Instead, under the leadership of President Luis Arce, Bolivia has become bogged down in bitter political wrangling and economic dysfunction. Rather than seek consensus, Arce has looked for confrontation. Jeanine Áñez, the former transitional president, and several of her former ministers languish in prison on terrorism charges described by Human Rights Watch as "grossly disproportionate." The country's traditional private sector has been isolated and ignored at best, and subject to harassment at worst. "This is a crusade against the infidels," said one senior private mining executive, speaking anonymously for fear of retribution, like many others quoted in this article.
To casual observers of Bolivia's fortunes, this might seem something of a surprise. After all, as finance minister from 2006 until 2017 and then again during 2019, Arce won a reputation as a level-headed technocrat and took some of the credit for Bolivia being seen as perhaps the most economically successful of the so-called "Pink Tide" governments. "People expected this government to be much more pragmatic," said Roberto Laserna, the director of Cochabamba-based think tank CERES. "Instead, it is acting with a great deal of irresponsibility. It is very ideological and is doing exactly the opposite of what it should."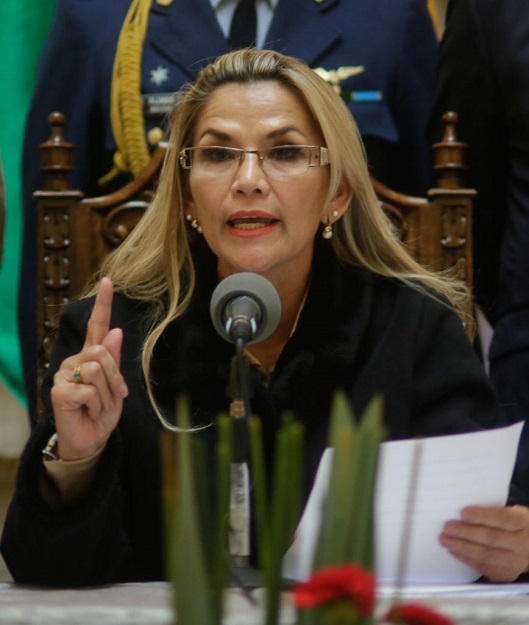 The case for consensus is a fairly compelling one. The country has endured an awful two years. Morales' controversial efforts to secure a fourth successive term in office (constitutional term limits were overturned on very dubious grounds) and subsequent irregularities in the 2019 presidential election polarized the country. A violent crackdown on pro-Morales demonstrations in November 2019, and other heavy-handed repression under Áñez and her interior minister Arturo Murillo, led to even greater discord.
Last year, Bolivia was badly hit by the COVID pandemic. Over the last seven years, falls in the prices of gas and other exports had put the economy under pressure, but in 2020 output plunged by more than 8%. Many companies collapsed, throwing thousands out of work and into poverty. According to one estimate, 86.3% of the workforce was outside formal employment by the end of 2020, compared with 78.3% in 2013. "Companies are borrowing or selling assets to cover spending commitments," Luis Barbery Paz, president of the employers' confederation (CEPB), told a press conference earlier this year. "The crisis has been catastrophic for the private sector."
At least four separate attempts by the confederation to strike up a dialogue with the president have been rejected. Many ministers and department heads have adopted a similar posture. "Not only has the president not received us but it seems that there are instructions to all the ministries that they don't receive the businessmen," a businessman close to the board told me recently. "We all feel that the relationship with the government is non-existent."
It has sometimes seemed as if Arce has gone out of his way to make things more difficult. A new wealth tax – charged on fortunes of more than about $4 million – raises very little revenue but will encourage more businesses to take money out of the country. Some business leaders allege they are being pursued by tax authorities. Courts have become politicized, in one case arresting the local head of a Canadian subsidiary that had tried to restructure its work force. "Bolivia needs investments, but instead of trying to attract capital, people are driving it away. This could lead us to abandon Bolivia," Juan Gavidia, chief executive of Corporación Orvana, told reporters last month.
Policy sometimes seems influenced by the need to discredit the previous government, rather than any kind of broader economic logic. In April, Bolivia paid back a $327.2 million loan from the IMF contracted by the previous government, even though it cost an additional $24.1 million in interest, commissions and other expenses to make the repayment. An official for the economy minister deemed responsible for the supposed irregularities of the contract remains under house arrest. Yet last month, Bolivia happily accepted an IMF loan for almost an identical amount offered under the terms of a global facility designed to assist recovery from the pandemic.
Businessmen who know Arce say they are not surprised by the president's attitude. Even when Evo Morales actively sought out foreign investment and courted local businessmen in the latter part of his 13-year period in office, his faithful finance minister was not supportive. Instead, Arce's economic team has hoped to generate investment through the public sector, with Bolivia's underperforming state companies at the forefront. In addition, though there has been an acceptance that the scale of the informal sector – reflected in the enormous number of mining cooperatives, as well as extensive contraband – will help cushion the downturn. Party leaders believe that the great mass of Bolivia's mainly indigenous population identifies with his government and can adapt to the decline of the formal private sector. "Arce thinks his support base can survive a bad situation for a long time. This is a line of resistance and patience," said one senior ruling party figure.
But the change is part of a broader shift. Like their counterparts in Brazil or Venezuela, many on Bolivia's left see recent events as part of a broader narrative in which progressive governments are now recovering from "imperialist intervention." From this perspective, the events in Bolivia of November 2019 – just like the failed 2002 coup against Hugo Chávez, the 2016 impeachment of Dilma Rousseff and the imprisonment two years later of Luiz Inácio Lula da Silva – were the product of counter-revolutionary and golpista maneuvers. From this perspective, the importance of settling scores with anyone who supported the transitional government overrides all else. Business leaders who might have stood on the sidelines are seen as having offered implicit support to the coup. In this fevered and polarized atmosphere, nuance matters little. Barbery Paz, for example, who was close to Evo Morales and other government ministers and in 2019 negotiated a deal between the government and his family-owned agribusiness company to produce ethanol, is seen by many in Arce's government as being as bad as any other golpista businessman. Independent journalists also speak of feeling persecuted; some have left the profession altogether.
Meanwhile, rising commodity prices, resulting from the rapid post-pandemic recovery of China and U.S. reflation policies, are bolstering the belief within Arce's Movement Towards Socialism (MAS) party that maybe the private sector doesn't really matter. Some MAS thinkers are arguing that a second wave of the pink tide that first swept through the region in the 2000s is gathering force. They frequently refer to a new left-wing axis between Argentina and Mexico (conveniently leaving aside the disaster in Venezuela). In July, Álvaro García Linera, who served as vice president, told Le Monde Diplomatique that the political shift favored a "new wave of nationalizations." The reelection next year of Luiz Inácio Lula da Silva would cement this trend, and since Brazil is the most important customer for Bolivia's gas, it would help stabilize the country's prospects, the thinking goes. In the meantime, the MAS will fight the "good fight" against private capital and Bolivians will have to be happy with what they have, proponents say. If that's the case, "resistance and patience" will have to be enough.
Tags:
Bolivia
,
Luis Arce
,
Private Sector