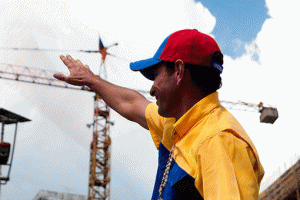 While President Hugo Chávez of Venezuela remains in Cuba recovering from his fourth cancer surgery on the island, millions of his supporters delivered a solid political victory for his party in the country's regional elections on December 16. Of the 23 governorships that exist in Venezuela, the Partido Socialista Unido de Venezuela (United Socialist Party—PSUV) … Read more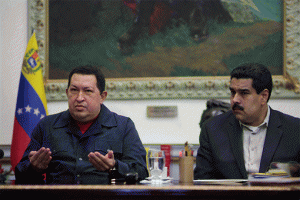 After much speculation President Hugo Chávez announced on December 8 that his cancer was back (for the second time in a year), and that he now had a person in mind to succeed him—Nicolás Maduro, the minister of foreign affairs who was elevated to vice president in October 2012. Designating Maduro as the official successor … Read more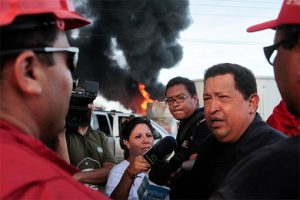 After Hugo Chávez convincingly won re-election on Sunday, the margin of victory—over 1.5 million votes, totaling over 10 percentage points—has stunned members of Venezuela's opposition, leaving them searching for answers. Some pointed to the Consejo Nacional Electoral (National Electoral Council—CNE), which is controlled by chavistas and turned a blind eye to government abuses. Others pointed … Read more
Exclusive photos taken this morning of the polling station at Colegio Eugenia Ravasco located on Avenida Principal de los Chorros in Caracas. Additional photos taken this afternoon at the voting centers located at the Colegio Santa Gema and Instituto Universitario Tecnológico Americo Vespucio, both in Caracas. All pictures taken October 7 by Romina Hendlin.
Exclusive photos taken at around 11:00 am (local) at the electoral center at Unidad Educativa Santo Tomas de Aquino located in Campo Alegre on the east side of Caracas. The voting is rather calm and very orderly. The majority of the people who signed up at this center have voted already with many beginning to … Read more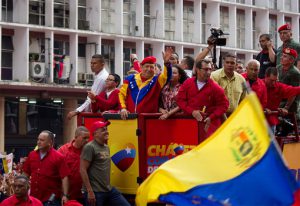 Late last week, Venezuelan presidential candidate Henrique Capriles Radonski released a video with his final appeal to voters. Looking straight at the camera, the former governor of Miranda state addressed the fears that prevent some Venezuelans from supporting him fully: being fired from government jobs; being passed over for a social program; or being banned … Read more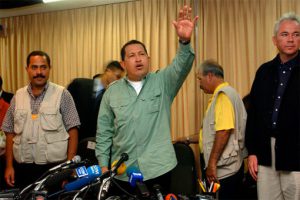 Regimes that seek to limit civilian and political opposition have found a new tool in controlling their messaging: state-owned media. This comes despite the fact that state media—like many means of communication—should serve the interests of all citizens and provide information free of commercial, state or political influence. According to a 2009 report by the … Read more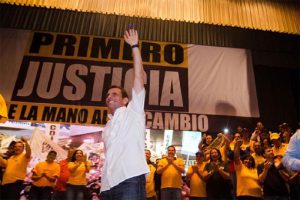 After years of being rudderless, Venezuela's opposition to Hugo Chávez finally has a leader. Miranda Governor Henrique Capriles Radonski soundly defeated four other candidates on February 12 to become the opposition's sole presidential candidate for October's presidential election. That he did so without providing details on his vision makes his victory all the more remarkable. … Read more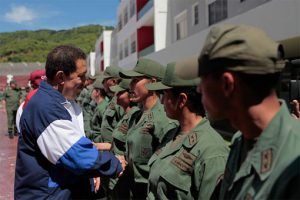 Election year in Venezuela kicks off on February 12 with the governor of the state of Miranda, Henrique Capriles Radonski, comfortably leading in the polls and projected to win the opposition primary. He will face the campaign machine of President Hugo Chávez or "El Comandante," which is marching ahead with the well-oiled efficiency of a … Read more
Sudden and sharp shifts in commodities and financial markets in the last few months are realigning geopolitics worldwide. Venezuelan President Hugo Chávez, whose ambitions are greased by oil wealth, is taking an especially hard hit. An early casualty of the global economic slide could be the regional alliances promoted by Chávez to challenge what he … Read more
Americas Quarterly speaks with three former Venezuelan mayors who were among the 300 candidates barred from running in last November's regional elections. Leopoldo López planned to run for mayor of Caracas, while Antonio Barreto and William Méndez hoped to compete for the governorships of Anzoátegui and Táchira, respectively
Weak democratic institutions and a failure to improve the quality of life for millions have ushered in a new era of authoritarianism with a populist tinge in Latin America. The result: a step back for the rule of law and for democracy. Human rights and democracy organizations have tried to confront this challenge. But without … Read more
My proposal to the next U.S. president is heartfelt—and simple: start regarding Latin America as a neighbor. This may sound obvious, but the truth is that although we live in the same neighborhood, the relationship is by no means that of close and important neighbors. It is in everyone's best interest to put Latin America back on the map, and the way to do this, I believe, is by constructing a cooperative framework that will give a comparative advantage to our hemisphere.
The landscape of Latin America has shifted in both political and economic terms in the last ten years. The Left, with its "one thousand faces," has reappeared in a distorted and pernicious manner, without providing any solutions to the biggest problems in the region such as poverty, drug trafficking, contraband, and corruption, among others. In many of our countries, we have to start over again. The challenge awaiting the new president of the United States in developing new policies for the region will not be easy.