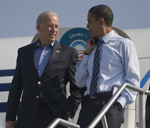 Barack Obama and Joe Biden
Less than a month after President Obama visited Mexico and Costa Rica, Vice President Joe Biden departed on Sunday, May 26, for a three-nation trip to Colombia, Trinidad & Tobago and Brazil.
After visiting with Colombian President Juan Manuel Santos on Monday, May 27, the vice president arrived in Trinidad & Tobago on Tuesday, May 28, to meet with President Anthony Carmona and Prime Minister Kamla Persad-Bissessar as well as other Caribbean leaders. He arrived in Rio de Janeiro, Brazil, on Tuesday night before moving on to Brasilia to meet with President Dilma Rousseff and Vice President Michel Temer on Friday, May 31.
From May 2-4, President Obama met with Mexican President Enrique Peña Nieto, Costa Rican President Laura Chinchilla and other Heads of State from the Sistema de la Integración Centroamericana (Central American Integration System—SICA).
AQ Online provides analysis of the Vice President's recent trip. Plus, read our exclusive AQ interview with President Obama.
On this page:
AQ interviews President Barack Obama about trip to Mexico and Costa Rica
Updates on Obama administration trips from AQ
Background: Issues to be covered during administration trips to Latin America
Other sources on Obama administration trips
---
BY CHRISTOPHER SABATINI
On the eve of his sixth trip to Latin America and the Caribbean, President Barack Obama agreed to an interview with Americas Quarterly Editor-in-Chief Christopher Sabatini about his May 2-4 visit to Mexico and Costa Rica. President Obama is using the occasion of his trip to meet with the new Mexican President Enrique Peña Nieto and Costa Rican President Laura Chinchilla, and, while in Costa Rica, he will also meet with the other presidents of Central America.
Given the close economic, political, security, and personal relations between the United States, Mexico and Central America, a number of issues will be on the table. Among them will be the security and narcotics-related crime in Mexico and Central America and U.S. drug policy, the U.S.'s trade agenda with the region, the challenges of social exclusion and economic growth, and—of course—comprehensive immigration reform in the United States. In this wide-ranging interview, President Obama touches on all these issues and discusses his overall views of the region.
Lea una versión en español aquí.
---
---
Biden in Brazil: Let's Do Business
May 31, 2013
By: Ryan Berger, AQ Blog
After a busy two days in Rio de Janeiro, U.S. Vice President Joe Biden departed yesterday afternoon for Brasília, where he meets today with Brazilian President Dilma Rousseff and Vice President Michel Temer. While Biden's visit partly touched on issues of public security— he toured the Santa Marta favela, the first community in Rio to have an Unidade de Polícia Pacificadora (Police Pacification Unit—UPP) installed— his chief objective was to press for expanded bilateral trade and investment ties.
Biden's message to Brazil: the world is rapidly liberalizing trade and opening markets, and it's time to keep up. On Wednesday, he urged Brazilians to "resist the urge in difficult economic times for protectionism."
---
Biden Meets with Rousseff in Brasilia
May 31, 2013
On Friday, Vice President Joe Biden met with Brazilian President Dilma Rousseff in private meeting in Brasilia to discuss the bi-lateral agendas of the two countries. The two leaders discussed collaborating on various issues of regional and global importance, including energy security. They discussed the agenda for Rousseff's official visit to the U.S. in October, announced Wednesday. After meeting with Rousseff, Biden met with his Brazilian counterpart Vice President Michel Temer. Following their meeting, the Vice Presidents issued joint remarks to the press.
---
Biden Visits a Favela in Rio de Janiero
May 30, 2013
On Thursday, Vice President Biden wrapped up his trip to Rio de Janiero with a visit to the Santa Marta favela, one of the first of the slums on the city's outskirts to be pacified under the Brazil's 2008 Favela Pacification Program. There, he praised Brazil's efforts to improve quality of life in the country's many slums and noted the government's particular success in pushing drug trafficking groups out of Santa Marta.
Next he heads to Brasilia to meet with Brazil's President Dilma Rousseff.
Read more here.
---
A New Day for U.S.-Caribbean Relations
May 30, 2013
By: Michael W. Edghill, AQ Blog
Vice President Joe Biden spent just under 24 hours in Trinidad and Tobago, where he sought to renew America's bonds with the Caribbean through a small summit-like meeting with leaders of the Caribbean Community (CARICOM) and the Dominican Republic. In that short period of time, it became apparent that the traditional dynamic that has characterized the relationship between the Caribbean and the United States may be coming to an end.
---
Vice President Biden Gives Remarks in Rio de Janeiro
May 29, 2013
On Wednesday, May 29, Vice President Joe Biden visited Rio de Janeiro, Brazil, where he delivered remarks on U.S.-brazil relations. Biden's talk recognized Brazil's increasing role in regional and global affairs and highlighted opportunities for U.S.-Brazilian cooperation in a number of areas, including energy and renewable resources, trade and investment, international aid, and science and technology.
Biden noted that Brazil is no longer an emerging economy, but a vital player in the global market and in international development. The vice president praised Brazil's successes in alleviating poverty and hunger and increasing access to education, calling Brazil a model of human rights advocacy and important provider of international aid.
Biden also highlighted the country's economic growth and its importance to the U.S. in terms of trade and investment. Noting recent oil discoveries off the coast of Brazil, Biden described an opportunity for collaboration in energy and renewable resource extraction and offered U.S. technology to help Brazil make oil and natural gas extraction more efficient.
Praising Brazil's ScienceWithout Borders Program, Biden encouraged Brazil to continue to invest in innovation and technology and said the U.S. would engage in education exchanges to enhance learning across the hemisphere. He also promised to cut wait times for tourist visas for Brazilians and Americans to facilitate a better exchange of ideas and technology.
Biden extended an invitation to Brazilian President Dilma Rouseff to visit the U.S. on October 23. This will be the first official visit of a Brazilian president to the United States since Henrique Cardoso visited in 1995.
Read the full transcript of Biden's remarks here. Watch a video of the speech below.
---
Vice President Biden to Discuss Energy Cooperation in Brazil
May 29, 2013
AQ Daily Focus
After visiting Colombia and Trinidad and Tobago this week, U.S. Vice President Joseph Biden began a three day tour of Brazil today that is expected to focus largely on energy cooperation and economic growth.
Biden's first stop on his tour is Rio de Janeiro. While there, the vice president will address energy-sector business leaders, tour a Petrobras deep-water oil exploration research facility and visit community leaders in a favela. On Friday, he will travel to the capital city of Brasilia to meet with Brazilian President Dilma Rousseff.
---
Biden, Martelly and Persad-Bissessar Hold Press Conference
May 28, 2013
On Tuesday, May 28, U.S. Vice President Joe Biden, Chairman of the Caribbean Community and Common Market (CARICOM) and President of Haiti Michele Martelly and Prime Minister Kamla Persad-Bissessar of Trinidad and Tobago held a press conference in Port of Spain, Trinidad. The three leaders highlighted specific areas in which the Caribbean countries and the U.S. plan to enhance collaboration—including trade, education, energy reform, and citizen security.
During the press conference, the three leaders signed a Trade and Investment Framework Agreement that revises a 1991 trade agreement to reflect changes in the global markets and the creation of the World Trade Organization (WTO) in 1995. Vice President Biden also emphasized the importance of diversifying regional economies and forging relationships between members of the Caribbean diaspora in the U.S. and entrepreneurs in the region.
The leaders also highlighted education as crucial to improving the Caribbean's competitiveness in global markets. They discussed collaborating to improve access to higher education, to promote student exchanges between the Caribbean and the U.S., and to increase technology exchanges.
Encouraging collaborative energy reform and greater use of renewable energy, Biden emphasized plans to create a regional energy grid to increase energy security. He underscored the U.S. commitment to helping create economies of scale in the region that are driven by renewable energy. Biden also announced a joint effort with CARICOM to create a Renewable Energy Research Center in Trinidad and Tobago that will help increase renewable energy throughout the region.
Leaders also discussed citizen security and immigration. Presidents Biden and Martelly committed to working together to increase regional citizen security and to combat illegal drug trade in the region. Additionally, Biden underscored the contributions of Caribbean immigrants to the U.S. and reiterated the Obama administration's commitment to ensuring that undocumented immigrants in the United States gain opportunities to fully participate as U.S. citizens.
Read more on the leaders' meeting here and watch a 60-second recap of the vice president's visit to Trinidad and Tobago below.
---
Biden and Colombian President Juan Manuel Santos Deliver Remarks
May 27, 2013
On Monday, U.S. Vice President Joe Biden and Colombian President Juan Manuel Santos spoke about the long-term ties between the U.S. and Colombia at the Casa de Nariño in Bogotá. Biden's last trip to Colombia was in 2000, when he helped former U.S. President Bill Clinton launch Plan Colombia. Santos praised the evolving relationship between Colombia and the U.S. by citing Biden's remarks earlier this month at the Council of the Americas' Washington Conference. "He said that the United States is looking at Latin America, not in the spirit of what the United States can do for Latin America, but what the United States can do with Latin America," Santos said. "And I want to home in on that phrase, because that attitude is the right attitude."
The vice president commended the Colombian president for his country's progress toward peace, saying, "you've reclaimed your nation from civil war," and told Santos, "we fully support you at the negotiating table, Mr. President." Biden also acknowledged the Colombian government's breakthrough in negotiations with the FARC on Sunday, when both sides reached an accord on agrarian reform.
Both leaders praised the U.S.-Colombia free trade agreement, and Biden touched on the Alliance of the Pacific and U.S.-Colombian efforts to improve hemispheric access to clean energy. Biden also joked about visiting a Colombian flower farm, adding "I'm mainly going to get my wife some flowers."
Read the a full transcript of Vice President Biden and President Santos' remarks here.
---
The Significance of Trinidad and Tobago to the U.S.
May 23, 2013
By: Michael W. Edghill, AQ blog
Trinidad and Tobago, known more for Carnival and sandy beaches, is not often discussed in terms of its strategic importance to the United States. Yet there are several reasons that this small two-island nation appears on U.S. Vice President Joe Biden's itinerary for his trip to Latin America next week. After traveling to Brazil and Colombia, home to the two largest economies in South America, Biden will visit Port of Spain just over four years after President Barack Obama was in Trinidad for the 2009 Summit of the Americas.
---
Obama's Visit to Costa Rica: Lessons for an Improved Partnership
May 7, 2013
By: Mariano Batalla, AQ Blog
President Obama's recent visit to Costa Rica focused on enhancing competitiveness and deepening economic ties with the Central American Integration System (SICA) through a U.S.-SICA partnership based on human and economic development. The visit also served as a pressing reminder of the need to improve integration efforts within the region.
---
Obama and Peña Nieto Focus on the Economy Over Immigration and Security
May 7, 2013
By: Arjan Shahani, AQ Blog
Building up to their meeting in Mexico City on May 2, the administrations of both U.S. President Barack Obama and Mexican President Enrique Peña Nieto hinted that economic ties would be the focal point of their one-on-one meeting. In an interview with Americas Quarterly prior to the trip, Obama reiterated this, saying that he would "be discussing with President Peña Nieto how we can continue to reduce barriers to trade and investment."
---
In Costa Rica, the United States is Eclipsed by Its Own Shadow
May 4, 2013
By: Steve Mack, AQ Blog
Today, U.S. President Barack Obama arrives in Costa Rica as part of a trip to promote trade and business ties, discuss the implications of U.S. immigration reform for the region, and address security issues in Central America and Mexico. Compared with past visits of U.S. presidents to the country, which were major events, Obama's trip is generating little excitement, despite his personal popularity in Costa Rica.
---
Pomp and Circumstance, Mexican Style
May 4, 2013
By: Juan Manuel Henao, AQ Blog
Mexico City residents rarely pay attention to visiting heads of state. Except for foreign flags on light posts along Reforma Avenue and inside Chapultepec Castle, no one really knows, cares or feels the presence of any visiting leader—except when the president of the United States visits.
---
President Obama speaks to SICA leaders
May 3, 2013
On Friday, President Obama met with Presidents of Costa Rica, El Salvador, Guatemala, Honduras, Nicaragua, Panama, and the Dominican Republic, and the Prime Minister of Belize, to discuss regional cooperation to improve security in Central America through the Sistema de Integración de Centroamérica (Central American Integration System—SICA).
Learn more about U.S. support for Central American security here and read the president's remarks here.
---
Presidents Barack Obama and Laura Chinchilla hold a joint press conference in San Jose
May 3, 2013
On Friday, on his first presidential visit to Costa Rica, President Obama participated in a bilateral meeting and joint press conference with Costa Rican President Chincilla, followed by a working dinner. During the press conference, the Presidents spoke about the friendship and economic ties between the two countries. They discussed the positive opportunities U.S.-Costa Rica relations have cultivated to far and committed to continuing to grown the relationship to attract even more investment in Costa Rica and to generate more trade and more jobs.
or watch the press conference here.
---
Presidents Barack Obama and Enrique Peña Nieto hold press conference in Mexico City
May 2, 2013
On Thursday evening, Presidents Barack Obama and Enrique Peña Nieto held a press conference at the Palacio Nacional in Mexico City, following a meeting between the two leaders earlier in the afternoon. The leaders discussed greater integration on economic, energy, education, and border security policies. In addition to strengthening bilateral trade, Obama highlighted broader regional integration through the Trans-Pacific Partnership, discussed in the new Spring 2013 AQ, to facilitate trade between Pacific Rim countries in Latin America with the Asia-Pacific countries. The presidents agreed to pursue clean energy partnerships and deepen educational exchanges, focusing on sharing science and technology skills. Obama commended Peña Nieto for the bold reforms he has made so far during his short presidency and pledged to support Mexico's security initiatives. The two leaders discussed the importance of working together to strike at the financial underpinnings of criminal enterprises that operate in both countries, while ensuring a secure border to facilitate legitimate trade and commerce.
Watch the video here.
---
Obama and Peña Nieto sign education accord
May 2, 2013
According to Mexican newspaper Milenio, Presidents Obama and Peña Nieto signed an agreement to cooperate on education during a meeting this afternoon at the Palacio Nacional in Mexico City. The agreement aims to "expand economic opportunities for citizens" of both countries.
---
Press Conference to be held at 5:00 pm ET Today
May 2, 2013
President Obama and Mexican President Enrique Peña Nieto are scheduled to hold a press conference at 5:10 p.m. ET Thursday in at the Palacio Nacional in Mexico City, according to the White House.
Watch the video live here.
---
Ben Rhodes Previews President Obama's Trip to Mexico and Costa Rica
May 2, 2013
Ben Rhodes, Deputy National Security Adviser for Strategic Communication, previews the President's trip and some of the issues he will be discussing.
---
---
U.S. Policy and Latin America
10 Things You Didn't Know About U.S.-Latin America Relations
BY ROBERTA S. JACOBSON
In our increasingly integrated hemisphere, diplomacy has come to be conducted in personal, quiet and small ways that often escape notice.
Much as President Barack Obama promised at the 2009 Summit of the Americas, the U.S. government has worked with its partners in the hemisphere on critical, broadly shared priorities such as economic growth, secruity and energy cooperation. But beyond these issues, we are also working with our partners to advance initiatives and issues that deserve more attention. Here are a few of my favorites.
Gringo Stay Here! (Spring 2013 AQ)
Anti-Americanism in the region isn't what you think. Here's why.
BY ANDY BAKER AND DAVID CUPERY
"Why do they hate us?" This question1, on so many U.S. citizens' minds over the decade following the September 11, 2001, attacks, is often asked about Islamic extremists and even the broader Muslim world. Among the most common responses is that "they" resent U.S. foreign policy in the Middle East. When the focus shifts to Latin America, U.S. foreign policy similarly appears to be the principal reason for anti-Americanism. This seems to make sense. One would be hard-pressed to find another world region with greater and more long-standing grievances about Washington's actions. The Monroe Doctrine, Dollar Diplomacy and Cold War Containment were euphemisms for imperial abuses committed against Latin America over the course of two centuries.
However, as we show here, Latin American citizens today are not overwhelmingly anti-American. In fact, polling data suggest that on balance the opposite is true.
Hard Talk: Will ALBA outlive Hugo Chávez? (Spring 2013 AQ)
Yes: Pablo Solón; No: Gregory Weeks
The popular tendencies that led to ALBA remain as relevant today as they were at its creation.
BY PABLO SOLÓN
Will ALBA outlive Hugo Chávez? Yes.
The death of President Hugo Chávez is a great loss for the Alianza Bolivariana para los Pueblos de Nuestra América (Bolivarian Alliance for the Peoples of Our America—ALBA). But it is unwise to conclude from this that ALBA will disappear altogether. Chávez achieved influence for his presidency and for ALBA by expressing and representing new power relations within the hemisphere. These dynamics have not changed with his death.
Despite its pretensions, the alliance was held together primarily by oil largess that can't last.
BY GREGORY WEEKS
Will ALBA outlive Hugo Chávez? No.
ALBA was created by the late Venezuelan President Hugo Chávez in 2004 to serve as a grand and high-profile rejection of the United States–proposed Free Trade Area of the Americas (FTAA) and, more generally, of international capitalism. Instead of basing trade on supply and demand, ALBA countries would use social consciousness and human rights as their criteria, with the aim of ushering in a new era of hemispheric harmony. ALBA currently has eight full members and two guest members.
---
Crime, Security and Development
Policy Update: The Courts in Mexico (Spring 2013 AQ)
Sweeping changes need to take place for Mexico to benefit from justice reforms.
BY JOSE ANTONIO CABALLERO
The steady process of change in judicial organizations in Mexico, which began in the mid-1990s, was given a major boost in the past few years with four constitutional amendments.
The most significant is a 2008 amendment requiring that all state and federal judicial systems transition from a written-based inquisitorial system to an oral-based accusatorial one by 2016. This will bring greater transparency while better protecting the rights of the accused and allowing for the presumption of innocence until proven guilty.
Halfway into the transition phase, though, the processes' slow implementation poses a risk that states won't meet the 2016 deadline.
Prisons: In Jail But Not Sentenced (Winter 2013 AQ)
By: Richard M. Aborn and Ashley D. Cannon
Each year, millions of people across the world find themselves in jail without being convicted of anything—often for months at a time—as they await trial. Alarmingly, although the rights to liberty, security and equal justice under the law are cornerstones of justice systems throughout the Americas, pretrial detention is being employed at rates two to five times greater than the international average, and its use continues to grow unabated.
Security in Central America's Northern Triangle: Violence Reduction and the Role of the Private Sector in El Salvador
Americas Society Policy Brief
December 12, 2012
In the Northern Triangle countries of El Salvador, Guatemala, and Honduras, the increase in violence and organized crime highlights the need for new approaches to improve citizen security. In the case of El Salvador, a March 2012 gang truce has halved the daily homicide rate, opening an opportunity to build on existing efforts or to launch new approaches aimed at violence prevention.
While public safety is the responsibility of the state, this Americas Society policy brief highlights the role of the private sector in violence prevention. It highlights innovative corporate efforts in violence prevention so that policymakers, businesses leaders, and others concerned about improvements in security can learn from these initiatives and obtain a more nuanced grasp of the possible space that can be filled by the private sector.
The Uphill Battle of Justice Reform (Summer 2012 AQ)
By: María Gracia Andía
The strength and quality of democracy depend on how well judiciaries perform and function. In Latin America, after more than 20 years of judicial reforms, there have been some notable achievements. But there is a long way to go before judiciaries can adequately carry out their responsibilities to resolve conflicts, define and interpret rights and laws, and provide the framework for accessible, impartial systems of justice.
Breaking the Cycle (Winter 2011 AQ)
By: Dóra Beszterczey and Shannon O'Neil
Latin America has the sad distinction of being one of the world's most violent regions, with crime rates double the world average. Actively struggling to provide safety to their citizens, Latin American governments are pouring millions of dollars into law enforcement, and in some places even deploying the army. Many countries are also working to strengthen law enforcement institutions through reforming court systems and professionalizing police forces. While these are all important measures, governments risk losing sight of the relationship between security, economic opportunity and growth.
---
Immigration
Get the Facts: AS/COA's Immigrant Fact Sheets (March 2013)
As U.S. immigration reform moves forward in 2013, a variety of facts and figures continue to be presented around immigrants and their current and potential contributions to the U.S. economy. AS/COA's immigration fact sheets provide key data points on why immigrants are vital to the U.S. economy and why comprehensive immigration reform is necessary for future U.S. competitiveness.
Immigrants and America's Future (Spring 2011 AQ)
By: Hilda L. Solis
The formal name of the Statue of Liberty, which has greeted visitors sailing into New York harbor since 1886, is "Liberty Enlightening the World." A bronze tablet inside the statue's pedestal displays a poem by Emma Lazarus that reads, in part, "Give me your tired, your poor/Your huddled masses yearning to breathe free/The wretched refuse of your teeming shore…" Those words have welcomed generations of immigrants to the United States.
Our Immigrant Hemisphere (Summer 2008 AQ)
In the U.S., immigration has become a political fault line. But we often overlook that immigration and migration are a shared experience throughout our hemisphere.
---
Drugs
Can decriminalization move us beyond the war on drugs? (Fall 2010 AQ)
Yes: Ethan Nadelmann; No: David Mineta
The time has come to reduce the role of criminalization and the criminal justice system in drug control, while protecting public health and safety
By: Ethan Nadelmann
The case for decriminalizing or legalizing marijuana and other illicit drugs is essentially the same as the case that persuaded most Americans to repeal Prohibition in the early 1930s. Banning alcohol was ineffective, costly, counterproductive, and immoral. Legal regulation, on the other hand, can better reduce the harm of drugs and drug control policies.
Decriminalization would increase the use and the economic and social costs of drugs.
By: David Mineta
The argument that drug decriminalization, or legalization, will solve the budget crisis, reduce prison overcrowding and cripple drug cartels is simply not supported by evidence. In fact, the benefits of keeping marijuana and other illicit drugs illegal clearly outweigh the negative and predictable consequences of legitimizing these substances.
---
Social Inclusion
The Social Inclusion Index (Spring 2012 AQ)
By: Americas Quarterly
What really is social inclusion? From scholars to multilateral banks to President Ollanta Humala of Peru, social inclusion has become the term du jour. Implicitly, most of us understand it as more than development; it includes elements of political participation, social rights, civil liberties, and equal access—across race, ethnicity and gender—to social services and labor markets.
Political Representation & Social Inclusion: A Comparative Study of Bolivia, Colombia, Ecuador, and Guatemala (Spring 2012 AQ)
Generation Ni/Ni: Latin America's Lost Youth (Spring 2012 AQ)
By: José Manuel Salazar-Xirinachs
The youth unemployment rate today in Latin America and the Caribbean stands at a remarkable 15 percent. These 8 million unemployed are part of what may be called a global "lost generation" of young people at risk of social exclusion—all of whom lack opportunities, resources and access to formal labor markets.
---
Trade
The Next Big Thing? The Trans-Pacific Partnership & Latin America (Spring 2013 AQ)
By: Barbara Kotschwar and Jeffrey J. Schott
The hottest topic in world trade these days is the Trans-Pacific Partnership (TPP). Hailed as a state-of-the-art free trade agreement (FTA), it will unite 11 countries—Australia, Brunei, Canada, Chile, Malaysia, Mexico, New Zealand, Peru, Singapore, the United States, and Vietnam—with a combined GDP of almost $21 trillion (about 30 percent of world GDP) and $4.4 trillion in exports of goods and services, or about a fifth of total world exports. If you add Japan and South Korea—who are actively exploring entry later this year—TPP would cover 40 percent of world GDP and nearly a third of world exports.
The Hemisphere's Spaghetti Bowl of Free Trade Agreements (Spring 2012 AQ)
By: José Raúl Perales
Twenty years after the launch of market reforms, Latin American countries are among the most active players in the international trading system, thanks to their participation in free-trade agreements (FTAs) and preferential market access accords.
---
Education
Making the Grade (Fall 2010 AQ)
By: Nina Agrawal
School enrollment, retention, student-teacher ratio, and literacy are critical variables for determining educational success. How do countries in Latin America stack up? AQ's charticle looks at these regional numbers along with the effect that a student's economic class has on the likelihood of passage from primary to secondary to tertiary educational levels.
Can Education Reduce Violent Crime? (Fall 2010 AQ)
By: Lucía Dammert
Rising rates of violent crime, especially homicide, have turned Latin America into one of the world's most insecure regions over the past decade. Data from multiple sources estimate that an average of six people per day are murdered in Honduras, eight in El Salvador and 14 in Guatemala alone. Latin America's murder rates are currently the second highest in the world—but the situation is particularly grim for young people. Based on World Health Organization estimates, homicide rates among young males in countries such as Colombia and El Salvador are among the world's highest.
---
Energy
The Future of Pemex (Summer 2012 AQ)
By: Lourdes Melgar
The time is ripe for a historic transformation of Mexico's energy sector. The 2008 Reforma Energética (Energy Reform)—a congressionally-approved presidential initiative that established or modified seven laws—highlighted the significant challenges facing the Mexican oil industry and the economic implications of a decline in oil production. The problem: it didn't resolve them.
Turn on the Lights (Fall 2009 AQ)
By: David Jhirad and Alan Poole
How we collectively produce and deliver energy, while coping with the catastrophic threat of climate change, will define our century. The challenges faced by the international community are monumental and multi-faceted. They include stabilizing greenhouse gas emissions, enhancing energy security through reducing the risk of economic disruption and nuclear weapons proliferation, and eliminating the lack of access to energy for over 3 billion people. An estimated $20 trillion in capital investment will be needed for energy infrastructure by the year 2030, according to the International Energy Agency (IEA). More specifically, to meet the immense challenge of climate change to energy policy, there must be dramatic changes in the historic trends of energy and electricity supply and use.
---
Biden Praises Brazil in speech, calls country 'developed'
May 29, 2013
By: Taylor Barnes, Miami Herald
U.S. Vice President Joe Biden praised Brazil's "vibrancy and inclusive democracy" and strides made in social and economic development in a half-hour speech Wednesday in Rio de Janeiro.
"You can no longer claim 'We are a developing nation.' You have developed," Biden said to a crowd that included Rio de Janeiro's Mayor Eduardo Paes and local business leaders in a warehouse along the city's bustling port zone. "What goes with that is worldwide responsibility to speak, to speak out."
---
Biden in Trinidad on LatAm, Caribbean swing
May 28, 2013
AFP
US Vice President Joe Biden arrived in Trinidad and Tobago where he was to meet with other regional leaders on his 20-hour visit to the island nation.
The US Vice President and his wife Dr. Jill Biden arrived at the Piarco International Airport at 8:25pm on Monday along with an entourage of 150 people.
---
Biden Praises Colombian Peace Talks with FARC
May 27, 2013
VOA News
U.S. Vice President Joe Biden is praising developments in peace negotiations between Colombia's government and FARC rebels.
Biden made the comments during a visit Monday to Bogota, Colombia, in which he met with President Juan Manuel Santos. He said the United States supports President Santos' efforts to reach a historic peace with the rebels.
---
Vicepresidente de EE.UU. llega a Colombia para reunirse con el presidente Santos
May 26, 2013
NTN24
El vicepresidente de Estados Unidos, Joseph Biden, llegó este domingo a Colombia, donde se reunirá este lunes con el mandatario de este país, Juan Manuel Santos, en la que es la primera parada de su gira por América Latina.
Biden aterrizó en Catam, el aeropuerto militar de Bogotá, pasadas las 14:50 hora local (19:50 GMT) junto a su esposa, Jill Biden, y el séquito que lo acompaña.
---
Biden heads to the Caribbean, Latin America
May 25, 2013
By: Jacqueline Charles and Taylor Barnes
With the sluggish U.S. economic recovery and nagging debt, American taxpayers probably aren't in the mood to be helping others around the world — even their nearest neighbors.
But as Vice President Joe Biden embarks on a three-nation Latin American tour Sunday, beginning in Colombia, foreign relations observers say the Obama administration will have to come up with more than just talk if the U.S. hopes to recapture some of its shine in a hemisphere that's increasingly being courted by other global powers.
---
Análisis: México compromete a Obama, el SICA solo espera acercamiento
May 5, 2013
By: Darío Chinchilla, La Nación
El presidente estadounidense Barack Obama dejó hoy México con el compromiso de crear un grupo de alto nivel que integre a representantes de los gabinetes de ambos países para coordinar iniciativas comerciales. El equipo, que por el lado estadounidense estará a cargo del vicepresidente Joe Biden, empezaría a trabajar en dos meses.
---
In Costa Rica, Obama Stresses Economic Ties
May 4, 2013
By: Colleen McCain Nelson, The Wall Street Journal
President Barack Obama said Saturday that he considers trade relationships with Central American countries and Mexico enormously important, telling Costa Ricans that the U.S. wants to be their partner.
---
A new Mexico is emerging, Obama says; speech addresses immigration, education
May 3, 2013
By: Dan Merica and Catherine E. Shoichet, CNN
President Barack Obama said Friday he came to Mexico to break down stereotypes between the United States and its neighbor to the south.
Speaking at the Museum of Anthropology in Mexico City, Obama said that too often the relationship between the United States and Mexico is "trapped in old stereotypes," where Mexicans see America as trying to wall itself off from Mexico and Americans see Mexico through the sensational headlines of violence in the war on drugs.
---
Economy, security in spotlight as Obama heads to Costa Rica
May 3, 2013
By Djenane Villanueva and Catherine E. Shoichet, CNN
As U.S. President Barack Obama prepares to head to Costa Rica to meet with Central American leaders on Friday, a top official there says he's sensed a shift in how Obama's administration views the region.
---
Which Mexcio for Obama?
May 2, 2013
By: Peter Hakim
When President Barack Obama meets this week with President Enrique Peña Nieto in Mexico, he will be visiting a country that was much maligned throughout his first term.
Washington has viewed Mexico largely as a source of problems for the United States in the past six years. Many Mexicans, in a mirror image, consider the United States the origin of their troubles. They blame Mexico's epidemic of violent crime on an insatiable appetite for drugs and loose control over gun and ammunition sales in the United States. In addition, the U.S. financial crisis left the Mexican economy reeling in 2009.
---
Economy to take center stage for Obama's Mexico visit
May 2, 2013
By: Stephanie Condon, CBS News
Five months after Enrique Pena Nieto took office as Mexico's new president, President Obama on Thursday embarks on a three-day trip to Mexico and Costa Rica with the intent of strengthening and expanding the United States' critical relationship with Latin America.
A number of issues will be on the table, including security and immigration — as the U.S. hashes out immigration legislation that's sure to include an expansion of border security, cooperation from Latin America will be critical. The primary focus of the trip, however, will be the economy.
---
¿Cuál será la agenda de Obama en México y de qué hablará con EPN?
May 2, 2013
By: Animal Politico
Conoce paso a paso la agenda programada para la visita del presidente de EU a México, así como cuáles serán los principales temas a tratar entre los mandatarios de ambos países.
---
Obama, Mexico leader to avoid hot topics, at least publicly
May 2, 2013
By: Kathleen Hennessey and Tracy Wilkinson, Los Angeles Times
President Obama will seek to cement relations with Mexico's new president, Enrique Peña Nieto, over the next two days with vows of neighborly kinship and future cooperation. But the true test of their ability to work together may be whether they can hold their tongues.
---
U.S. Image Rebounds in Mexico
April 29, 2013
By: Pew Research Center Global Attitudes Project
On the eve of President Barack Obama's visit to Mexico, the United States is enjoying a resurgence of good will among the Mexican public, with a clear majority favorably inclined toward their northern neighbor and more now expressing confidence in Obama.
A national opinion survey of Mexico by the Pew Research Center, conducted March 4-17 among 1,000 adults, finds that roughly two-thirds (66%) of Mexicans have a favorable opinion of the U.S. – up from 56% a year ago and dramatically higher than it was following the passage of Arizona's restrictive immigration law in 2010, when favorable Mexican attitudes toward the United States slipped to 44%.
---
Claves de la visita de Obama a México
April 28, 2013
By: Andrew Selee, El Universal
Cuando Barack Obama llegue a México esta semana, será la primera oportunidad para que él y Enrique Peña Nieto se sienten a dialogar como mandatarios. Tuvieron una primera reunión de acercamiento cuando Peña Nieto visitó Washington como presidente electo, pero esa reunión fue más que nada protocolaria, mientras que esta visita será la oportunidad de replantear estrategias y decidir el tono de la relación que llevarán los dos presidentes y sus gobiernos hacia adelante.
---
Explainer: President Barack Obama's Trip to Mexico and Costa Rica
April 26, 2013
By: Rachel Glickhouse and Carin Zissis, AS/COA Online
U.S. President Barack Obama heads to Costa Rica and Mexico from May 2 through 4, in the leader's first visit to Latin America since last June's G-20 Summit in Mexico. He will meet with Mexican President Enrique Peña Nieto, as well as numerous heads of state at the Central American Integration System (SICA) summit. Costa Rica's Laura Chinchilla, the Dominican Republic's Danilo Medina, El Salvador's Mauricio Funes, Guatemala's Otto Pérez Molina, Nicaragua's Daniel Ortega, and Panama's Ricardo Martinelli are due to attend. AS/COA looks at potential topics of discussion between Obama and Latin American leaders, focusing on trade, immigration, security, and energy.
---
Obama abordará temas energéticos en visita a México
April 25, 2013
El presidente de Estados Unidos, Barack Obama, planea abordar temas energéticos en su visita en mayo próximo a México y Centroamérica, según Thomas Donilon, consejero de seguridad nacional del gobierno estadunidense.
"Cuando el presidente viaje a principios de mayo a México y Centroamérica, la energía será uno de los temas a discutir", aseveró hoy Donilon durante el lanzamiento del Centro de Políticas sobre Energía de la Universidad de Columbia.
---
Tras visita a México, Holder ve 'esencial' reforma migratoria
April 24, 2013
El procurador general de Estados Unidos, Eric Holder, dijo hoy tras un viaje la víspera a México, que está "orgulloso de fortalecer los lazos de amistad" entre ambos países y otros aliados en América Latina.
En un discurso esta noche en Washington ante el Fondo Mexicano-Estadunidense para la Defensa Legal y la Educación (MALDEF) , Holder manifestó que en su viaje reafirmó su compromiso "personal y profesional" con los valores compartidos por ambos países.
---
Costa Rica garantiza seguridad en visita de Obama
April 24, 2013
Los cuerpos de seguridad de Costa Rica ponen a punto el operativo que ejecutarán durante la visita del presidente Barack Obama, quien se reunirá con los mandatarios de Centroamérica la próxima semana, afirmó este miércoles el ministro de Seguridad Mario Zamora.
"Muchos de estos acontecimientos se prestan para hacer protestas de orden global, que también deben ser consideradas dentro de los planes de seguridad. La seguridad de los dignatarios, no solo del presidente Obama sino del resto de centroamericanos, representa un gran reto" para el país, afirmó Zamora en declaraciones a la radioemisora ADN.
---
Enorgullece a EU fortalecimiento de relación con México
April 24, 2013
El procurador general de Estados Unidos, Eric Holder, dijo tras un viaje la víspera a México, que está "orgulloso de fortalecer los lazos de amistad" entre ambos países y otros aliados en América Latina.
En un discurso esta noche en Washington ante el Fondo Mexicano-Estadunidense para la Defensa Legal y la Educación (MALDEF), Holder manifestó que en su viaje reafirmó su compromiso "personal y profesional" con los valores compartidos por ambos países.
---
Poll shows Central America regards U.S. highly
By: Ezra Fieser / Infosur Hoy
April 22, 2013
When U.S. President Barack Obama visits Central America next month, he will find a region that holds his country in high esteem.
The United States is one of the most favorably viewed foreign countries among Central Americans, thanks to its economic impact on those nations and a general admiration for the U.S. standard of living, according to opinion polls.
---
Immigration Reform Gets U.S. in on Mexico's Boom
By: Jason Marczak / CNN
April 18, 2013
President Barack Obama will find that much has changed in Mexico when he arrives on May 2. Our neighbor to the South—and second-largest export market—has moved far ahead with reforms.
As Congress crafts comprehensive immigration legislation, Democrats and Republicans must keep in mind that Mexico is changing rapidly, and policies crafted to reflect yesterday's Mexico will not help the U.S. make the most of the potential of today's and tomorrow's Mexico.
---
Obama To Visit Mexico and Costa Rica in Early May
By: AQ Online
March 28, 2013
The White House announced on Wednesday that U.S. President Barack Obama will travel to Mexico and Costa Rica in the first week of May to "reinforce the deep cultural, familial and economic ties that so many Americans share with Mexico and Central America." Among other issues, Obama plans to discuss immigration, citizen security and economic development.
---
Mexico: The New China?
By: Eric Farnsworth / PODER 360
March 2013
On Jan. 26, 2013, the New York Times ran an opinion piece written by Chris Anderson, the former editor of Wired magazine, who quit journalism in order to run 3D Robotics, a San Diego-based company that builds drones for civilian use. The article, titled, "Mexico: The New China," has created a buzz, given its contention that Mexico is becoming the manufacturing hub that China has been for years, a critical piece of the competitiveness puzzle facing U.S. manufacturers in the global marketplace.
---
Mexico: The New China
By: Chris Anderson / The New York Times
January 26, 2013
In November I quit my job as the editor of Wired to run 3D Robotics, the San Diego-based drone company I started with a partner as a side project three years ago. We make autopilot technology and small aircraft — both planes and multirotor copters — that can fly by themselves. The drones, which sell for a few hundred bucks, are for civilians: they don't shoot anything but photographs and videos. And they're incredibly fun to build (which we do with the ample help of robots). It wasn't a hard decision to give up publishing for this.
---
To read coverage of Obama's March 2011 trip to Latin America, click here.