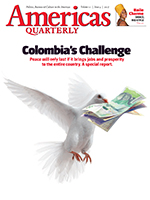 Special Report
AQ's latest issue looks at how Colombia can consolidate peace – and ensure prosperity for more of its citizens.
By JOHN OTIS
New economic opportunities are creeping into Colombia's troubled countryside. More are needed to help keep the peace.
By SIBYLLA BRODZINSKY
From guerrilla to presidential candidate, Gustavo Petro's rise encapsulates the divisions, fears and hopes permeating Colombian politics today.
By BENJAMIN RUSSELL
With more than two dozen potential candidates, Colombia's 2018 race is up for grabs. Is there room for surprise among so many familiar faces?
By ADRIANA LA ROTTA
Without conflict to bring them together, Colombians are confronting their differences, and engaging in the messy business of democracy.
By LEONARDO VILLAR
Developing rural areas will be hard – and expensive. How will Colombia pay for it?
By LISA VISCIDI
Geography and a lack of security have stunted Colombia's infrastructure development. The country needs to be connected for peace to take hold.
AQ asked politicians, business leaders and everyday people what they think the next president's first priority should be.
By BRENDAN O'BOYLE
Prosperity and well-being haven't spread evenly across Colombia's diverse regions. That poses an obstacle to future development.
AQ Top 5: Latin American Art Activists
Meet the visual artists exploring – and exploding – notions of race, gender, sexuality and political freedom.
By JULIANA BARBASSA
Known for his raw depictions of Donald Trump, this Cuban artist sees parallels between the past and present.
By BRENDAN O'BOYLE
He survived a hate crime as a youth. Now, this Venezuelan illustrator uses art to fight bigotry and celebrate LGBTQ identity.
By LEANI GARCÍA
Her own conflicted relationship with race led this Brazilian photographer to push for equality.
By REBECCA BINTRIM
He endured persecution to become one of Cuba's most recognized graffiti artists.
By BENJAMIN RUSSELL
This Peruvian designer merges fashion and psychology to address issues of women's health.
Business and Economics
By CHRISTOPHER LENTON
After years of financial uncertainty, the Brazilian oil giant is back from the brink – and beating regional competitors.
Cultura
By CATHERINE OSBORN
Baile Charme is a unique expression of American, Brazilian and black identity.
By JOE PARKIN DANIELS
For decades, Magín Díaz's musical influence went unrecognized. Now, Grammy nominations in hand, he's making up for lost time.
By BRIAN WINTER
Journalist Fabio Zanini explores one of Brazil's most corrosive and enduring myths: that its size entitles it to power and influence abroad.
By ANYA VENTURA
Colombian novelist Santiago Gamboa delivers an internationally-minded page-turner.
By MANUEL BETANCOURT
A poetic film from one of Argentina's bright young directors.
By SEBASTIÁN ZUBIETA
Tense energy and a wandering spirit highlight the Venezuelan guitarist and songwriter's forthcoming album.
Departments
By BRENDAN O'BOYLE
Jesus Aguais, founder of Aid for AIDS, on what the international community can do to slow Venezuela's health emergency.
By ANDREW PAXMAN
William O. Jenkins helped shape modern Mexico – and made a fortune while at it.