Reading Time:
2
minutes
¿A cuántos aquí les gusta el tango? (Who here likes tango?) asked the emcee of last night's concert. Amid general cheers from the audience, the loudest response was from the woman behind me, who promptly and enthusiastically yelled, ¡Todos! ("Everyone!").
Todos is what this concert was all about. Sponsored by the international credit card company Diners Club and held at the Plaza San Pedro Claver, the selection of works and the style of performance were the most modern, accessible and laid-back yet witnessed at the festival. The performance included Argentine harpist María Luisa Rayán-Forero, who interpreted famed Argentine composer Astor Piazzolla's Otoño Porteño and Libertango with an instrument and style not ordinarily expected of the tango. With the fingers of her left hand slowly plucking strings to create low, sultry, jazz-like chords, those on her right hand danced over the harp to render the tango's melodies. To keep time, her knuckles occasionally rapped on the instrument itself, and Rayán-Forero's harp sounded more like an upright bass and guitar with occasional percussion. The effect was hypnotic and seductive, completely transporting the audience to the streets of Buenos Aires.
The program also included violin and flute solos which, although from the early twentieth century, felt much more contemporary. Twenty-five-year-old French violinist Arnaud Sussman played Fritz Kreisler's Three Pieces with a technique reminiscent of Van Halen on the guitar; extended use of arpeggiation; and quick fluttering of his fingers at the highest notes possible—creating an almost discomforting, but nonetheless enthralling, effect. Colombian flutist Gabriel Ahumada brought new life to one of the most famous and popular pieces in classical music: the Carmen Fantasy. Playing the long solo from memory, the high notes and extremely quick tempo of certain segments captivated the audience, who audibly hummed along.
The most popular—and populist—piece of the evening was the Largo al Factotum aria from Gioacchino Rossini's The Barber of Seville. Baritone Christòpheren Nomura appeared on stage drinking a glass of wine, then ran to the microphone just in time to begin singing, accompanied on piano by the festival's artistic director, Stephen Prutsman. Within seconds, the audience was laughing. Although the aria is very demanding technically—with its constant singing of triplets, allegro vivace (quick and lively) tempo, and tongue-twisting Italian superlatives (everything ending in –issimo)—you would never know, given the levity and humor Nomura brought to it. Coming close to the end, he rendered the repeated "Figaros" for which the piece is known with especial gusto. At one point, he even called out to the audience, "¡Todos! Fiiii-ga-roooo."
The audience was only happy to oblige. Todos indeed.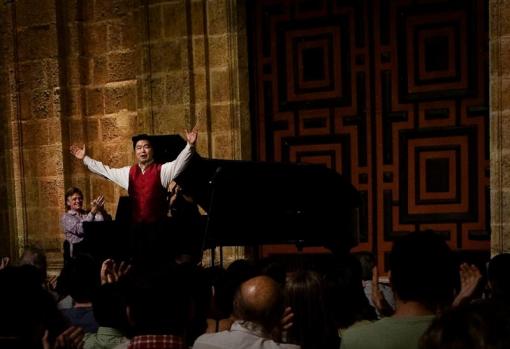 Baritone Christòpheren Nomura. Photo courtesy of Joshua Z Weinstein.
*Nina Agrawal is an associate editor for Americas Quarterly. She is blogging this week from the 2011 Cartagena International Music Festival.
January 10, 2011: "Cartagena Comes Alive at International Music Festival"