Reading Time:
3
minutes
The arepas are hot, the micheladas cold, and the music ubiquitous. A thick blanket of humidity hangs in the air, and the sunlight is blinding, even behind layers of fog. This is Cartagena de las Indias, a port city on Colombia's northern Caribbean coast and the seat of the Festival Internacional de Música (International Music Festival).
Surrounded by beaches, full of colonial architecture and named a UNESCO World Heritage Site, Cartagena has long been a popular destination for tourism, even when insecurity and violence in Colombia were at their height. With the renaissance of the past two decades, however, there has been an explosion of cultural activity. This January and February, Cartagena will play host to three major cultural festivals: the International Music Festival, the Hay Festival for literature and the Cartagena Film Festival.
One might ask how this city of 1 million inhabitants—as unknown internationally as beloved locally—has come to attract the attention of so many international artists. One reason: both the local and national government (i.e., municipal bodies and the federal Ministry of Culture and Tourism) have robust public policies promoting culture. Another, more practical reason is that the festival-as-cultural-commodity has found its optimal space here: Cartagena is beautiful (colonial architecture in the old city, picture-perfect beaches on the islands), strategically important (a port), and sought out by the elite.
In my short time here, I have already witnessed Cartagena—as a festival host—in action. On Friday night, the inaugural concert at the Adolfo Mejía Theater (named after a Cartagenero who composed songs about the city in a local musical style) in the Old City was clearly a place for the Colombian and international elite to see and be seen. Women in elegant gowns attended on the arms of men in white guayaberas, or linen dress shirts. President Juan Manuel Santos and investor, industrialist and philanthropist Julio Mario Santo Domingo (of the Emporio Santo Domingo holdings company) came with their families in tow. The program consisted of Johann Sebastian Bach, Joaquín Rodrigo and Felix Mendelssohn-Bartholdy, and was performed by the City of London Symphony and three soloists (one harpist, two violinists). The concert was everything one might expect of an opening night at a festival of international acclaim—dignified, reserved and respectfully yet enthusiastically received by its patron audience.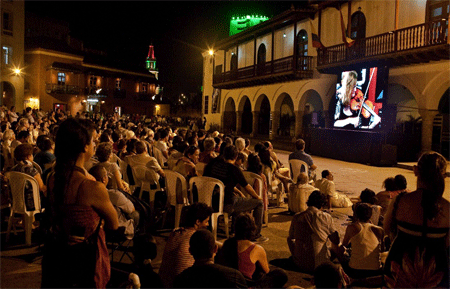 Audience spillover, mostly Cartageneros, watching on a TV screen nearby. Photo courtesy of Joshua Z Weinstein.
Two nights later, an open-air, public concert in the Plaza San Pedro Claver was even more lively and impassioned than that on opening night. Maybe it was the open-air environment on a warm evening with a mild breeze, or maybe it was the captivating cello and violin soloists performing works by French composers François Couperin and Camille Saint-Saens.

My hunch, however, is that what imparted the evening with such emotion was the audience. While again consisting of the international and Colombian elite, now joining them were ordinary, middle and working-class citizens from Cartagena itself. If they weren't seated among the 1,000-or-so white plastic chairs temporarily set up for the event, they were standing on balconies, watching from the fringes of the seating area or glued to a screen broadcasting the event in a nearby plaza. They brought their children; cheered and yelled "bravo" in the middle of a piece—disregarding their neighbors' chagrin; and stayed until the very end, cheering louder even than the seated crowd.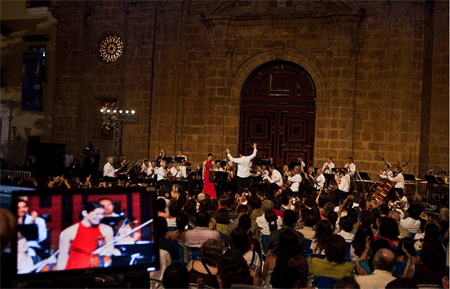 Violinist Jennifer Frautschi (American) takes a bow. Photo courtesy of Joshua Z Weinstein.
Before the concert had begun, a woman told me she thought this festival and its founding organization, the Fundación Salvi, are important for Cartagena because they give everyone, from the poorest to the highest classes, the opportunity to listen to music. This seems to be what the Festival Internacional de Música seems to be all about. And something that I'll be exploring in my blog posts the rest of this week. 
*Nina Agrawal is an associate editor for Americas Quarterly. She is blogging this week from the 2011 Cartagena International Music Festival.