Reading Time:
4
minutes
BUENOS AIRES — Times are good in the agriculture-led Argentine export sector. The country's exports reached $35.9 billion in the period from January through May, up 26.6% from the same period a year ago. Trading terms overall are currently the best in decades for Argentina, according to data from its National Statistics Agency.
But they could be much better. Most of the increase in exports is thanks to a rise in prices for Argentine products (by 22.6%), rather than a genuine increase in output that could be sustainable over time. Trade volumes remained largely even, with an increase of just 3.4%, and for some goods, such as beef, they are even falling.
Poor weather is playing a part, but uncertainty introduced by government policy is putting the brakes on a potential boom in Argentine exports. And time is running out to turn things around.
Even as President Alberto Fernández said Argentine wheat could help feed the world amid disruptions in global markets caused by war in Ukraine, his government is pushing for an increase in the 12% export tax on wheat, seeking to alleviate the primary deficit by increasing tax income.
Along with low humidity and high fertilizer costs across the region, that is prompting many farmers to hold back from sowing wheat at a crucial juncture, planning instead to sow winter crops or wait to plant soybeans in October.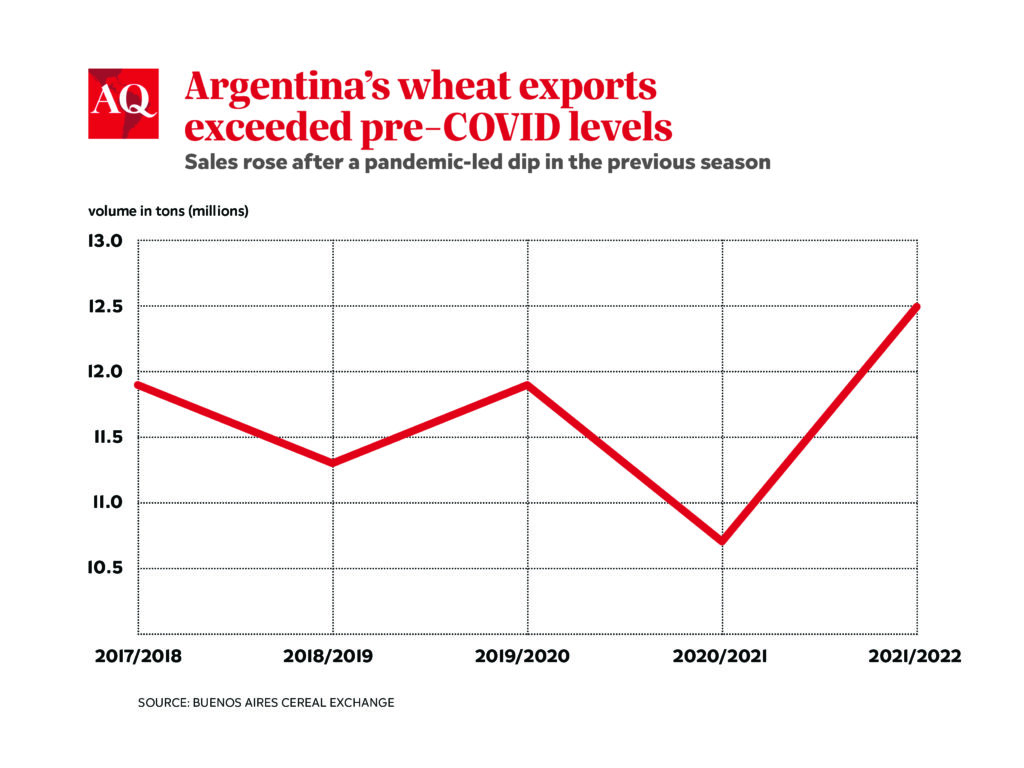 Fernández has also presented a bill to Congress to create a windfall levy on companies that derive "unexpected income" from higher prices. Although it seems for now to have little chance of passing, the idea raised uncertainty in the agricultural sector, as fears of intervention mount over rising prices of basic goods, such as bread.
A recent report from the Rosario Exchange stated that the wheat crop faces "the worst planting scenario of the past 12 years." It expects acreage to shrink by 10% this year, and overall output to dwindle from 23 million tons to 18.5, just when the world needs it the most.
The chance of a broader political crisis isn't helping, either. Argentina's finance minister, Martín Guzmán, a key ally of the president, unexpectedly resigned on July 2 and was replaced by Silvina Batakis, seen as more left-wing, as the Argentine peso dropped.
Export curbs create uncertainty
Another source of uncertainty is the Fernández administration's curbs on wheat exports that can be sold overseas, meant to safeguard supply in the local market. Under these rules, every year the government sets how much wheat will be available for export—another source of uncertainty for the sector. Currently, just 10 million tons of wheat are set to be allowed to be sent overseas, down from 14.5 million in the previous year. However, this figure could be revised.
Insufficient supply of diesel over the past few weeks is fueling protests from truckers and farmers that cannot transport their goods to either mills or ports. Many feel frustration at what they sense is a once-in-a-decade opportunity that is slipping away.
Meanwhile, regional competitors have gained ground: Brazil, a traditional importer of wheat from Argentina, is gradually growing its share in the world market—totaling roughly 2.5 million tons exported in the last season, ranking 12th in the world.
Argentina's highly fragile economy is undermining its prospects. With inflation above 60%, the country is struggling to comply with its agreement with the International Monetary Fund. A low stock of foreign reserves and no access to global financial markets adds yet another layer of complexity to obtaining much-needed fertilizers.
The energy front
Argentina's export opportunities aren't limited to agriculture. Vaca Muerta, a world-class shale oil and gas reservoir could be a blessing at a time when energy supply chains are being reshaped and Europe is looking for new liquefied natural gas (LNG) providers. (Fernández touted the prospect of Argentine LNG exports on a visit to Europe in May.)
But insufficient infrastructure in Argentina is stalling efforts to expand production. The Vaca Muerta shale gas deposit, recently touted as a "great opportunity" by Batakis, is the world's second-largest, but the country is still a net importer of gas. The government announced the Néstor Kirchner pipeline in May, a plan to build a 640-mile line which would increase transportation capacity by 25% and is considered essential to carry shale gas from the Andes to large cities. Official estimates show it could save the country $1.5 billion in imports next year and allow for exports on a longer timeline.
But few in the sector believe that it will be built on time (the government committed to having it operating a year from now). The official overseeing the process resigned last month, and a cabinet member, Matías Kulfas, was ousted after he accused a faction of the government close to Vice President Cristina Kirchner of deliberately stalling the project.
Every crisis, so they say, is an opportunity. But time is running out for Argentina to seize this one. Experts anticipate a prolonged window of high commodity prices even beyond the resolution of the war, but the window will not be open forever. Some food prices have already ticked downwards in the past few weeks.
Fernández is right that the time is now—but taking timely action is easier said than done.
—
Feliba is a financial reporter at S&P Global Market Intelligence and has written for the Washington Post among other publications.
Tags:
Agriculture
,
Alberto Fernández
,
Argentina
,
Economy
,
energy
,
trade