Reading Time:
4
minutes
Yesterday evening, Peruvian president Pedro Castillo swore in a new cabinet, his third in the space of just six months. Particularly concerning to many onlookers was the departure of finance minister Pedro Francke, who had been seen as a guarantee of stability and relative continuity in Peru's economic policies both at home and abroad. Uncertainty was at an all-time high. What direction would Castillo take this time?
The answer seems to be none. Castillo's new cabinet does not represent a considerable shift in his administration's direction precisely because it already lacked firm direction. A cursory look at the team assembled within the space of a day and a half suggests Peru's government will remain a mix of unfamiliar faces, differing ideologies, and the same old problems.
The latest reshuffle happened after Castillo's prime minister, Mirtha Vásquez, announced her resignation on Monday, prompting the dissolution of the entire cabinet. Her departure came swiftly after yet another corruption scandal surrounding Castillo's administration, this time within the ministry of the interior. Avelino Guillén, a well-known former prosecutor who had been heading the sector, quit after accusing the commander of the police force of leading a bribery scheme that involved some of Castillo's close advisors. According to both Vásquez and Guillén, Castillo had shown them little support in their demands to remove the police commander and deal firmly with corruption accusations in one of the country's most sensitive sectors.
The cabinet shuffle rattled Peruvians, who had considered the moderate Vásquez as a buffer between Castillo and his more radical Perú Libre party, especially in comparison to Guido Bellido, Castillo's first pick as prime minister. The new prime minister is Héctor Valer, a sitting congressman originally elected under Renovación Popular, Peru's first contemporary far right party; he has since left the caucus. Valer has been an ally of Castillo's in Congress, stating his rejection of any impeachment process against the president. But Valer lacks broad support in Congress: Fuerza Popular, the party of Keiko Fujimori, have already announced that they won't support him with a vote of confidence, despite sharing a right-of-center background.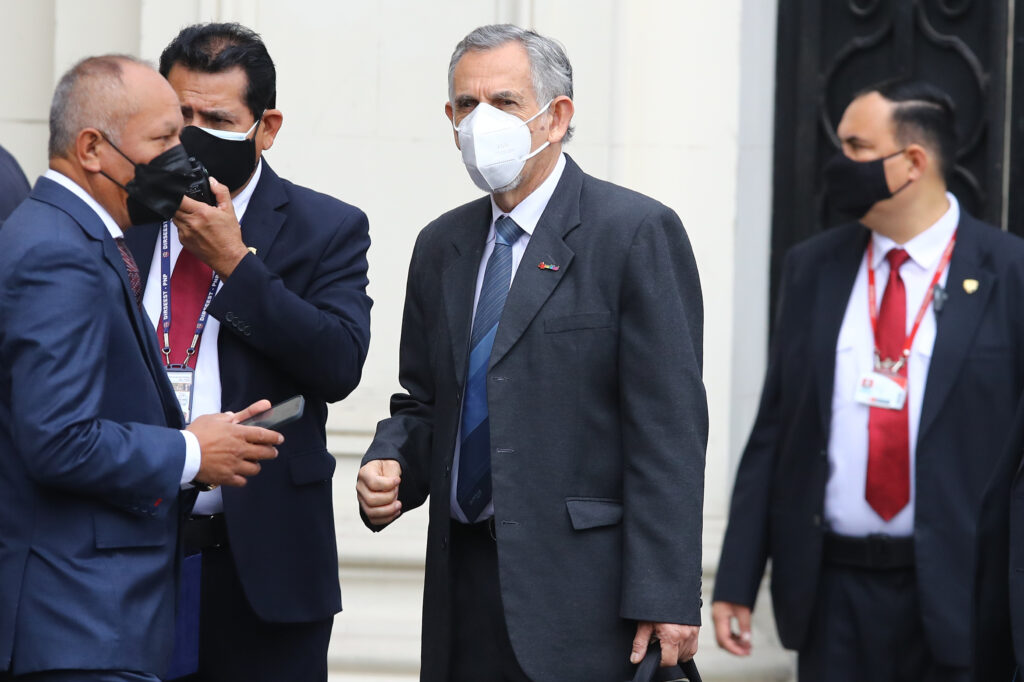 Meanwhile, Francke's replacement in the finance ministry is Oscar Graham, a long-serving bureaucrat who worked at Peru's finance ministry between 2011 and 2016, and for over ten years at the central bank. To the potential relief of investors, his background could hardly be labelled radical or leftist, signaling no major changes in economic policy. Similarly, the new minister of energy, Alessandra Herrera, has previously worked in the ministry, specifically in the formalization of small-scale miners. A few ministers remain from the previous cabinet, such as Dina Boluarte – also Castillo's vice president – in the ministry of development as well as the ministers for labor, health, education, justice and transportation.
Clearly, this is no Marxist government – but some analysts in Peru are going further, suggesting it represents a shift towards the right. This is mistaken. What Castillo's new team reflects is more of the same lack of leadership. Peru's president is still struggling to formulate overarching goals or objectives. He hesitated to fire the aforementioned police commander until the very last minute. He has been associated with scandal-prone individuals, like his former secretary general Bruno Pacheco, who was found with $20,000 in his office bathroom; and some of his current advisors, now linked to corruption within the police force. Some of his nominees seem to lack the appropriate background, like new minister of the Interior Alfonso Chávarry, who has been previously sentenced for abuse of authority.
A week ago, in an interview with CNN, Castillo tried to excuse his shortcomings by stating that he was still learning how to be president. His new cabinet – reflecting a familiar mix of conservatism, informality, local connections (Chávarry, for instance, is from Cajamarca, Castillo's region), and improvisation – underlines that admission.
It's increasingly difficult to predict what the future holds for Castillo in the next few weeks, let alone months. With Perú Libre and other sectors of the left pressuring him to stay in office, it seems unlikely he'll resign. The threat of impeachment remains, but the opposition in Congress lacks the necessary votes.
One thing seems certain: the continuing struggles of a divided Peruvian left. The moderate left, led by Verónika Mendoza, maintains its support for Castillo and Perú Libre, blaming the right for the government's flaws, despite Castillo's well-documented conservative stances on cultural issues. Meanwhile, Vladimir Cerrón, Perú Libre's secretary general, continues to mount a public campaign to encourage Castillo to take a more hardline stance. He is a constant critic of the moderate left – or, as he calls it, the "caviar left" – which he says weakens the government.
Neither side of the intra-left divide has managed to articulate substantial proposals to alleviate Peru's myriad socioeconomic problems, aside from changing the constitution. Criticism of Castillo is frequently characterized as racist or as part of a coup plot or, more outlandishly, as U.S. imperialism. In the face of this division, it's hard to imagine Castillo – or anyone – being able to govern capably.
Tags:
Cabinet Shuffle
,
Pedro Castillo
,
Peru
,
Peruvian Politics