Reading Time:
4
minutes
When the last global financial crisis hit in 2008, María Antonieta Alva was a 23-year-old recent college grad working as an assistant in Peru's economy ministry. Now, at 35, she's leading that same ministry as Latin America stares down an even bigger economic contraction.
Alva became Peru's economy and finance minister last October – the youngest woman to hold the position. But Toni, as many know her, is not the only millennial steering a Latin American economy in the storm that is 2020. Others include Argentina's Martín Guzmán, 37; the Dominican Republic's Juan Ariel Jiménez, 35; and Ecuador's Richard Martínez, 39. (Venezuelan dictator Nicolás Maduro's economy minister, Simón Zerpa, is 37.)
Of that group, Alva and Guzmán are the newest on the job. They're also under intense pressure to mitigate the pain of Peru and Argentina's near-total coronavirus lockdowns. Both countries have earned praise for steps to save lives amid the pandemic, but extreme restrictions have brought their economies to a devastating halt.
Alva and Guzmán have each worked quickly to limit the toll. On March 29, Alva announced Peru was preparing to spend 90 billion soles ($26.41 billion), or the equivalent of 12% of its GDP, on what she called "an unprecedented measure" to contain the coronavirus and recover from the economic fallout. The ministry will provide direct transfers to support poor households, deferrals on water and electricity payments, the creation of a fund for small and medium businesses, and a series of tax relief measures.
"I have been very impressed by Alva's grasp of the issues and the gravity of the situation, her understanding of the policy alternatives, and her criteria for choosing among them," Roberto Chang, a distinguished professor of economics at Rutgers University and an expert on financial crises, told AQ.
Guzmán, meanwhile, has less room to maneuver. Where Peru had the lowest debt-to-GDP ratio among major Latin American economies before the virus hit, Argentina's was among the highest, at close to 90%. Still, while sharing some functions of a traditional economic minister's portfolio with development minister Matías Kulfas, Guzmán has presented a plan to respond to the crisis.
In total his set of proposals will cost 1% of Argentina's GDP, according to the IMF. They include cash transfers to vulnerable sectors of the population, expanded unemployment insurance, price controls, increased public works spending, and assistance for small and medium businesses, including exemptions from social security contributions.
"To provide liquidity at the global level, we must use the entire economic-policy toolkit – and experiment with new tools that might be added to it," Guzmán wrote in an op-ed on March 27.
While young ministers like Alva and Guzmán span Latin America's ideological spectrum, experts who spoke to AQ said they do share a few traits, including a pragmatic approach and a familiarity with crisis that may help make up for their relative lack of policymaking experience.
"One basic advantage of the young professional economists in Latin America is that they're involved in policy debates from the very beginning of their careers," said José Antonio Ocampo, a professor at Columbia University and former finance minister of Colombia. "It's a feature of the profession here."
Beginning their careers around the 2008 crisis also pushed economists of their generation to think outside the rigid confines of conventional economic doctrine, said Joseph Stiglitz, a Nobel Prize-winning economist and professor at Columbia University.
"Among young people, particularly young people from emerging markets and developing countries, the belief that markets were always efficient and stable was really shattered," Stiglitz, who has worked closely with Guzmán, told AQ.
Both Alva and Guzmán ascended to their roles amid existing crises – Alva a political one, after President Martín Vizcarra dissolved Peru's Congress and his Cabinet in October, and Guzmán an economic one. Guzmán came of age during Argentina's 1998-2002 economic collapse, was a graduate student in the U.S. during the 2008 recession, and his Ph.D. dissertation was titled "The Causes and Effects of Financial Crises."
In December, Argentina's President Alberto Fernández tasked Guzmán with leading negotiations with bondholders and bringing Argentina from the edge of a debt-induced financial abyss. After his selection, Guzmán's reputation for moderation reassured markets despite his heterodox economic approach.
To Guzmán's benefit, said Stiglitz, is his understanding of Argentina's frequent financial crises – and his awareness that markets are messier than conventional theory assumes. "I think that gave him a pragmatism as well as the theoretical tools to think about Argentina's circumstances in a really rigorous way," Stiglitz said.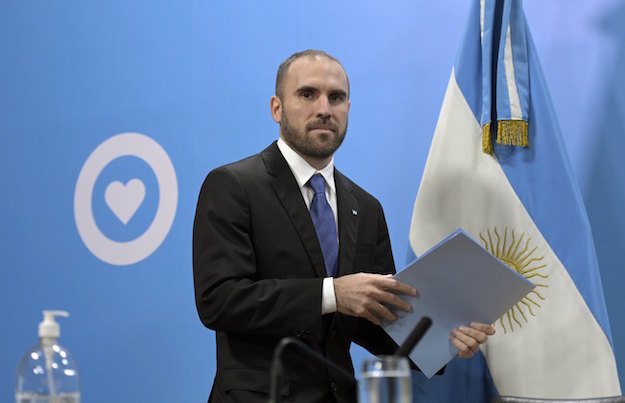 For her part, Alva has also shown in recent days that she is willing to do what circumstances require, even though her own economic philosophy – and her country's fiscal situation – is different from Guzmán's.
"She's a pragmatic orthodox," Roxana Barrantes, a professor of economics at the Pontifical Catholic University of Peru and principle researcher at the Institute of Peruvian Studies, told AQ.
"In this moment of crisis that we're in, for example, she has no problem drawing on the resources that Peru has saved up," said Barrantes. "She's not afraid to implement measures that if a leftist government implemented them, they would be accused of being populist."
There is of course no guarantee that the steps Alva and Guzmán have taken will stave off economic disaster. As it is, Argentina is due to present a plan for restructuring some $70 billion of foreign debt, and barring any last-minute postponement is set to pay a $225 million interest payment on March 31. Guzmán has said that Argentina needs "substantial debt relief."
"Argentina's economy was already in dire straits," Nicolás Saldías, a researcher at the Wilson Center's Argentina Project, told AQ. "This crisis came at a time when the government's only recourse is to print money. And we all know what happens when you print money."
In Peru, where there's more fiscal space to buffer the blow of a national quarantine, doubts linger over whether Alva's quick action – and the enormity of the crisis at hand – will be enough to overcome the slog of Peruvian politics.
"Alva, in combination with the Central Bank, is responding decisively and strongly," said Chang. "What remains to be seen is how that relationship will work – or not – with a Congress that is new, fractured and includes several controversial and questionable characters."

Tags:
Economy Ministers
,
María Antonieta Alva
,
Martín Guzmán
,
Millennials