Reading Time:
6
minutes
Argentina | Bolivia | Guatemala | Panama | Uruguay | Full List
This piece was updated on Aug. 13. See above for a breakdown of Latin America's other 2019 transitions, and click here to read more about Argentina's presidential race.
---
Election Date: Oct. 27
Format: Two rounds. If no candidate receives at least 45% of the votes in the first round, or 40% with a 10-point lead over second place, the two leading candidates will compete in a runoff on Nov. 24.
---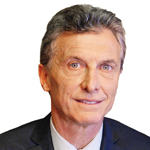 Mauricio Macri, 60, president
Together for Change
"Real change requires going through difficulties."
How he got here: A well-connected businessman who served two terms as Buenos Aires' mayor, Macri made history in 2015 as the first president in a century elected from outside Argentina's historically dominant political movements, the Peronists and Radicals. Pro-business pragmatism and commitment to fiscal integrity helped Macri's coalition win big in midterm elections, but a currency crisis in 2018 dashed any certainty over his reelection. Some attribute the downturn to Macri's insistence on "gradualism"—his strategy for avoiding the pain of overly harsh reforms.
Why he might win: Macri benefits from a divided opposition, whose chief forces are the movement led by former president and now vice presidential candidate Cristina Fernández de Kirchner and a coalition of Peronists who are critical of her. He could benefit if voters see Kirchner's vice presidential bid as an attempt to gain the power, if not the office, of the presidency. His administration has following through on infrastructure projects around the country, a tangible benefit for many voters even in an recession. The peso also appears to have stabilized for now, and a more robust economic recovery could boost Macri's chances.
Why he might lose: Overall, Macri's efforts to fix the macroeconomic distortions he inherited have floundered. Inflation was worse in 2018 than it ever was under Kirchner. Centrist voters may opt for Alberto Fernández, whose candidacy deprives Macri of the advantage of going up against a divisive figure like Kirchner. Poverty rates are worse than at any other point in his presidency.
Who supports him: Business, the agricultural sector and some unions. Middle class and poor voters who have benefited from his public works spending as well as subsidies he has introduced.
What he would do: Macri is running on corruption and security, and against populism. But if re-elected, he'll need to decisively shore up Argentina's fiscal situation. He has proposed a far-reaching labor reform that overhauls collective bargaining by limiting it to businesses rather than sectors. His view on the legalization of abortion
Ideology: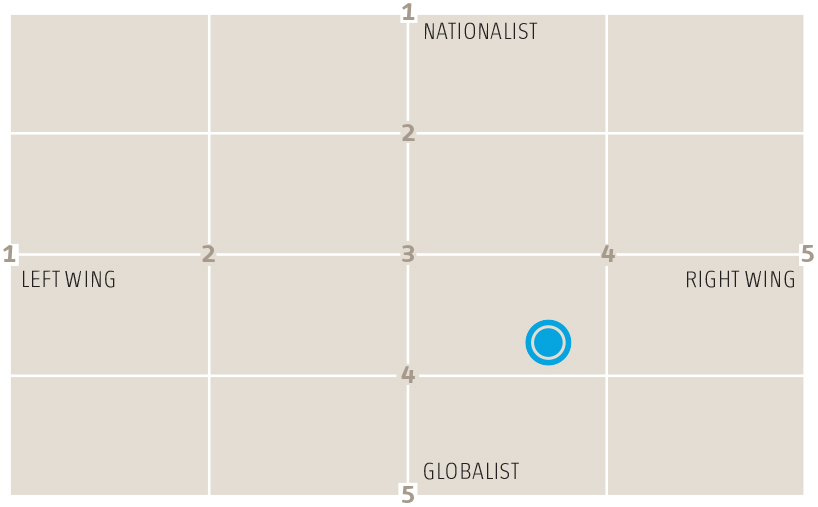 NOTE: AQ asked a dozen nonpartisan experts on Latin America to help us identify where each candidate stands on two spectrums: left wing versus right wing, and nationalist versus globalist. We've published the average response, with a caveat: Platforms evolve, and so do candidates.
---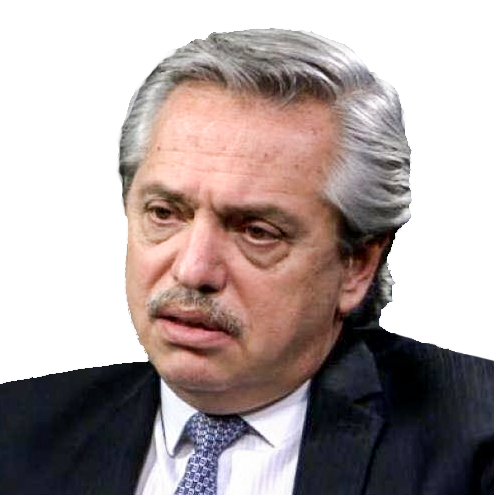 Alberto Fernández, 60, former cabinet chief
Everyone's Front
"Part of the challenge is being better than we were before because there were things we did wrong. But being better than Macri won't take a big effort."
How he got here: The surprise candidate of the campaign, Fernández was thrust into the limelight when Cristina Kirchner abandoned her own presidential hopes and decided to be his running mate instead. Previously Fernández was best known for being cabinet chief for her husband, the late President Néstor Kirchner. He stayed on after Cristina succeeded him in 2007, but left less than a year later after disagreeing with her decision to increase export taxes on farmers. He became an often fierce critic of Kirchner in recent years, calling hers a "bad government" – one reason her decision was such a surprise. Fernández has only run for public office once before, for a seat in the Buenos Aires legislature.
Why he might win: Fernández dominated in Argentina's test-run primary vote on August 11, winning 47.7% of the vote over Macri's 32.1%. If he repeats these results on October 27, he'll win outright. His performance in the primary suggested that the economy was driving voter preference. Fernández is also less polarizing than Kirchner, and is considered one of her movement's more pragmatic figures. He may draw votes from Peronists who were unwilling to vote for her. An alliance with former mayor and congressman Sergio Massa, a Kirchner ally turned critic, shows this is possible.
Why he might lose: Voters may conclude that Fernández is just a Kirchner puppet, and not really independent. As bad as the economy is now, many also have bad memories of currency controls, corruption and constant drama during Kirchner's 2007-15 presidency.
Who supports him: Fernández doesn't have a base of his own. Rather, he benefits from Kirchner's loyal following of working-class voters in greater Buenos Aires, in addition to Peronists who have broken with her. In the August primary, Fernández did well pretty much everywhere besides the city of Buenos Aires and the province of Córdoba.
What he would do: He is somewhat more pragmatic than Kirchner, and he's shown his independence from her in the past, suggesting a pivot closer to the center-left. Since Kirchner announced his candidacy, he's restated Argentina's commitments to pay its international debts. However, he has also been a very vocal critic of the IMF and "neoliberal" policies, and more hard-line figures in Kirchner's movement will likely still hold sway in his government. He's a skeptic of Mercosur's trade deal with the EU, saying that "only thing it will bring is more grief for Argentines." He has said he'd lower interest rates and eliminate taxes on industrial exports, opposes labor and pension reform, and supports the legalization of abortion.
Ideology: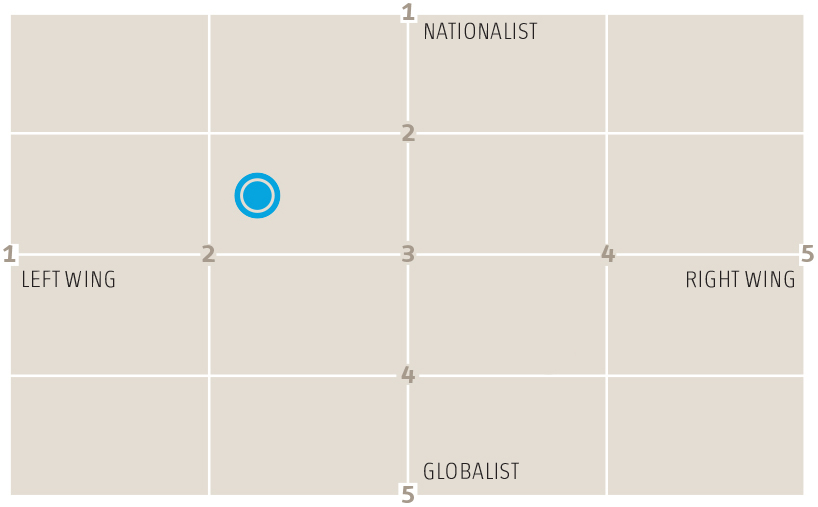 ---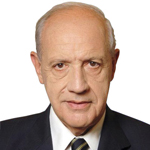 Roberto Lavagna, 77, former economy minister
Federal Consensus
"There is a strong demand for getting away from what Macri and Cristina are offering: a deep divide without the slightest dialogue."
How he got here: Lavagna took the helm of Néstor Kirchner's economy ministry in 2002 at the height of Argentina's worst-ever crisis. The economy recovered under his supervision, though a spike in soy prices didn't hurt. He was fired in 2005 and two years later ran against Cristina Kirchner in her first run for the presidency, finishing third.
Why he might win: Many consider Lavagna an elder statesman above partisan politics. His tenure as economy minister instilled confidence in many, as did his willingness to call out corruption in Néstor Kirchner's government—which he said lost him his job. His running mate, Juan Manuel Urtubey, the three-term governor of Salta 30 years Lavagna's junior, could inject some youth into his campaign and help him make inroads in the provinces.
Why he might lose: Lavagna has set himself as an alternative to the Macri-Kirchner divide, and his chances have hinged on winning suppot from more centrist Peronists who want neither of the two leaders. But both Macri and Kirchner have made overtures to this bloc of voters—Macri by choosing the Peronist Pichetto as his running mate and Kirchner by choosing to run as vice president to the allegedly more pragmatic Alberto Fernández. If these moves sway enough of the anti-Kirchner Peronists, there might not be enough left to secure Lavagna a spot in a runoff. After having lost one presidential election already, Lavagna has shown a reluctance to campaign this time around. He said it's because he wants to be a consensus candidate among anti-Kirchner Peronists, but some attribute it to his age.
Who supports him: Peronists who are turned off by Kirchner's politics and want a return to the perceived good old days of the mid-2000s commodities boom.
What he would do: While he's said he'd renegotiate the IMF deal, investors are optimistic about his relationship with the fund. More on the Keynesian side, Lavagna might increase salaries and the minimum wage, but shy away from more aggressive reforms.
Ideology: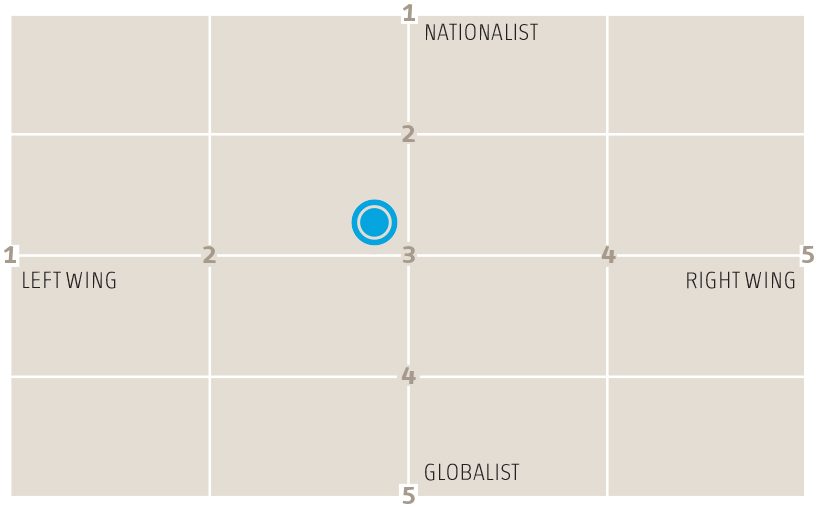 —
Due to an editing error, a previous version of this article misstated Néstor Kirchner's election year as 2013 instead of 2003.
Tags:
Argentina
,
Argentina Elections 2019
,
CFK
,
Elections 2019
,
Macri