Reading Time:
< 1
minute
This page was last updated on November 16
Amid triple-digit inflation and political polarization, Argentines casted their ballots in the first round of the presidential election on October 22. Economy Minister Sergio Massa from the ruling Peronist Unión por la Patria coalition finished first with 37% of the vote, while congressman Javier Milei from La Libertad Avanza had the second-highest vote share at 30%. Former security minister Patricia Bullrich from the center-right Juntos por el Cambio coalition placed third with 24% of votes, eliminating her from the runoff on November 19.
The candidates are listed here in alphabetical order by last name. We will occasionally update this page to reflect developments in the campaigns.
AQ also asked a dozen nonpartisan experts on Argentina to help us identify where each candidate stands on two spectrums: left versus right on economic matters, and a more personalistic leadership style versus an emphasis on institutions. We've published the average response, with a caveat: Platforms evolve, and so do candidates.
This piece is part of AQ's ongoing 2023 presidential election coverage.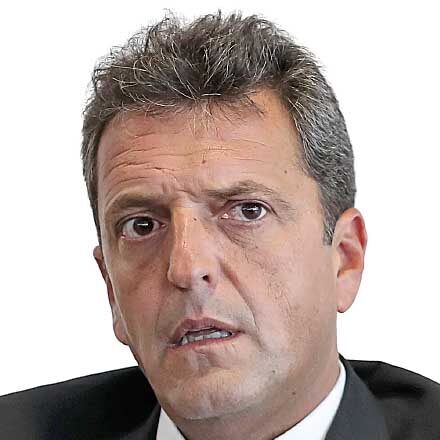 Sergio
Massa
51, economy minister
Unión por la Patria (UxP)
"Energy, proteins, minerals and especially human capital are key for Argentine development and are the pillars of our place in the world."
HOW HE GOT HERE
Massa, a former lawyer, served as the mayor of the city of Tigre and as then-President Cristina Fernández de Kirchner's Cabinet chief. Still, like President Alberto Fernández, he is seen as an independent voice within Peronism, and sometimes critical of kirchnerismo. He ran for president in 2015, against a Kirchner-sponsored candidate, finishing in third place. In July 2022, President Fernández named him economy minister in the hope that he would have the credibility to heal the economy.
WHY HE MIGHT WIN
As economy minister, Massa has so far held full economic breakdown at bay. In the runoff against Javier Milei, he could gain support by portraying himself as the moderate candidate. Massa had a stronger than expected showing in the first round, defying many polls that placed Milei in the lead.
WHY HE MIGHT LOSE
Massa has has failed to tame Argentina's runaway inflation and the country's foreign currency reserves have dwindled during his tenure as economy minister. He faces a continued challenge in keeping Peronism's powerful factions together and is a prominent face in a government facing record low approval numbers. While those abroad, particularly in the U.S., have praised his management, he is less popular at home.
WHO SUPPORTS HIM
Massa has support from moderates within and outside of Peronism who favor more liberal economic policies. His voters are concentrated in urban areas and favor his brand of pragmatic, technocratic leadership. Those who voted for Juan Schiaretti and Myriam Bregman, who received 10% of votes in the first round, may cast their ballots for Massa in the runoff. Massa's running mate is Agustín Rossi, the current chief of Cabinet to President Alberto Fernández and a former defense minister.
WHAT HE WOULD DO
As a more economically orthodox Peronist, Massa would maintain the good relationships he has established with some in the private sector. Massa signaled plans to deepen regional economic integration by stating that Argentina and Brazil would study the creation of a common currency, and has announced plans to implement a new digital currency. He has sought to alleviate Argentina's foreign debt by tapping an $18 billion currency swap line with China and stated that if elected, he would renegotiate Argentina's deal with the IMF.
IDEOLOGY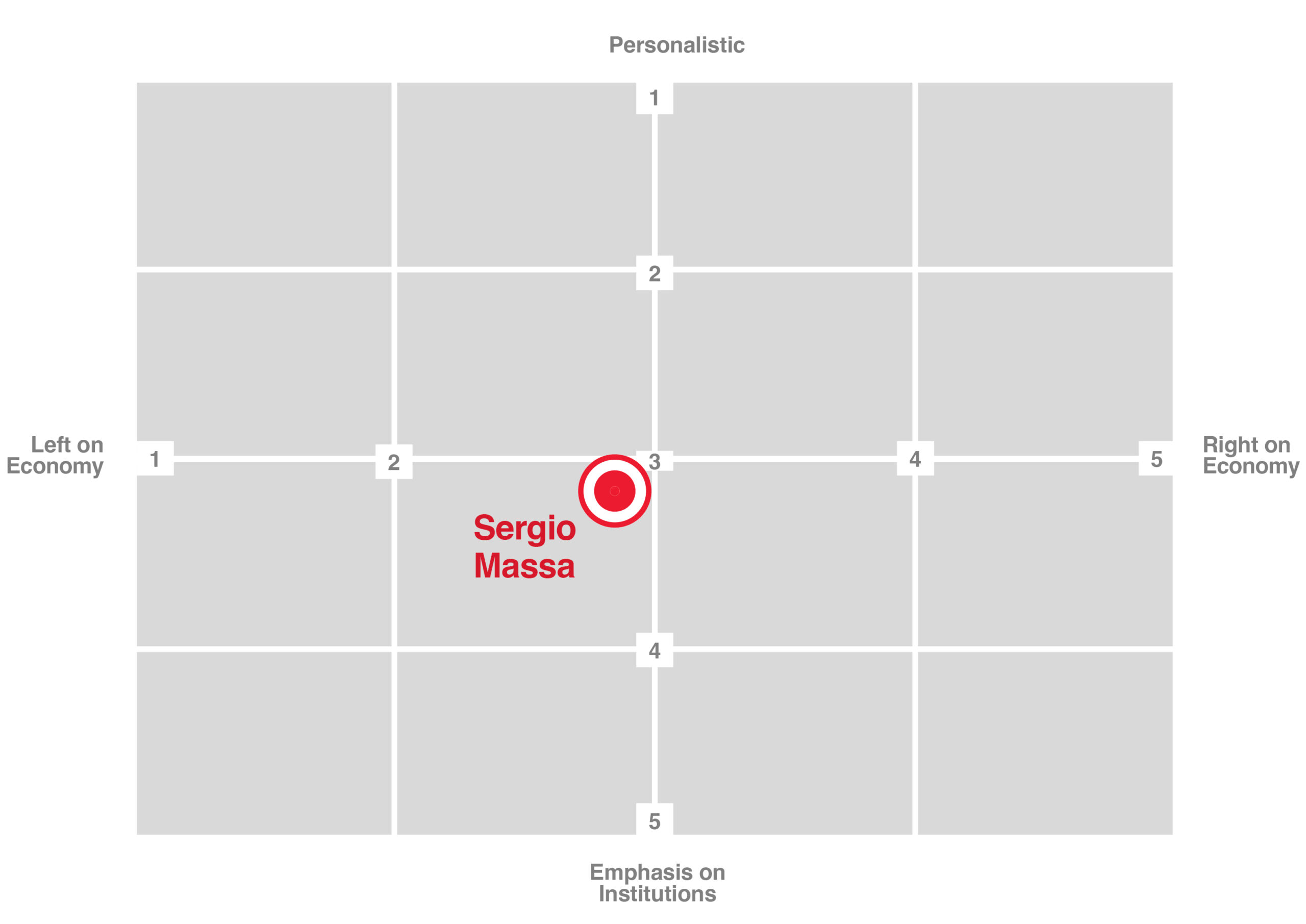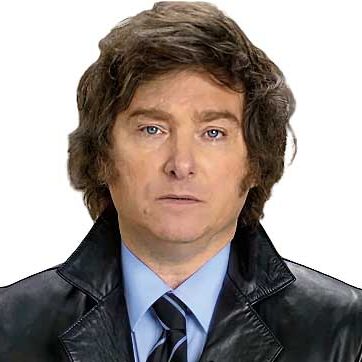 Javier
Milei
53, congressman
La Libertad Avanza (LLA)
"(I'm called) politically incorrect because I'm against the thugs in the political caste, because I'm against their privileges."
HOW HE GOT HERE
Not a career politician, Milei played in a Rolling Stones cover band before studying economics, specializing in the Austrian school, and working in finance. He led his libertarian group, La Libertad Avanza, to a surprisingly strong showing in Buenos Aires in 2021, when he was elected a federal congressman.
WHY HE MIGHT WIN
The inability of both former President Mauricio Macri's center-right government and the current left-leaning Peronist government to solve Argentina's chronic economic problems has left many people disillusioned with both sides. That provides opportunity for an outsider who seems to have simple and forceful answers and is skilled at conveying his message via social media.
WHY HE MIGHT LOSE
With his opposition to abortion and focus on culture war issues like criticizing feminism, Milei may be too radical for most Argentine voters. The libertarian movement is itself divided and lacks a unified party structure. At the October 1 presidential debate, Milei's comments casting doubt on the number of victims of Argentina's military dictatorship were met with widespread criticism. Milei had the largest vote share in the August primary, but support for him remained the same in October, and he again secured 30% of the vote.
WHO SUPPORTS HIM
Milei's base of support is concentrated among young people, especially men, but it runs across social classes and includes lower-income sectors that might traditionally be expected to support Peronism. He has also attracted support from voters who are fed up with the political system. Milei has stated he will give his running mate, congresswoman Victoria Villarruel, control of the security and defense ministries. In September, Villaruel held an event "honoring victims of left-wing terrorism" that drew complaints from human rights groups, who perceived this as an attempt to justify the military dictatorship of 1976-83. Following the first round, Bullrich and Macri endorsed Milei.
WHAT HE WOULD DO
Milei's platform calls for shuttering the central bank, loosening restrictions on buying firearms, dollarizing the economy, introducing a school voucher system, privatizing state companies, charging for public hospital services, as well as pension cuts. Dogged opposition from the Peronist left and from social movements would likely raise obstacles to such an agenda.
IDEOLOGY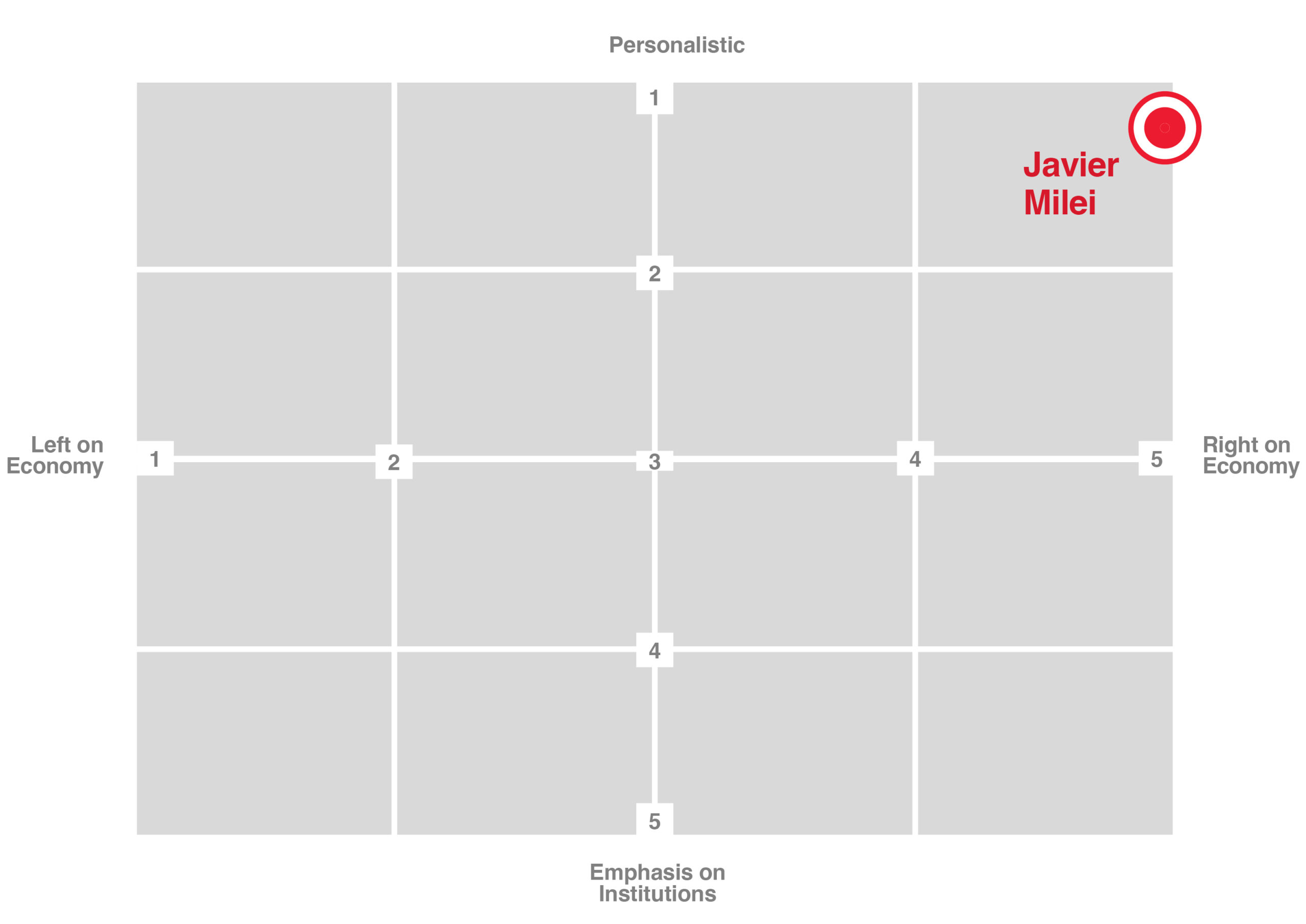 Tags:
Argentina
,
Elections 2023
,
Javier Milei
,
Sergio Massa