Reading Time:
4
minutes
This article was adapted from AQ's latest print issue. To see the rest of our package on Mexican politics, click here. | Leer en español
Andrés Manuel López Obrador's promises to "transform" Mexico into a safer, more equitable country. But the challenges he'll face over the next six years are immense. Below, AQ takes a look at five of AMLO's biggest priorities — and why achieving his desired results may be easier said than done.
Note: "Odds of implementation" refers to the chances that a given policy will be implemented, not whether it will achieve its intended outcome.

Reducing Violence
AMLO ultimately wants a security policy focused on the causes of violence, like youth unemployment, uneven economic growth and corruption. But in the short term, his strategy for reducing drug trafficking-related crime looks a lot like his predecessor's: deployment of the military to trouble spots around the country and restructuring security forces to streamline decision-making.
Odds of implementation: High
Plans to revamp social programs and liberalize drug policy have broad backing from Mexicans. More controversial — though still likely to be approved in some form — are proposals for transitional justice and amnesty for low-level offenders. Then there's the national guard. Even many AMLO supporters are skeptical about his plans for a new force composed of military and federal police units; getting the constitutional reforms needed for its full implementation through Congress have already consumed political capital. Still, some tweaks aside, the creation of the new force is almost certain.

Fighting Social and Racial Inequality
AMLO wants to address inequality in economic development throughout the country — particularly in places like Guerrero and his home state of Tabasco, in Mexico's southeast. To do that, he plans to invest in new universities, redistribute government agencies outside Mexico City and promote infrastructure projects he says will create jobs and promote investment, like a $7.5 billion tourist train on the Yucatan Peninsula.
Odds of implementation: High
AMLO has broad public backing — and support from local governors — for his infrastructure and development plans, though environmental and indigenous concerns could slow implementation. It's less clear how far he'll get dispersing government agencies, which will be costly, disruptive for bureaucrats and their families, and logistically challenging.

Reverse Mexico's Oil Decline
AMLO says he'll reverse a decades-long decline in Mexican crude oil production by spending more on exploration and extraction through state oil company Pemex. He also has plans to reduce crude exports and increase domestic refining with the construction of at least one new refinery and upgrades at existing facilities, which currently operate well under capacity. All that will lead to a reduction in gas prices after three years, he says.
Odds of implementation: High
AMLO comes from oil country and grew up during Pemex's "golden age." For him the company holds significant symbolic importance. Several of his energy advisers are on the nationalist end of the cabinet, and while they're unlikely to undo Mexico's 2014 energy reform entirely, they will almost certainly look to limit foreign participation in the sector. Whether their focus on Pemex will have the desired effect is another matter — the company faces challenges that extra money won't fix, such as corruption and a lack of know-how in deepwater and unconventional drilling. Widespread gas shortages that resulted from an effort to tamp down fuel theft show how good intentions can have unintended, sometimes painful, consequences.

Clean, Lean Government
Anger over corruption brought AMLO to power, and in that respect the president has promised to clean house. His 50-point plan includes limiting benefits for the political class, lowering government salaries and implementing a zero-tolerance policy on graft in his administration. But AMLO's first response on stopping corruption is that he'll lead by example — less clear is his commitment to independent oversight and institutional checks on malfeasance.
Odds of implementation: Medium
Many of AMLO's proposals enjoy broad support in Congress, while others have more to do with a governing philosophy than concrete policy change. Still, public officials have shown they're willing to push back on cuts to their perks, including through the courts. AMLO will likely get most of what he wants, but not all of it.

Support Young People and Senior Citizens
Support for young people who neither work nor study is central to AMLO's social policy. Together with private-sector partners, his government this year plans to spend near $2 billion on a project to provide job training to more than 2 million young people across the country, and a further $500 million on college scholarships. For those over 65, the administration will spend over $5 billion implementing a new universal pension scheme.
Odds of implementation: High
AMLO has private-sector support for his job-training program and widespread support for his social policies. Finding the money to pay for them in full may be a challenge
---
Congressional Map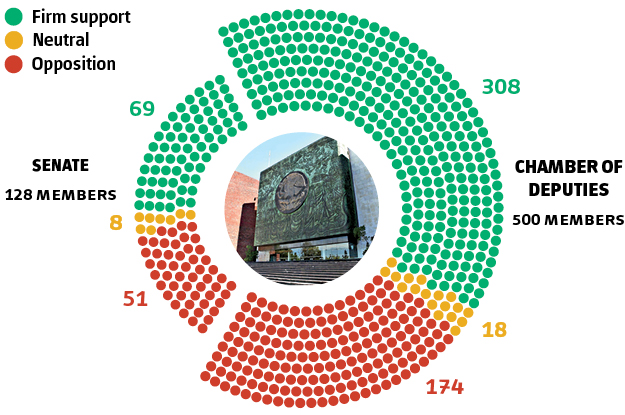 Russell is a senior editor and correspondent in Mexico City for AQ. Follow him on Twitter @BenPaulRussell. Reporting on congress by Ximena Enríquez.