Reading Time:
2
minutes
This article is adapted from AQ's special report on transnational organized crime
One of the most incisive voices of the openly political rock 'n' roll movement that took Brazil by storm in the 1980s was a gifted poet named Renato Russo. The late lead vocalist for the band Legião Urbana penned songs that told the story of a generation — of young people coming of age and finding love amid the turbulence of economic recession and a slow transition away from military rule.
The ballad "Eduardo e Mônica" was one of Russo's most well-known and beloved songs. As with much of his music, the lyrics are so visually intense that they are almost a movie script unto themselves. In his latest film, Brazilian director René Sampaio stayed true to the song's charming against-the-odds love story while turning it into a silver screen delight of its own.
A tale of bridging differences, the reality of Brazilian life in the 1980s is background noise to Eduardo & Mônica's focus on the two diametrically different lives of the film's title characters. The funny and heartwarming pair, played by Alice Braga and Gabriel Leone, win the audience right from the opening scenes with charm and understated wit. The film begins with Eduardo waking up for school and wishing good morning to his favorite soap opera star on a poster next to his bed. On a split screen we see Mônica across town, holding a motorcycle helmet and having a shot of cognac after a night of art performances in a club. We know they will meet — but how?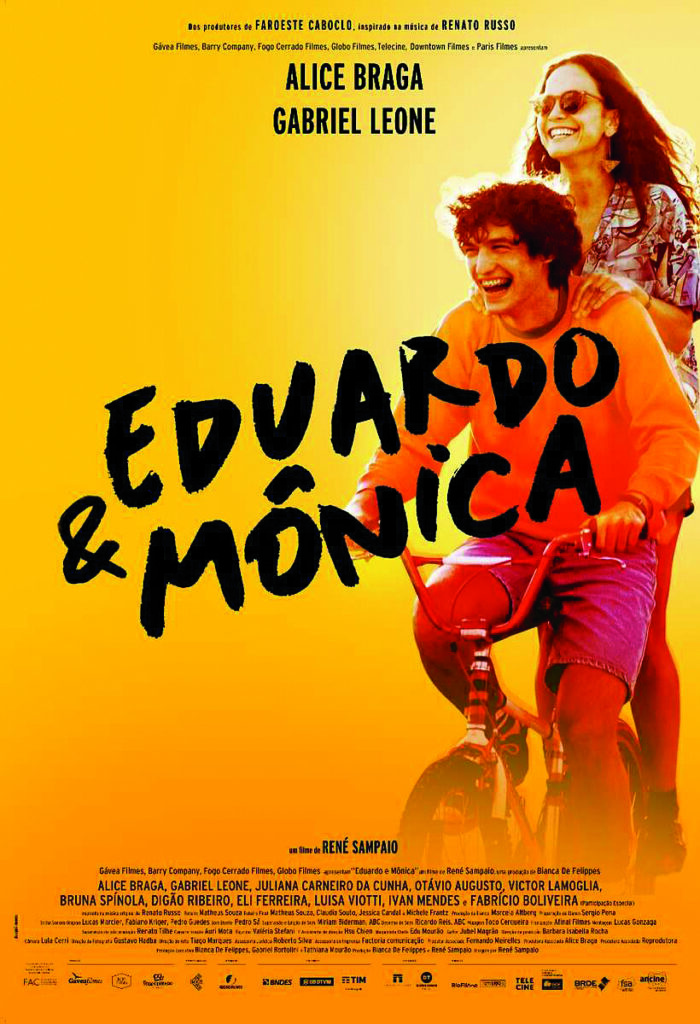 This whimsical and earnest love story is also an ode to the country's capital, Brasília, another constant theme of Russo's lyrics. Eduardo & Mônica embraces the city's stark and futuristic architecture and turns its sharp edges and round monuments into a playground, the concrete landscape playing the role of Cupid.
The film marks producer Bianca de Felippes and director René Sampaio's second posthumous collaboration with Russo. In 2013's Brazilian Western, Sampaio brought to the screen Russo's "Faroeste Caboclo," a tragic love story between a privileged white girl and a black, self-made drug dealer. But where Brazilian Western sings the wounds of Brasília through a toxic combination of drugs, inequality and repressed youth, in Eduardo & Mônica all we see is love — family, friendship and falling for each other. These are welcome and much needed themes after a long and at times dispiriting year.
Directed by: René Sampaio
Screenplay by: Matheus Souza, Jessica Candal, Michele Frantz, Claudia Souto and Gabriel Bortolini
Starring: Alice Braga, Gabriel Leone, Otávio Augusto
AQ's Rating: 9/10
Tags:
film review