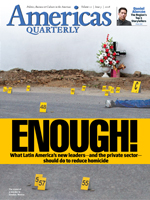 Special Report
Latin America's murder epidemic has no easy fix. But there is reason for hope in the innovative – and in some cases, inspiring – work underway by researchers, activists, politicians and law enforcement officials.
By BRENDAN O'BOYLE
Which policies have been effective in reducing homicides? A study guide for Latin America's newly elected leaders.
By JOHN OTIS
Murder-victims-to-be often know they are in mortal danger. Medellín created a hotline to save them.
By EMILIE SWEIGART
How the leaders (or leaders-to-be) of 18 countries are facing down their countries' unique challenges and what critics say they're doing wrong.
By BENJAMIN RUSSELL
Business leaders in Mexico's deadly Chihuahua state found an unusual way to fund anti-violence programs: They asked the government to tax them.
By SABRINA MARTINA
Verse from a 20-year-old rapper and poet about the violence that overshadows daily life in her Rio de Janeiro favela.
By RICHARD LAPPER
In a murder-plagued Brazilian city, leftist legislator Renato Roseno evangelizes for preventive and social solutions amid a clamor for hardline enforcement.
Features
By JUAN MANUEL SANTOS
The outgoing president of Colombia takes a frank look at the failed "War on Drugs" and maps a way forward.
By LIDIA HERNÁNDEZ-TAPIA
Countries have been experimenting with drug policy. A look at the results.
By ANTONI ESTEVADEORDAL and MAURICIO MESQUITA MOREIRA
Latin America and the Caribbean need a broad trade agreement.
AQ Top 5: Latin American Storytellers
AQ profiles five women and men who use their voice (or their pen or their camera) to tell stories we might not otherwise hear.
By LUCAS IBERICO LOZADA
A Haitian-American dyaspora novelist.
By LEANI GARCÍA TORRES
Puerto Rico's Grammy winner and musical provocateur.
By XIMENA ENRÍQUEZ
An Argentine photographer and chronicler of history.
By BRENDAN O'BOYLE
A Chilean rapper and activist.
Cultura
By BENJAMIN RUSSELL
A drama about the "mafia of power" in Mexico.
By SEBASTIÁN ZUBIETA
What to listen to this (northern) summer.
By STEPHEN WOODMAN
A review of Alfredo Corchado's Homelands and Andrew Selee's Vanishing Frontiers.
Departments
By MAT YOUKEE
Dr. José Gaspar de Francia turned 19th-century Paraguay into an authoritarian hermit state.
By EMILIE SWEIGART
Erika Guevara-Rosas, the Americas director for Amnesty International, spoke to AQ about the dire state of human rights in Nicaragua.
By EMILIE SWEIGART
Investment in renewable energy skyrockets.