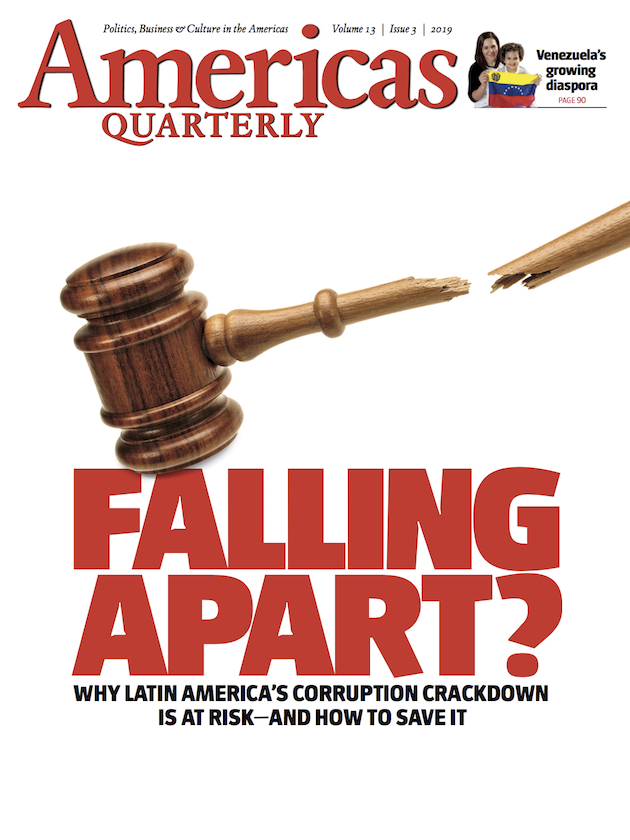 The Crackdown Continues
Saving it will require courage, smart reforms - and honesty about its problems. A new issue of AQ explores why.
By BRIAN WINTER
An overview of the popular but struggling movement, and ideas on how to save it, by AQ's editor-in-chief.
By BEN MILLER and FERNANDA URIEGAS
From Mexico to Argentina, corruption cases have reshaped politics. AQ examines the origins and fallout of the region's biggest scandals.
By ROBERTO SIMON
A prosecutor in Peru struggles to dismantle a corruption scheme that has wreaked havoc on the rainforest.
By CECILIA TORNAGHI
The leader of an illegal money-moving scheme tells all in an exclusive interview with AQ.
By BRENDAN O'BOYLE, EMILIE SWEIGART and BENJAMIN RUSSELL
Which tools have proven most effective in preventing corruption? A closer look at best practices.
The first iteration of a yearly index gauging the strength of institutions in eight Latin American countries.
By DANIELA DA SILVA and PEDRO ABRAMOVAY
Finally stopping corruption will require dismantling centuries-old structures.
These leaders in government, civil society and media are breathing new life into the anti-corruption movement.
By CHARLES NEWBERY
The industry is growing by leaps and bounds, but a real impact is hard to measure.
By ROBERTO SIMON
Chile's reaction to a series of scandals offers lessons for its neighbors.
By BRENDAN O'BOYLE
Despite polarized politics, a bipartisan coalition managed to pass a significant campaign finance reform.
By SUSAN SEGAL
Institution-building may be the region's only chance to reverse the corrosive effects of corruption.
SPONSORED CONTENT
Combatting this problem could boost government revenues.
Features
Millions of Venezuelans have joined the global diaspora since 2015. For many, daily life abroad looks quite different from what it was back home.
By JOHN BARTLETT
Lost to the coup, an early computer network promised to revolutionize Chile's economy.
Cultura
By SEBASTIÁN ZUBIETA
A Guatemalan cellist, a Uruguayan pianist and a Cuban funk phenom are highlighted in this edition of AQ's quarterly music review.
By BEN MILLER
A rustic commune outside Santiago serves as the backdrop for this Chilean coming-of-age story.
By RICHARD E. FEINBERG
Cuba's biggest contemporary art celebration reflected heightened tensions with the U.S.
By JORDANA TIMERMAN
A new book traces the struggle for equality on the soccer pitch and beyond.
Departments
By ROBERTO SIMON and EMILIE SWEIGART
In this edition of the Anti-Corruption Working Group's survey of public policy in Latin America: New forms of international collaboration continue to shape investigations.
By BRENDAN O'BOYLE
An interview with 29-year-old former legislator Pedro Kumamoto as he gets set to found a new political party in Mexico. (Available online August 1)