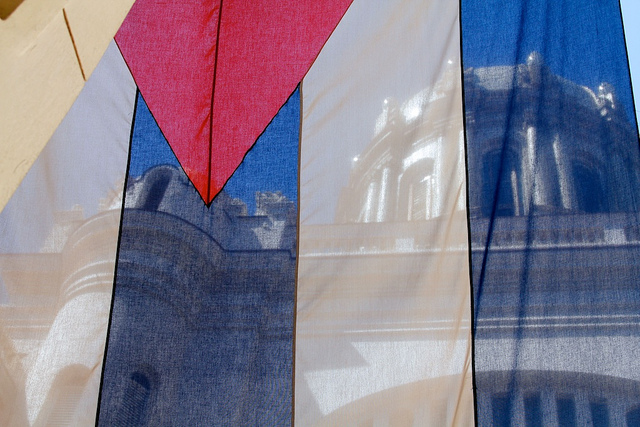 Photo courtesy of Flickr user Doug Wheller.
On December 17, Cuba released 65-year-old former U.S. Agency for International Development (USAID) contractor Alan Gross from prison on humanitarian grounds, paving the way for normalized relations between the U.S. and Cuba. Immediately thereafter, U.S. President Barack Obama announced that the U.S. and Cuba will re-establish diplomatic relations—and that the U.S. would engage in a series of historic steps toward normalization, including re-opening the U.S. Embassy in Havana, reviewing Cuba's designation as a State Sponsor of Terrorism, increasing travel, authorized transactions and remittances between the two nations, and engaging in an "honest and serious debate on lifting the embargo." Obama also confirmed that he will meet with Cuban President Raúl Castro in April at the Summit of the Americas, where the U.S. has insisted that members of Cuban civil society also be present. "Today we are making these changes because it is the right thing to do," Obama said.
View a video of Barack Obama's remarks below.
View a video of Raúl Castro's remarks below.
Meanwhile, Raúl Castro announced the restoration of diplomatic relations to Cuban citizens. "As a result of a dialogue of the highest level, which included a phone conversation that I had yesterday with President Barack Obama, we have been able to advance on a number of topics of interest for both nations," Castro said. "President Obama's decision deserves the respect and recognition of our people." Castro recognized the Vatican and Pope Francis, along with the Canadian government, for supporting the dialogue between the two countries, and also called for an end to the embargo in his remarks.
The Vatican also issued a statement on the normalization, expressing "warm congratulations for the historic decision taken by the Governments of the United States of America and Cuba," and pledging to "continue to assure its support for initiatives which both nations will undertake to strengthen their bilateral relations and promote the wellbeing of their respective citizens."
Read more of AQ's ongoing Cuba coverage below.
View a resource guide on Obama's Cuba announcement here.
---
Cuba, What's Next: It's All About the Regs
January 2, 2014
The Huffington Post
By Christopher Sabatini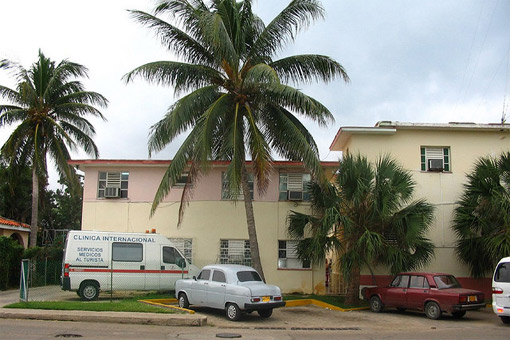 Photo: Dominic Sca (Flickr)
Just about the time President Barack Obama and his team were at the end of their secret negotiations with the Cuban government that would lead to historic changes to the half-century old U.S. embargo, the insipid song "It's All About the Bass" seemed to be everywhere — on the radio, piped into stores, even on the TV show "The Voice." An ear-worm of a song, my hope is that the White House officials who crafted the executive actions announced on December 17th have a slightly altered version of it ringing in their heads now as they sit down to implement them: "It's all about the regs."
---
Former AQ Innovator Detained in Cuba
December 31, 2014
AQ Online Daily Focus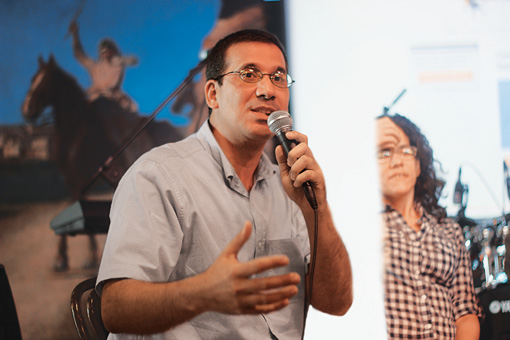 Americas Quarterly was saddened to hear that one of it​s former Innovators, Antonio Rodiles, was among the democratic activists detained this week in Cuba. Antonio and others were heading to a peaceful rally organized by Cuban artist Tania Bruguera at Havana's Revolution Square. The event, titled #YoTambiénExijo (I Also Demand), was planned to be a series of open-mic presentations by independent activists about their view of Cuba's future. Other dissidents, such as Reinaldo Escobar, were also detained—and Reinaldo's wife, Yoani Sánchez (featured in the Fall 2014 Americas Quarterly), was prevented from leaving her house to attend. Our thoughts and prayers are with Antonio and the other dissidents who have been detained.
---
Shadows of History on the Future of U.S.-Cuban Relations
December 23, 2014
AQ Online blog
By Eric Gettig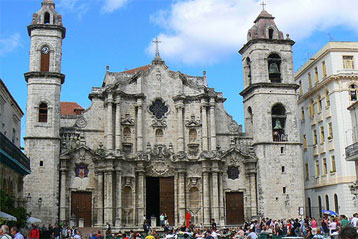 Photo: Baron French (Flickr)
"There's a complicated history between the United States and Cuba," President Obama acknowledged in his December 17 announcement of a new opening to Cuba. He couched the new approach to relations in terms of the need to abandon the failed policy of the last 54 years.
A longer look at the history of U.S.-Cuban relations, however, suggests that much of the newly opened debate over future engagement rests on some of the same assumptions that shaped previous relations in the decades before the Cuban Revolution (1953-1959). In jettisoning one failed policy, the U.S. government—and the people of Cuba—should be wary of resurrecting the habits of an earlier, equally dysfunctional relationship. It is a history about which Cubans are constantly reminded, but which most Americans all too easily forget.
---
U.S.-Cuba Agreement: Diplomacy at its Best
December 18, 2014
AQ Online blog
By John Parisella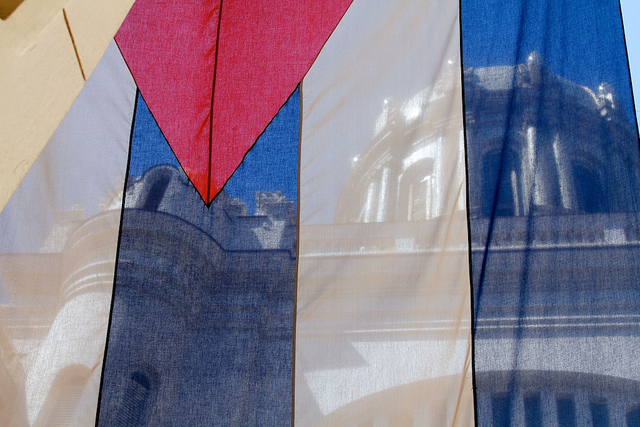 Photo: Doug Wheller (Flickr)
That there would be a thaw in U.S.-Cuba relations seemed inevitable. After all, the Cold War ended with the fall of the Berlin Wall in 1989, and the Castro brothers are getting on in years.
And yet, there is a sense that a new era is beginning with the joint Barack Obama–Raúl Castro announcement, and an air of optimism and hope in the restoration of diplomatic relations between the two countries.
---
Cuba Change We Can Believe In
December 18, 2014
U.S. News & World Report
By Alana Tummino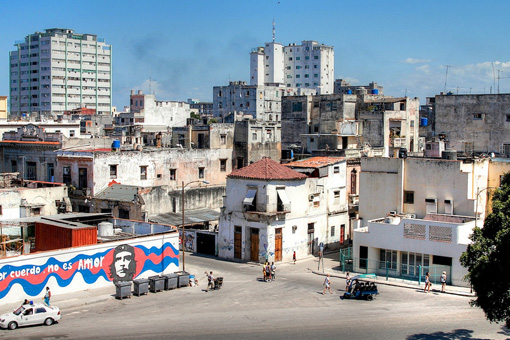 Photo: Doug88888 (Flickr)
It's what you don't expect to wake up to on a mild December morning: Alan Gross has boarded a plane home from Havana, and President Barack Obama is slated to give remarks that would finally restore normalized relations with Cuba.
Change you can believe in? I'll say amen to that.
The release of Gross, a U.S. Agency for International Development contractor (on the first day of Hanukkah, no less), is a long-awaited and welcome return, signaling one of the more important shifts in U.S. and Cuba policy in more than 50 years.
---
Cuba Seeks Investments Amid Relaxed Sanctions
December 18, 2014
CNN
CNN's Alison Kosik talks to Americas Quarterly Editor-in-Chief and AS/COA Senior Director of Policy Christopher Sabatini about the effect of relaxed sanctions between the U.S. and Cuba.
View the video here and below.
---
Cuba Releases Alan Gross on Humanitarian Grounds
December 17, 2014
AQ Daily Focus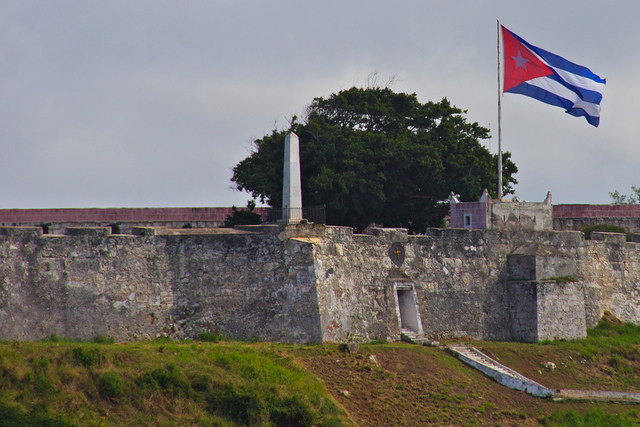 Photo: Ed Yourdon (Flickr).
Cuba released 65-year-old former U.S. Agency for International Development (USAID) contractor Alan Gross from prison today on humanitarian grounds, paving the way for normalizing relations between the U.S. and Cuba. Gross was sentenced to 15 years in prison for alleged espionage after he was arrested in December 2009 for bringing satellite equipment to Cuba.
---
Let's Stick it to Cuba (and Make the Next Summit of the Americas Interesting)
Foreign Policy
By Christopher Sabatini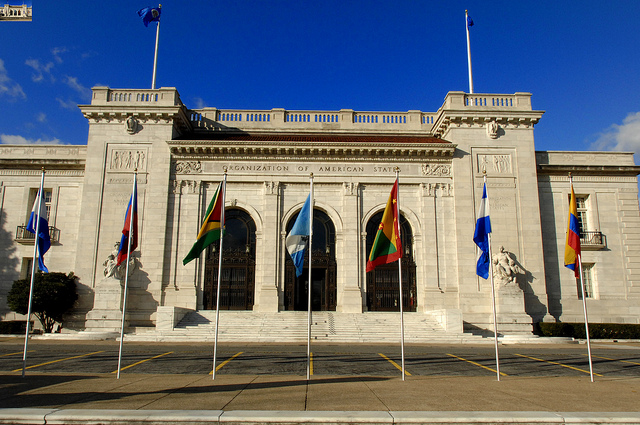 Photo:OEA-OAS (Flickr).
If Latin American heads of state want to shame the United States into changing its Cuba policy, then Washington should insist that its allies and the summit's host, Panama, also invite Cuban dissidents and human rights activists, says Americas Quarterly Editor-in-Chief and AS/COA Senior Director of Policy Christopher Sabatini.
---
U.S. Presidential Action on Cuba: The New Normalization
Fall 2014 AQ Feature
By Robert Muse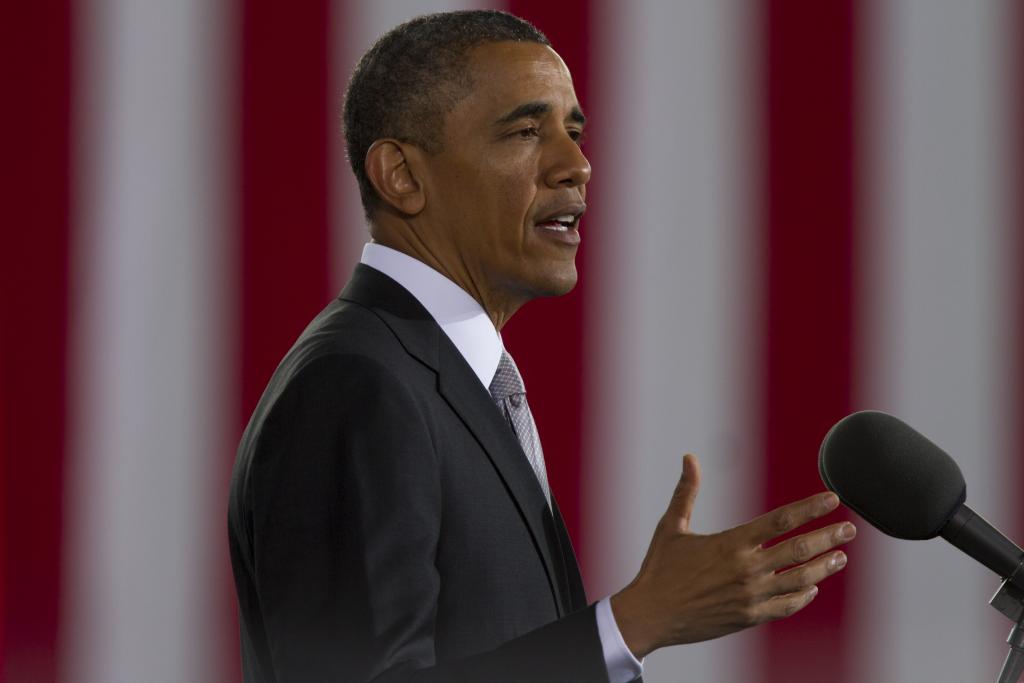 Hillary Clinton said in a recent interview that she would like to see the United States "move toward normalizing relations with Cuba." This remarkable statement—from quite possibly the next president—came at the end of a critique of the current U.S. policy that insists on political and other reforms in Cuba as a precondition for modifying the current sanction the U.S. imposes on that country.
---
Why Entrepreneurship Matters in Cuba
Fall 2014 AQ Feature
by Susan Segal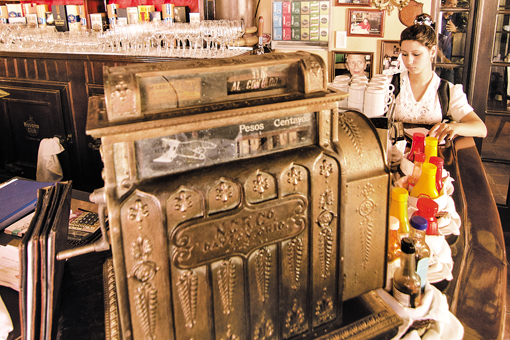 Photo: Seb Agudelo
For almost two decades, I have watched entrepreneurship explode across Latin America and the Caribbean, empowering citizens, transforming economies and changing lives. In sectors ranging from restaurants and small manufacturing to high tech, entrepreneurs are changing the economic and social landscape of the region. Perhaps most important, they are also generating jobs. Across the region, 60 percent of employees work for businesses with five or fewer employees. In Mexico, 72 percent of employment comes from micro-, small- and medium-size businesses. In Brazil, small enterprises create two out of every three jobs.
---
Cuba's New Business Class
Fall 2014 AQ Feature
by Alana Tummino and Allie Fleder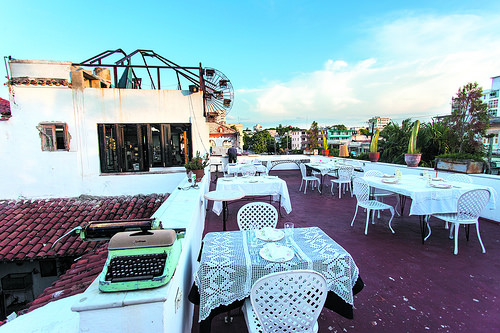 Photo: Ernesto J. Fernández
A palpable energy is reinvigorating the once-stagnant Cuban economy. Entrepreneurial businesses—spanning all sectors and industries—are springing up across the island. Walking through the streets of Havana, Santa Clara or Camagüey, it's hard not to trip over construction sites for private restaurants, or see the storefronts offering manicures, haircuts, cell phone repairs, or colorful artwork.
---
Cuba and the Summits of the Americas
Fall 2014 AQ Feature
By Richard E. Feinberg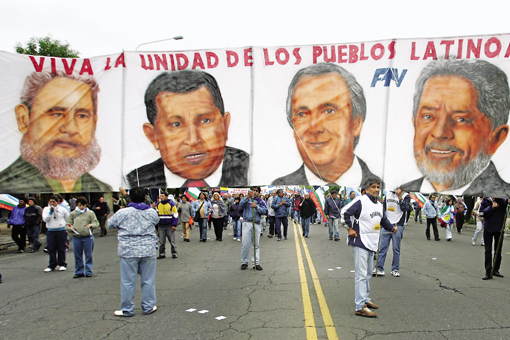 Photo: DANIEL GARCIA/AFP/GETTY
In the coming months, the United States is going to face a tough choice: either alter its policy toward Cuba or face the virtual collapse of its diplomacy in Latin America. The upcoming Summit of the Americas, the seventh meeting of democratically elected heads of state throughout the Americas, due to convene in April 2015 in Panama, will force the Barack Obama administration to choose between its instincts to reset Cuba policy to coincide more closely with hemispheric opinion and its fears of a domestic political backlash.
---
Will Warming Cuba-EU Ties Open Up U.S.-Cuba Relations?
Summer 2014 AQ Feature
By Sarah Stephens and Joel Brito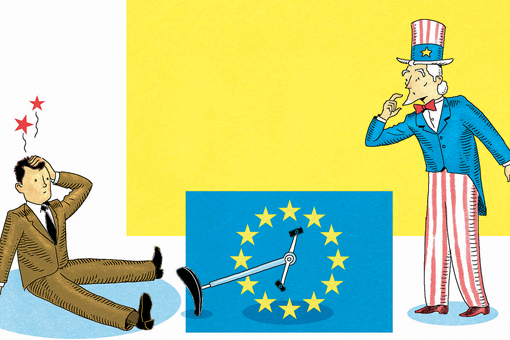 Illustration: Wesley Bedrosian
Yes: Now is the time for the United States to follow its Atlantic partner and get off the sidelines when it comes to engaging Havana. The Obama administration's track record signals some hope: thus far, the president has used his executive authority to restore Cuban-American family travel, reinstate people-to-people trips, and reconvene the episodic talks on migration and postal delivery. But he has left undisturbed the essential architecture of U.S. policy inherited from the Eisenhower era.
No: It would be misguided to assume that the Cuban reforms are a sign of genuine change within the regime. Rather, they represent an attempt to adapt the revolution's principles of "protect and perpetuate" to changing circumstances: a strategy that has allowed the regime to survive repeated economic and political shocks over the past 55 years.
---
While Brazil Sambas with Cuba, the U.S. Dances Alone
May 1, 2014
AQ Online Blog
By Christopher Sabatini and Alana Tummino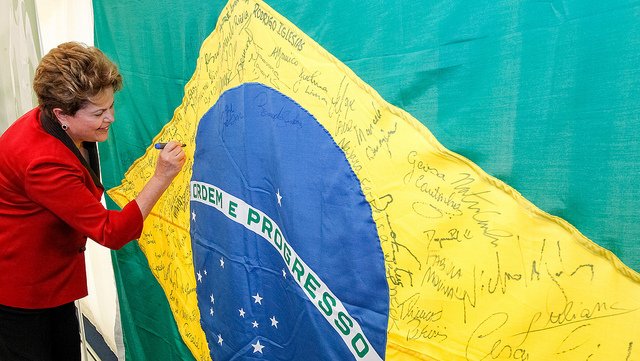 Photo: Roberto Struckert Filho (Flickr)
Our current Cuba policy—written into law as the Helms-Burton Act—has the U.S. not only tying its hands under some absolutist ideal of what a democracy should look like (which has never been applied in this level of stubborn rigidity to any other country—communist or right-wing authoritarian) but also eliminates the U.S.'s ability to positively shape the course of events in what is likely to be a protracted process of political change, rather than collapse. This vacuum has allowed Brazil to expand its regional leadership at the expense of the United States.
---
Cuba Grants State-Run Enterprises More Autonomy
April 29, 2014
AQ Online Blog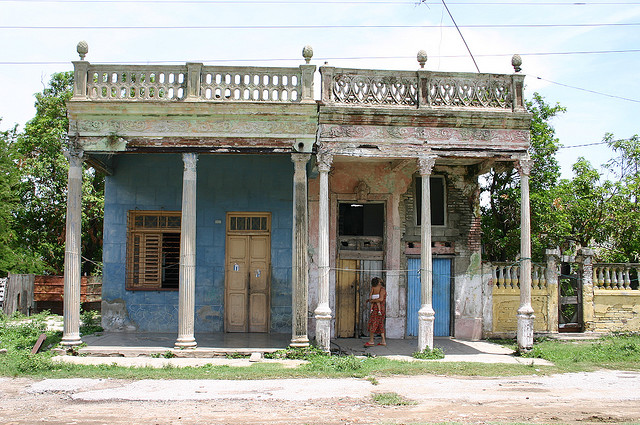 Photo: RikPanganiban (Flickr)
The Cuban government announced a process of decentralization as part of what President Raúl Castro termed Cuba's "most complex" series of reforms, in the state-run Gaceta Oficial on Monday. The new reforms allow the more than 2,800 state-run enterprises—which represent 80 percent of Cuba's economic activity—to open secondary businesses outside of the enterprises' primary focus, retain 50 percent of their profits, sell excess goods at market prices, and set their employee's salaries independent of the state.
---
Two to Rumba: The European Union Decides to Negotiate With Cuba
February 19, 2014
AQ Online Blog
By Herman Portocarero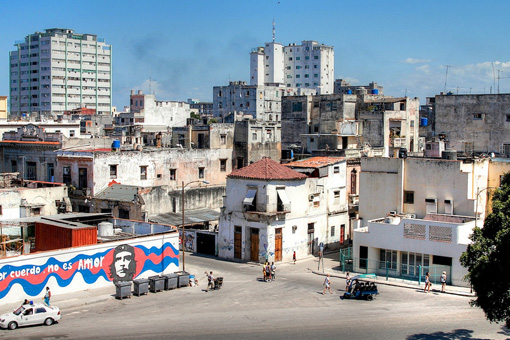 Photo: Doug88888 (Flickr)
On February 10, the European Union's Foreign Affairs Council (FAC) approved a mandate to start negotiating an overall agreement with Cuba. This decision had been under preparation since 2008, when the EU renewed its political dialogue with Havana. Between 2003 and 2008, relations had been at a low point following a series of strong measures against the island's dissident community. It took years of internal diplomacy within the EU and its institutions to gain the February 10 decision.
---
Most Americans Support Normalizing Cuba Relations
February 12, 2014
AQ Online Blog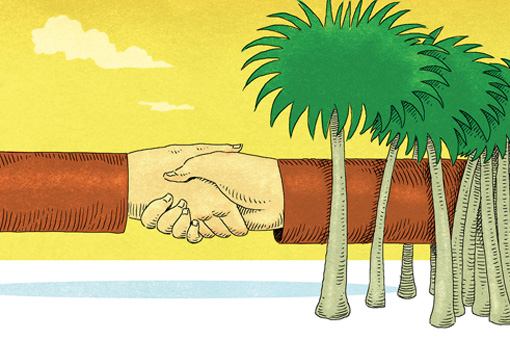 Illustration: Wesley Bedrosian
A new poll by the Atlantic Council released yesterday found that a majority of Americans are now in favor of stabilizing U.S.-Cuba relations. Of those sampled nationwide, six out of 10 said they favor policy changes that would allow more business transactions between the two countries, as well as the lifting of restrictions that don't allow Americans to travel and spend money in Cuba as a result of the embargo.
---
The Obama-Castro Handshake
December 16, 2013
AQ Online Blog
By John Parisella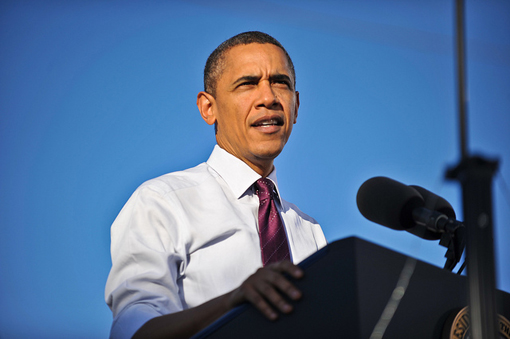 Photo: Courtesy of Intel Photos (Flickr)
During the course of the first leg of the Mandela funeral celebrations last week, one event made news around the world—U.S. President Barack Obama shaking hands with Cuban President Raul Castro. Speculation immediately surfaced about whether it was a planned event, and whether it meant an eventual new beginning for Cuban‒U.S. relations.
Judging from the reactions of both presidents' spokespeople, it was a circumstantial meeting. To not shake hands would have been more significant.