Reading Time:
5
minutes
Kids from Rio de Janeiro's largest favela are reaching new heights – literally.
Equipped with grippy shoes, hand chalk and encouragement from renowned climbers worldwide, young people from the Rio neighborhood of Rocinha are increasingly taking to the city's tallest mountains in search of recreation, thrills and, for some, a way to avoid the pitfalls of life in the favela.
Many are climbing with help from the non-profit program Centro da Escalada Urbana (CEU), which after six years has established a permanent presence in Rocinha with an indoor facility where kids can meet and train.
"I want to use climbing as a tool to promote personal growth," founder Andrew Lenz said during the facility's grand opening July 30, as several dozen youths scrawled up the walls and parents held a celebratory churrasco barbeque in the alley. "The adventure, the dialogue with fear, the individual and collective responsibility… putting that responsibility on kids can be life-changing."
Believed to be the first climbing wall in one of Brazil's thousands of favelas, the facility's opening comes just as CEU is set to receive some extra attention with the start of the Olympic Games on August 5. To coincide with the Games, one company is sending professional climbers into Rocinha to climb with CEU (which means "sky" in Portuguese).
That's not the usual kind of community engagement that happens between athletes and Olympic host cities. But it's hardly strange to these gravity-defying youths who have already climbed with some of the world's best, including famed American climber Alex Honnold, who told AQ he found climbing with the kids from the favela "super inspiring."
"The program in general is pretty great," said Honnold, who is most well-known for scaling 2,000-foot walls in Yosemite National Park alone and without a rope. "Mostly because it's a good way to get the local kids involved in something positive."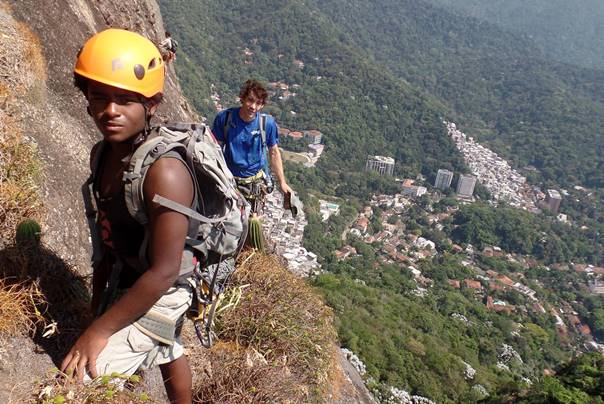 Honnold (in blue) climbs with 16-year-old Jonas Silva from Rocinha
"It's fun and extreme," said 17-year-old Alexandre Santos, a youth from Rocinha who climbed with Honnold last October and described him as one of his idols. "Some of my friends have gotten into drugs," Santos added. "I didn't because I had the opportunity to climb."
Rocinha sprawls over the backside of the city's cloven-peaked mountain Dois Irmãos ("Two Brothers"), which divides the wealthy beach neighborhoods of Leblon and São Conrado. It is considered the largest single favela in the country with about 70,000 residents, many of whom live below the poverty line in ramshackle homes lacking basic services. While Rio's mountains like Dois Irmãos often serve as social boundaries, with wealthy communities at their base and favelas perched above, CEU is teaching kids to see the rock formations not as borders but as opportunities for growth.
During a visit in June to the new climbing space, down a narrow alley called "Street of Peace," Lenz and several teenagers from the favela were piecing together a new 15-foot-high climbing area, which cost about 10,000 reais ($3,000) in materials. The floor was scattered with an electric sander and other power tools, and several jumbo-size bags were bursting with climbing holds waiting to be screwed into the wall. Passersby stared inside curiously, seeming to wonder why anyone would pay monthly rent of 2,500 reais to turn the space into an advanced jungle gym.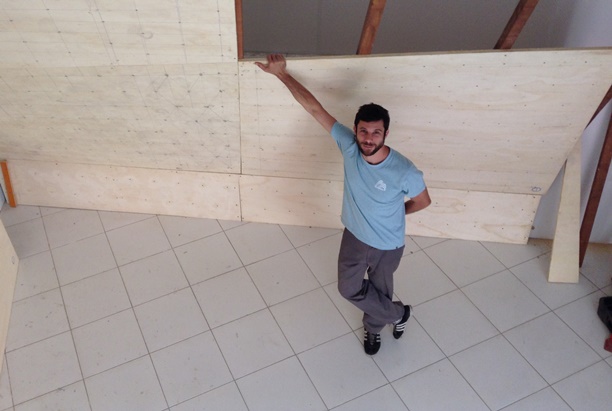 Lenz during construction of the climbing facility in Rocinha
A full-time rock climbing guide, Lenz said it had taken six years of planning and networking to finally scrounge up enough supplies from international gear companies like Black Diamond and funds from sponsors including Colorado-based apparel firm BEYONDgear and London-based computer consultancy Cloudreach to build the facility. It was a concrete sign that he is invested in Rocinha and not just another gringo swinging through Rio.
"This whole thing is terrifying for me," said Lenz, a Texas native who has lived in Rio for nearly two decades. "I'm really putting myself at risk. But I also believe that if I don't do this now, then the program is never going to get to the next level."
Lenz described CEU as the marriage of his love for climbing and his nonprofit background as a coordinator for Schools Without Borders. He tries to climb with the kids once a week, riding into the favela on his motorcycle with a rope coiled around his shoulders. Beyond getting kids outdoors and teaching them how to climb, Lenz said the bigger goal of CEU is to instill life skills such as teamwork, perseverance and confronting fear.
"You feel afraid and then you overcome this," said Caio César, a 17-year-old from Rocinha who climbed with Honnold last October and said he now wants to be a professional climber or outdoor adventure guide.
César was a high school dropout when he first met Lenz, who encouraged him to finish his education. Four years later, César is back in school and supported by a new scholarship program giving two older teenagers 600 reais a month in exchange for them helping at CEU's facility and earning their certifications to be tour guides and climbing instructors. Lenz said he created the program after repeatedly seeing kids from the favela, who often come under pressure at a young age to contribute income to their families, quit participating in CEU in order to take menial jobs.
CEU today has fans and supporters worldwide. The magazine Outside profiled Lenz in 2013, which led to a 2014 documentary featured in the Banff Film Festival. Stuart Green, a pilot for British Airways who met Lenz in 2010 when he hired him as a climbing guide in Rio, was so inspired by the program that he started a U.K.-based charity called Urban Uprising to support CEU and encourage climbing among lower-income youths in his native Glasgow.
"Andrew has a real rapport with the kids, he's the cool uncle figure," said Green. "Over the last three years we've put in a heck of a lot of work to support him, and I wouldn't have done that unless I had complete confidence in him."
Among the many professional climbers who have expressed support for CEU, the most well-known is Honnold, who made a special point of climbing with CEU last October while visiting Rio for a film event. When scaling Dois Irmãos, the mountain that creates a natural barrier for the favela, Honnold said it was "pretty cool" to belay a teenager named Jonas who successfully traversed an exposed section that had felt impossible to him the year before.
"Obviously, CEU isn't going to change the world since there are much bigger problems facing the favelas in Brazil, but it will change a few lives and that's kind of the basis for all positive change," Honnold told AQ by email. "It's giving them the self-confidence to move forward in their lives."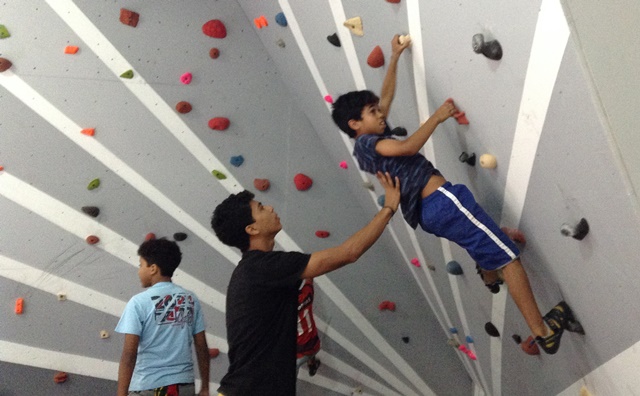 Caio helps a younger climber test out CEU's new wall
Still more attention is coming to the program with events surrounding the Rio Olympics; energy drink-maker Red Bull plans to send two of its sponsored athletes – American Sasha DiGiulian and Brazilian Felipe Camargo – into Rocinha to climb with the CEU youths. Among the top-ranked climbers in the world, DiGiulian and Camargo could potentially be competing in the 2020 Olympics, which will include rock climbing as an official event for the first time in its history.
That might make the Olympics, with its big-money venues and well-polished athletes, feel a little more accessible to these adventurous young climbers from Rocinha. Lenz, for his part, is less interested in climbing glory than on passing along the less-tangible takeaways from the rock.
"If you're having fulfilling experiences, that's what's important," Lenz said. "If some of them become badass climbers, that's great too."
—
Kurczy is a special correspondent for AQ based in Rio de Janeiro.
Tags:
Brazil
,
Olympics