Reading Time:
4
minutes
BRASÍLIA — Pop star Pabllo Vittar was a few minutes into her show at Lollapalooza Brazil on March 25 when she stretched her left thumb and index finger in the shape of an "L"—a sign of support for Lula, a former two-term president and the frontrunner for this year's election. A few songs later, she stepped down from the stage, hopped across the crowd, and grabbed a red towel with a photograph of Lula. Finally, at the very end of the show, as she bowed to her fans, she shouted, "Out with Bolsonaro!"
Vittar was not the only singer to talk politics at the festival. Welsh star Marina dedicated an expletive to the incumbent presidents of both Russia and Brazil, adding, "We are sick of this energy. We are sick of it. And you are the new generation, and things are gonna change."
Marina Diamandis, born in the small town of Brynmawr, may not be familiar with the latest Brazilian polls, but her comments were spot on. There's an increasingly visible generation gap in Brazil's upcoming presidential election. Electoral demographics are already guiding the actions of A-list celebrities, who seek to appeal to the young, and the current government, who seek to appeal to the elderly.
The most recent Datafolha poll, published on March 25, shows the extent of the divide between young and old. Of all the respondents, 43% said they would vote for Lula and 26% for Bolsonaro, a 17-point margin in favor of the former president. Among Brazilians aged 60 and older, however, 39% said they would vote for Lula and 29% supported Bolsonaro—only a 10-point margin. Among voters aged 16 to 24, the disparity is the highest: 51% for Lula and 22% for Bolsonaro, a 29-point margin.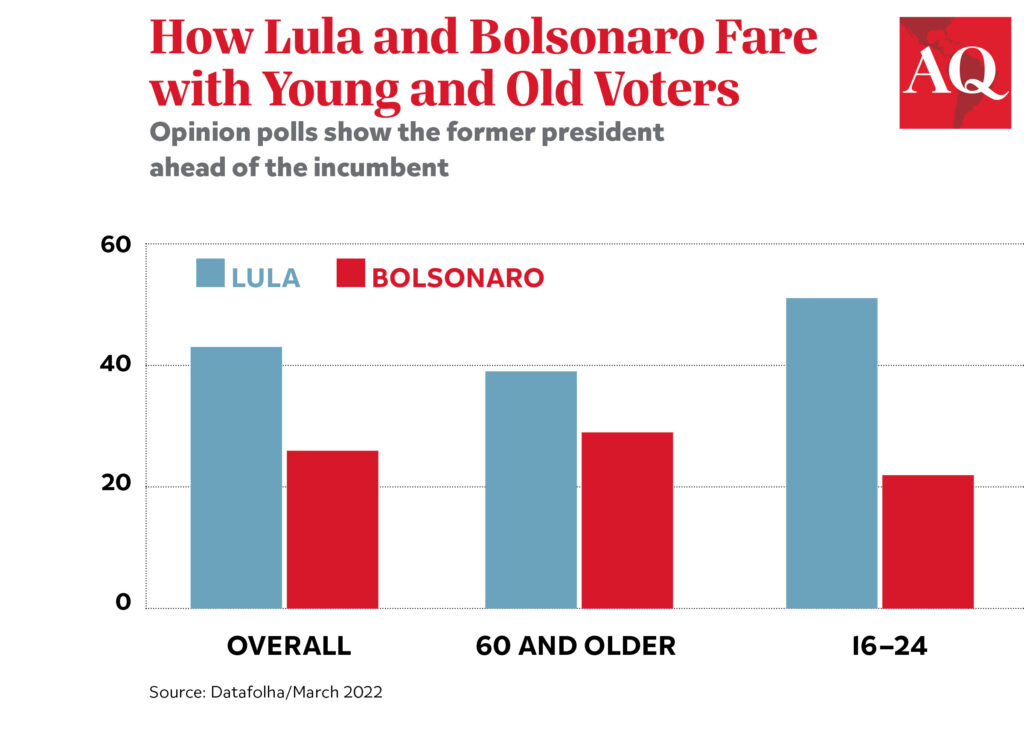 The political stunts at Lollapalooza did not go unnoticed at Bolsonaro's headquarters. His Liberal Party (PL) requested that the Electoral Court (TSE) ban any expression of campaign support at the festival. On March 26, judge Raul Araújo partially agreed to the request, banning demonstrations in favor of (but not against) any particular candidate or political party.
The PL's lawsuit was based on Brazil's ostensibly strict electoral law, which bans early campaigning. Officially, electoral campaigns will only be allowed to start on August 16, but there's a gray area regarding what so-called "pre-candidates" are allowed to do.
Yet the Electoral Court's decision had no effect. The PL's lawyers mistakenly identified the e-mail and registration number of the organization that runs Lollapalooza in Brazil, addressing the injunction to a defunct company called Lollapalooza Internet Services—and consequently the festival, which ended on March 27, was not formally notified in time.
The PL's action against politics at Lollapalooza fueled a national conversation on social media about censorship, and also about the gap between Bolsonaro and young people. Bolsonaristas were quick to show photos of young people, supposedly their children or nephews, who were ready to vote to reelect the incumbent president. As for the Bolsonaro government, even as the president's supporters are trying to look cool with the kids on social media, it is actively catering to older voters.
On March 15, the president publicly praised his government's decision to change "proof of life" requirements for the INSS, the public retirement program. Starting this year, voting will be considered "proof of life" for retirees, allowing them to renew their benefits. The government also announced it will allow retirees to withdraw part of their benefits earlier—before the elections in October, of course. Bolsonaro also increased the limit for payday loans for INSS retirees.
Social media, of course, is also a part of this effort. Congresswoman Carla Zambelli, a hardcore bolsonarista and the former chair of the House Committee on Environment, posted a montage to boost what she called the "veteran vote." According to her, "the left won in Chile" (a reference to newly inaugurated President Gabriel Boric) because people who knew about its evils abstained.
Voting is mandatory in Brazil for anyone 18 or over, but it is also permitted for 16- and 17-year-olds. This March, the TSE ran Young Voter Week, a campaign to encourage young people to register to vote. During that week alone, almost 100,000 young people aged 15 to 18 registered, a significant boost in relation to the 730,000 young voters who were registered through January. Since young people are significantly more critical of Bolsonaro than the overall population, a campaign to attract young voters is not neutral in terms of electoral impact.
Even outside of Lollapalooza, A-list celebrities are recruiting young voters. Anitta, a major Brazilian pop star, took to Twitter to encourage Brazilians aged 16-17 to vote this year. It remains to be seen how much retweets and likes will translate into results at the polls. But the call of celebrity idols to their young fans is clear.
—
Silva is a Brazilian journalist who has worked at O Antagonista, Estadão and CQC. He also served as the Public Affairs Assistant at the United States Embassy Branch Office in Belo Horizonte, Brazil.
Tags:
Bolsonaro
,
demographics
,
Lollapalooza
,
Pabllo Vittar