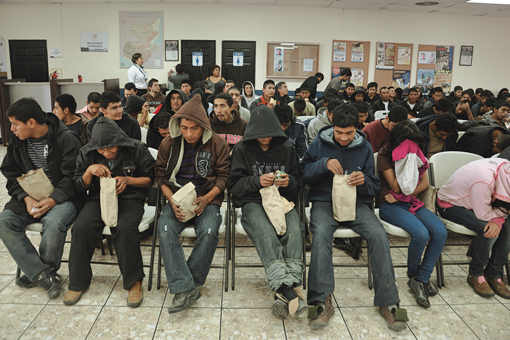 Deported migrants face a slew of challenges once they step off the plane at the Guatemalan air force base, from finding food and shelter to paying off debts for their journey north or before they left home. Beyond the immediate hurdles, migrants must confront a longer-term challenge: trying to find work in a country where they are perceived as criminals.
The number of Guatemalans deported with criminal records has risen in recent years. According to U.S. Department of Homeland Security data, nearly 32 percent of Guatemalan deportees were removed with a "criminal status" in 2010.
The U.S. definition of "criminal," however, is broader than many may think. Having a previous arrest for illegal entry without proper documentation can put an immigrant in this category, creating a false perception that deportees have committed serious felonies, according to U.S. immigration experts.
"Data may not distinguish between immigration offenders and 'real criminals,'" says Marc Rosenblum, a senior policy analyst at the Migration Policy Institute. "People who have been convicted of illegal entry and illegal re-entry are considered criminals."
Despite this stigma, many companies, especially those based in the capital, want to hire returnees to take advantage of the skills they have gained in the U.S., including job training and English language abilities.
Many bankers feel the same. "We don't think it's right to judge whether you are a deportee or not," said Sergei Walter, a top manager at the Guatemalan bank BanRural, which provides microcredit loans of mostly under $3,000. "To qualify, you need to have a project and the proper paperwork."
But some rural returned migrants still omit their U.S. work experience on job, school and other applications to avoid discrimination. Work experience in the U.S. leads to an assumption that they were deported, and therefore that they are a criminal.
"The deportee is viewed as a failure," said attorney Marila de Prinz. "People think that since they were deported they must have done something very wrong."
José Sica, who was deported in 2010, said that one of his teachers recommended not mentioning his deportee status when searching for a job because it would pigeonhole him as a criminal.
"They don't want us here, and they don't want us there," he said.
Photo: Courtesy of Willy Barreno.