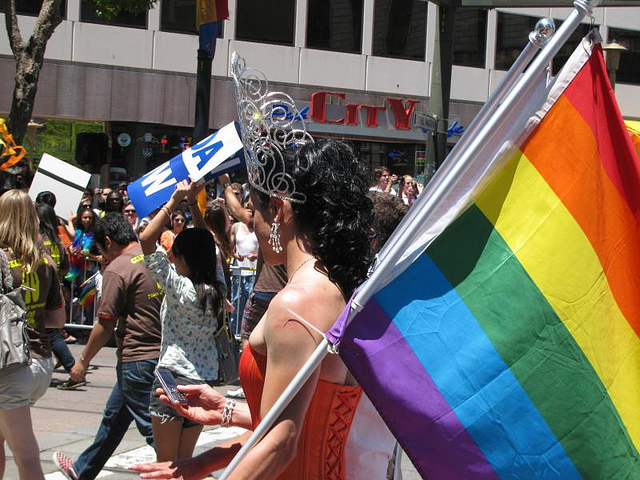 Photo: Steven Damron

May 17 was the annual International Day Against Homophobia—an opportune moment for AQ Online to look at the breakthroughs and continuing challenges across the Americas in reversing discrimination toward persons of lesbian, gay, transgender, or queer orientation (LBQT). On May 5, 2011, Brazil's Supreme Court ruled that same-sex couples share most if not all of the same rights as married men and women. Consequently, the first same-sex marriage took place on June 27, 2011. Last year, Argentina became the first Latin American country to allow gay marriage, and Mexico City also permits it. On June 24, 2011, New York became the sixth U.S. state to legalize same-sex marriage—joining Connecticut, Iowa, Massachusetts, New Hampshire, and Vermont.
But, how can the hemisphere build on this progress?
This Issues in Depth page compiles AQ articles, web exclusives and blog posts on gay rights. Stay tuned for forthcoming blog posts and interviews as well.
Ban Ki-Moon, the United Nations Secretary-General, has referred to the universal decriminalization of homosexuality as an "imperative." But what more can be done?
New On This Page:
May 16: Web Exclusive, "AQ Interview: Jesus Aguais on Homophobia and HIV/AIDS"
Also On This Page:
---
Recent News Headlines

---
Rio de Janeiro Aims to Become World Capital of Gay Tourism
by Tom Phillips, The Guardian
July 11, 2011
The theatre lights dim and a Brazilian supermodel takes to the stage, tanned legs emerging from a skintight miniskirt.
In the audience, an A to Z of Rio de Janeiro's great and good: pop stars, sports stars, soap stars and would-be stars, flanked by an army of local paparazzi. Clutching a microphone, the model addresses the crowd. "My name is Lea and I am a transsexual," she says, triggering a frenzy of applause and whistles.
The model in question is Lea T, Brazil's first transsexual supermodel. And this is the champagne-soaked launch party for Rio's inaugural diversity week – a celebration of the city's cultural and ethnic differences and an attempt to position Rio as the global capital of gay tourism.
"Rio is a city without prejudice," beams Eduardo Paes, the city's mayor, as he arrives at the event. "It is an open city that accepts everything with an open heart."
Recent months have seen an avalanche of new lesbian, gay, bisexual and transgender (LGBT)-friendly initiatives in Rio: vocational training courses for transvestites, anti-bullying projects aimed at gay and lesbian students and new legislation outlawing discrimination in the city's nightclubs.
---
Brazil Approves Conjugal Visits for Gay Inmates
by Latin American Herald Tribune via EFE
July 4, 2011
RIO DE JANEIRO – Gay prisoners who register their respective partner or companion with prison officials will have the right to receive them for conjugal visits beginning Monday in all of Brazil's jails, a note published in the official gazette says.
The decision of the National Criminal and Penitentiary Policy Council, a Justice Ministry agency, guarantees and extends across the entire country a right for gays that was already accepted in some states including Rio de Janeiro and Pernambuco.
"The right to a conjugal visit must be guaranteed to prisoners of either sex who are married, who live in a stable union or who have a homosexual relationship," the resolution says.
The measure goes into effect immediately and revokes a resolution of March 1999 that regulated conjugal visits in all prisons but purposely did not state whether gay prisoners of either sex should have the right to that benefit.
---
Brazil Judge OKs Country's First Gay Marriage
by Bradley Brooks, Associated Press
June 27, 2011
SAO PAULO (AP) — A Brazilian state judge on Monday approved what the court said is the nation's first gay marriage.
Sao Paulo state Judge Fernando Henrique Pinto ruled two men could convert their civil union into a full marriage. Brazil's Supreme Court cleared the way in May for the recognition of same-sex civil unions, but stopped short of approving gay marriages.
A court statement said Pinto made the decision based on the top court's ruling on civil unions and on Brazil's constitution, which outlines how a civil union can be converted into a legal marriage.
Benjamin Polastri, a spokesman with the Sao Paulo state Attorney General's Office, said it was not immediately clear if the ruling set a strong national precedent. Polastri also said the just-approved gay marriage was the first for South America's biggest nation.
Jose Luiz Bednarski, a lawyer for the Sao Paulo state attorney general, said in an opinion presented to Pinto that the marriage was legal.
"The federal constitution establishes as a fundamental objective of the Federal Republic of Brazil to promote the good of everyone without bias of gender or any other form of discrimination," Bednarski wrote. "This certainly includes the choice or sexual orientation of a person."
In the Brazilian legal system, judges often seek the opinion of a state or federal attorney general about a case.
---
New York Allows Same-Sex Marriage, Becoming Largest State to Pass Law
by Nicholas Confessore and Michael Barbaro, New York Times
June 24, 2011
ALBANY — Lawmakers voted late Friday to legalize same-sex marriage, making New York the largest state where gay and lesbian couples will be able to wed and giving the national gay-rights movement new momentum from the state where it was born.
The marriage bill, whose fate was uncertain until moments before the vote, was approved 33 to 29 in a packed but hushed Senate chamber. Four members of the Republican majority joined all but one Democrat in the Senate in supporting the measure after an intense and emotional campaign aimed at the handful of lawmakers wrestling with a decision that divided their friends, their constituents and sometimes their own homes.
With his position still undeclared, Senator Mark J. Grisanti, a Republican from Buffalo who had sought office promising to oppose same-sex marriage, told his colleagues he had agonized for months before concluding he had been wrong.
"I apologize for those who feel offended," Mr. Grisanti said, adding, "I cannot deny a person, a human being, a taxpayer, a worker, the people of my district and across this state, the State of New York, and those people who make this the great state that it is the same rights that I have with my wife."
Senate approval was the final hurdle for the same-sex marriage legislation, which was approved last week by the Assembly. Gov. Andrew M. Cuomo signed the measure at 11:55 p.m., and the law will go into effect in 30 days, meaning that same-sex couples could begin marrying in New York by late July.
---
Americas Quarterly Articles
---
Gay in the Americas
From the Winter 2010 issue "Voices from the New Generation"
by Mitchell A. Seligson and Daniel E. Moreno Morales
Tolerance for minority rights is the hallmark of liberal democracies. Indeed, without such tolerance, democracy is fatally flawed. Creating an atmosphere of tolerance for minorities is one of the key challenges in constructing and deepening democracy in our hemisphere.
The shameful treatment of African Americans in the United States, for example, persisted for decades after the Civil War, and only began to improve in the middle of the twentieth century— finally declining in the twenty-first century to levels that made the election of an African American president conceivable and then possible. A similar process has occurred hemisphere-wide with increasing tolerance toward the full participation of women in professions and in politics, a process that is still ongoing.
But what of other islands of intolerance? Specifically, the rights of gays, a group that has been the target of hostility for centuries around the world, including in well-established democracies. Gay rights are especially problematic in much of Latin America. It is often assumed that this is because of the persistence of the culture of machismo, but another factor accounting for intolerance for the right of gay people is the overall low level of education in Latin America and the Caribbean compared to North America. Education has consistently been found by scholars to be the most important factor associated with a more tolerant society.
Measuring levels of political tolerance requires the use of valid and reliable instruments. Scientifically designed public opinion surveys are without question the best tool for measuring tolerance when one is trying to compare levels across countries. The AmericasBarometer, a series of biennial hemisphere-wide surveys organized by the Latin American Public Opinion Project (LAPOP) consortium at Vanderbilt University, provides ideal data for assessing the political tolerance of citizens. The 2008 survey covered 23 countries and draws from samples that are representative of the national voting-age population. In Latin America and the Caribbean, the samples range from 1,500 to 3,000 respondents in face-to-face interviews. The total number of interviews conducted was 40,567.
---
The Advocate
From the Winter 2010 issue "Voices from the New Generation"
In Jamaica a country known as one of the most homophobic places in the world, young people are challenging the status quo of intolerance. A young man from a conservative family in rural Jamaica recently confided to me that five of his close friends are gay. He observed that although he did not share their sexual preferences, he understood that their sexual orientation didn't define them. "They are more than gay," he told me. "They are smart, eloquent and very good friends. There is a lot I can learn from them."
Many young people in Jamaica hold similar views. And while they are not often involved in activism, they maintain a good relationship with their gay peers. It is also common for youth leaders in schools and communities to discreetly promote acceptance of sexual diversity. You will rarely hear them playing gay-bashing music, even though such music is common in Jamaica.
It is mainly because of such youth tolerance that a vibrant gay community flourishes on our island. Scores of homosexual men and women bask in the opportunity to live "freely"—important indicators that our island of sun, sea and sand might someday fully allow people to live as they choose without prejudice or discrimination.
---
AQ Online Web Exclusives
---
Brazil's Recognition of Same-Sex Unions
May 16, 2011
In a historic and unanimous ruling, the Brazilian Supreme Federal Tribunal declared on May 5 that people in "stable, enduring and public" same-sex relations must be granted the same rights as people in straight marriages.  The ruling does not exactly establish gay marriage in Brazil as it is in Canada, Argentina and Mexico City, but it essentially erases the inequality in legal rights between married couples and civil unions.
All for one and one for all
In making this decision, the Brazilian Supreme Federal Tribunal advanced a landmark argument that could have ripple effects across Latin America and beyond.  What the court did was to find a solution to the problem of heteronormative language in legal documents.  In the case of Brazil, article 226 of the constitution and article 1723 of the civil code discuss marriage rights as available to "a man and a woman."  Opponents of gay rights in Brazil used this blatantly heteronormative language to contend that granting marriage rights to same-sex couples would be unconstitutional.  This is the argument that the court dismissed.
The court argued that despite the fact that Brazil's fundamental legal documents discuss marriage in heteronormative terms, nothing suggests that those same rights "can be denied" to others.  A democratic constitution based on non-discrimination, one judge argued, is useless if it is unable to ensure that the rights granted to some groups are also granted to everyone else.
Thus, if male João enjoys constitutional rights based on his marriage to female Gisele in Brazil, then it is incumbent upon the court to require the state to also grant female Vitória the same rights if she enters a comparable union with Gisele.  Not to do so would be to discriminate against sex, which is banned in the constitution.  According to some estimates, with this ruling, Vitória and Gisele would receive 112 rights—the same number of rights they each would gain if they were to enter a straight marriage instead.
---
AQ Interview: Jesus Aguais on Homophobia and HIV/AIDS
May 16, 2011
The annual International Day Against Homophobia on May 17 offers an opportunity to reflect on the state of the worldwide gay rights movement. Jesus Aguais, an AQ Innovator (Fall 2007) and executive director of New York-based Aid for AIDS International, talks with AQ Online about homophobia's implications on HIV/AIDS and Latin America's recent progress in gay rights.
Americas Quarterly Online: How does homophobia affect progress in HIV/AIDS awareness?
Aguais: It is a big issue in not just the Americas, but the United States as well. In terms of HIV, there is a general perception that the virus exclusively affects the gay population who in turn do not take enough precautions to prevent it. This undoubtedly presents challenges in combating such a misperception. I believe homophobia comes from ingrained religious beliefs, but there are strategies that we are exploring to minimize homophobia. The most useful strategies relate to youth. Aid for AIDS has undergone an initiative called ¿Cuánto sabes de VIH/SIDA? (How much do you know about HIV/AIDS?), and has also sponsored programs on sexual and reproductive health.
AQ: What can be done to get policymakers to focus more on the need to promote more attention to AIDS?
Aguais: Regrettably, AIDS is not perceived as a legitimate threat anymore—so lawmakers are no longer aggressively committed to giving it proper attention. It is time for the AIDS community to recalibrate the message. I am pleased that international institutions like the United Nations are taking up the issue. Government and society must stand together.
AQ: What are your thoughts on the recent trend of certain Latin American countries to recognize civil unions or marriages between same-sex couples?
Aguais: This is big progress; New York should be ashamed. Homophobia is perceived as a moral and religious issue. A person is born homosexual or heterosexual and thus does not choose. [New York State Senator and outspoken opponent of same-sex marriage] Rubén Díaz should take note. This type of homophobia attracts followers who do not understand the issue. So far, the overwhelming majority of vocal gay-rights advocates are members of the LGBT [lesbian, gay, bisexual, and transgender] community. I believe that heterosexual individuals also need to get more involved.
In the Americas—specifically in Colombia, Honduras, Guatemala, and Venezuela—gay and bisexual youth are getting more vocal in expressing support for gay rights. This trend is especially notable in the last 10 years. They understand the power of education.
It is also worth noting is that Latin America is a largely Catholic continent, and the Vatican has made its views of homosexuality no secret. When one considers what Brazil accomplished earlier this month with its legalization of same-sex unions, this should send a powerful message to New York City—a self-proclaimed embracer of liberal values yet a frequent hotbed for gay-bashing.
---
Six Reasons Why Argentina Legalized Gay Marriage First
July 30, 2010
by Javier Corrales and Mario Pecheny
This month, Argentina changed its civil code to permit gay marriage and adoptions, becoming the first nation in Latin America and the second nation in the lower three-quarters of the planet to do so. Why Argentina, of all places? Not too long ago, Argentina was better known for fascist-style militarism (since the 1930s), dirty wars (until the 1970s), a pointless war (against England in the early 1980s), reckless macroeconomics and presidential crises (until the 2000s), institutional disarray and crazy populism (to this day), and one of the most heterosexual and gender-stereotypical dances in the world (the tango).
To answer the question of why Argentina, conventional arguments help, but only to a point. No doubt, Argentina has many of the conditions that, research has shown, go hand in hand with more pro-gay legislation. It has high levels of urbanization and schooling (the modernization hypothesis) as well as a vibrant constellation of civic organizations (the social movement hypothesis), but so do most countries in the Americas. It has a ruling party that sees itself left of center (the partisan hypothesis), but this is also true of most countries in the Americas today, including the United States. And it has a super gay-friendly main city, but this is also true of at least Brazil, Mexico, the United States, Colombia, Uruguay, Peru, and Costa Rica.
To explain the Argentina puzzle, we thus need to refine conventional arguments. Here are six factors to consider.
---
Latin American Gays: The Post-Left Leftists
March 19, 2010
When most straight people are forced to think about gay people, they usually think of one thing first, sex. A political scientist might focus instead on a different question: how do gays perform in politics? Judged from their political achievements this past decade, the answer is, at least for Latin American gays: they're pretty good.
The political achievements of LGBT groups in Latin America in the 2000s are remarkable. Examples include: decriminalization of homosexuality (now complete in all Spanish-speaking countries and Brazil); laws against sexual-orientation discrimination (Brazil 2000, Mexico 2003, Peru in 2004); extending the same rights and obligations to same-sex couples as heterosexual couples (e.g., Buenos Aires 2002, Colombia in 2009); granting access to health benefits, inheritance, parenting and pension rights to all couples who have cohabited for at least five years (Uruguay); and constitutional bans against discrimination on the basis of gender, sexual identity or HIV status (Ecuador 2008). In the last two years alone the speed of change picked up, with most countries witnessing a significant legal change in the direction of more gay-friendliness, including the now famous Mexico City law recognizing gay marriage and adoption rights.
What is remarkable is not that change has happened, but that it has happened against such formidable odds. As Moreno Morales and Mitchell Seligson make clear in the current issue of Americas Quarterly, Latin America is still homophobia-land. Their poll shows that between half and three-quarters of the population in most Latin American countries exhibit disturbing levels of intolerance toward homosexuals. This attitudinal intolerance is by no means the only barrier that LGBT groups face in politics, but it alone is reason enough to be awed by the political victories that LGBT groups have achieved.
So how did they do it? How has a movement comprising such a tiny and often invisible minority managed to introduce major changes in a region where homophobia—at home, at school, at work, and at church—is so entrenched? The answer is—innovative politics. LGBT groups have adopted some of the most innovative political strategies—in action and thinking—among social movements in contemporary democracies. Although LGBT groups are decidedly on the left, many of their strategies depart substantially from conventional leftist strategies. These strategies are worth highlighting and maybe even emulating. Here is a sampling.
---
AQ Blog Posts
---
A Gay Rights Revolution in Latin America
May 18, 2011
This month's historic decision by the Brazilian Supreme Court to legalize same-sex civil unions continued a string of stunning victories for gays in Latin America.
In fact, as I point out in "Latin America's Gay Rights Revolution" (Journal of Democracy, April 2011), since the early 2000s the region has emerged as surprisingly fertile ground for gay rights. Within the last five years alone, Uruguay lifted all legal barriers preventing gay men and women from serving openly in the military, Colombia's Constitutional Court granted gay couples full rights of insurance, inheritance, immigration and social security, Mexico City legalized gay marriage and gay adoptions, and Argentina became only the eighth country in the world to legalize gay marriage.
A cocktail of social and political factors accounts for this surge of gay rights in what historically has been one of the most homophobic areas of the globe. This includes the growing secularization of the Latin American public—a trend made possible by the fading of Catholicism. In addition, the region has seen the advent of gay-friendly national governments in Argentina, Brazil and Uruguay, and municipal governments in São Paulo, Buenos Aires, Mexico City, and Bogotá. These inroads follow the examples set by Latin America's closely tied European counterparts. In 2005, Spain became the first Catholic-majority nation to legalize gay marriage and Portugal followed soon thereafter. In an act of transnational policy crosspollination, Spain's marriage bill served as the blueprint for the Argentine one.
Yet it is the activism of gay groups that has carried the day for gay rights in Latin America. Relaunched with the wave of democratic transitions that ended decades of right-wing dictatorship in the mid-1980s, Latin America's gay liberation movement has succeeded in making the argument that "gay rights are human rights." This rhetorical strategy has been pivotal for mainstreaming gay culture and identity and for facilitating the embrace of gay rights by civil society, the courts and the political establishment.
---
J-FLAG Issues Statement on International Day Against Homophobia
May 17, 2011
J-FLAG, The Jamaica Forum for Lesbians All-Sexuals and Gays, issued a statement today commemorating International Day Against Homophobia (IDAHO).
Kingston — May 17, 2011
The first national survey of attitudes and perceptions of Jamaicans towards homosexuality, conducted by a research team headed by Professor Ian Boxill, has found that negative views of homosexuality tended to be greatest among males, non-university educated persons, those who listened mostly to dancehall and reggae music and those in lower socio-economic groups.
As J-FLAG celebrates International Day Against Homophobia (IDAHO), the findings of the study underscores the reality of homophobia faced by many gay, lesbian, bi-sexual and transgender Jamaicans. The study showed 59% of respondents chose negative words to describe their feelings towards homosexuals. 51% acknowledged learning about homosexuality at 14 years old and younger, with family & friends (32.9%) and media (31.3%) being the main sources of exposure.
Strongest objections to homosexuality were raised on religious grounds and the need to 'protect Jamaican society from changing its cultural practices for the worse', with 85% saying that they did not think that homosexuality among consenting adults should be legal, pointing to a widely held misconception that it is illegal to be homosexual. Additionally, the survey showed that 81.8% of respondents attend church and 82% deemed male homosexuality to be morally wrong as opposed to 3.6% who did not see it as a moral issue.
Of significance is the fact that 30% agreed that someone can be homosexual and also be a Christian, but 56% believe that it is not possible to be a homosexual and be religious at the same time. However, a significant minority (43%) did not share this view, suggesting some conflict on the issue of homosexuality and religiosity again highlighting the need for dialogue to begin to allay concerns that are unfounded and rooted in fear and ignorance.
UNAIDS Executive Director, Mr. Michel Sidibé, in his message for IDAHO called on the world to "replace violence and discrimination with acceptance and tolerance," emphasizing the need for greater tolerance towards gay, lesbian, bi-sexual and transgender (LGBT) persons.  Echoing the call for increased tolerance, Dane Lewis, Executive Director of J-FLAG noted that "the rise in the number of reports to J-FLAG in the last three months has been significant pointing to the reality that LGBT Jamaicans continue to be victims of human rights violations in varying degrees.
Despite the strong negative perceptions and attitudes towards homosexuality, which cut across all social classes, gender and social groups, the research offered some hope of greater tolerance, revealing that 49% of respondents believe that homosexuals experience genuine love and affection, like heterosexuals, in their intimate relationships. A significant minority, 20%, of respondents chose positive words such as tolerance and acceptance when asked to describe their feelings towards homosexuals in spite of the prevailing climate of homophobia. Interestingly many respondents readily pointed out that persons who are homosexual make an important contribution to the society. Most of the respondents did in fact believe that homosexuals were and can be productive members of society.
The research team conducted the research using a nationally representative sample of 1007 adults from 231 communities between October and November 2010. The survey was also supported by a qualitative study based on five focus groups conducted across the island between October 2010 and January 2011.
The research was commissioned by the Jamaica Forum for Lesbians, All-sexuals and Gays (J-FLAG) with the support of AIDS Free World and Open Society Institute.
Contact: Dane Lewis; Executive Director
Telephone: (876) 978-8988 or (876) 875-2328
Email: admin@jflag.org
---
The Sudden Rise of a Pro-Gay Foreign Policy in the United States
February 11, 2011
by Javier Corrales, Americas Quarterly editorial board member, and published in The Huffington Post
The Obama administration is often criticized for betraying gay rights. Despite having helped repeal Don't Ask Don't Tell, critics still charge that the White House continually reneges on its pledge to work hard to end marriage bans and gay bashing. Yet, on another unnoticed front, the administration has actually gone far beyond anything ever promised. The administration is taking steps to establish the first pro-gay foreign policy in the history of the United States.
So far, this foreign policy effort is off to a good start. But unless a more systematic approach is taken, the administration's baby steps will remain just that: a decent impulse with little reach.
Arguably, the administration's first steps have been laudable. In January, President Obama issued a public condemnation of the killing of gay activist David Kato in Uganda and of five members of the LGBT community in Honduras. In reality, Obama is merely treading behind the footsteps of Hillary Clinton, whom the The Advocate, a magazine covering LGBT news recently described as the "fiercest advocate" of gay rights in the administration. In fact, Clinton was the first first lady to march in a gay pride parade eleven years ago. Today, she intends to become the first secretary of state to make the State Department pro-gay.
---
The Gay Year in Review: LGBT-Related Stories from the Americas
January 3, 2011
It was a banner year in the history of gay rights in the Americas. Here are the top-20 LGBT-related stories.
20) Open Doors: United States. The law that banned HIV-positive non-U.S. citizens from traveling or immigrating to the United States officially ended. The ban began as policy in 1987 and became law in 1993 (January 2010).
19) The Gay Man and the Sea: Peru. Gay director Javier Fuentes-León's film, Contracorriente, about a love story between a fisherman married to a woman and his secret affair with a man, wins the Audience Award for World Cinema at the Sundance film festival (February).
18) An alternative Bolsa Escola: Brazil. Escola Jovem LGBT, Latin America's first "school of gay arts," as principal Deco Rebeiro describes it, opens in Campinas. The school was spearheaded by a Brazilian NGO and is financed by the state's secretary of culture and Brazil's ministry of culture (March).
17) Wings for all: Chile. LAN Airlines becomes an official sponsor of the San Francisco Gay Pride Parade, the first time a Latin American airline sponsors a U.S. pride celebration (June).
16) La niña bonita: Cuba. Mariela Castro, daughter of Cuba's President Raúl Castro, marched along with hundreds of activates in an LGBT march celebrating the International Day Against Homophobia in Havana (May).
---
Political Limits of Being Gay in Latin America
March 15, 2010
by Christopher Sabatini and Mitchell A. Seligson
The new found momentum for allowing homosexuals to openly serve in the U.S. military springs from attitudinal changes that have taken place since the "don't ask don't tell" policy of 17 years ago. If only this type of generational change were occurring south of our own borders. Recent surveys demonstrate that levels of political tolerance of gay rights in Latin America have changed little across generations.
The most basic measure of tolerance is that of citizens to accept the right of a citizen (in this case a homosexual) to run for political office. Sadly, even by this basic measure of tolerance, younger generations in Latin America are only marginally more supportive of political gay rights, especially in the most notoriously intolerant environments for homosexuals, Jamaica and Haiti.
Unfortunately these sad trends look unlikely to change. The greatest predictor of tolerance toward the political rights of gays in Latin America–as throughout the world–is education. But educational levels are slowly rising throughout the Americas south of the Rio Grande.
---
Extending Gay Marriage Rights in the Americas
January 8, 2010
Last week marked an important victory for gay rights in our hemisphere. Seven years after Buenos Aires became the first Latin American city to permit same-sex civil unions, two men legally married in the country's southern province of Tierra del Fuego.
The couple had originally planned to marry in Buenos Aires, but the wedding was moved after a local judge issued an injunction to block the ceremony. Governor Fabiana Ríos called the marriage "a breakthrough in human rights and social inclusion."
The Argentine marriage has now been referred to the country's Supreme Court, but whatever the Court decides, gay couples' right to marriage is gaining steam.
Almost five years ago, Canada became the first country in the Americas to legalize same-sex marriage. Five U.S. states—Massachusetts, Connecticut, New Hampshire, Vermont, and Iowa—and Washington DC have followed suit. (A lawsuit filed yesterday challenges last month's legalization of gay marriage in Washington.)
But the most striking development is Mexico City's legalization of gay marriage with a law approved just before Christmas. It follows the city's Cohabitation Law from 2006, which had granted same-sex couples marital rights identical to those of heterosexual couples. For Mexico City officials, gay marriage is a civil rights issue as well as a potential source of income. "We are already in talks with some travel agencies that are planning to offer package tours…and everything they need for a wedding," according to Alejandro Rois, the city tourism secretary. Clearly, preparations are well underway for when the law goes into effect in March.