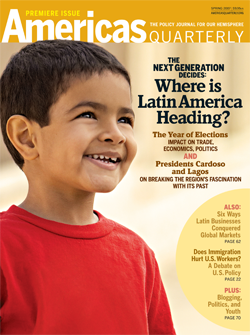 Articles:
Fernando Henrique Cardoso, former president of Brazil, and Ricardo Lagos, former president of Chile, in a candid conversation with Moisés Naím, Editor-in-Chief of Foreign Policy. Two of Latin America's leading political figures confide that one of the region's greatest challenges in political polarization.
Full text available.

Election post-mortem: the 2005-2006 elections have nudged the region to the left, but that's only part of the story.


Now that the electoral dust has settled, did voters tilt the balance against or in favor of trade integration in the region?


A handful of Latin American companies have emerged as global business leaders. Here's how.


Young bloggers and Internet-savvy citizens are turning up the heat on governments. Plus, profiles of Latin America's most plugged-in bloggers.

Charticles:
Departments: