Reading Time:
4
minutes

by Ivana Mellers
In recent years, there has been great progress
cracking down on corruption across the Americas. Here, we explore the many forms corruption can take — from corporate bribery to vote buying to tax evasion — and their estimated cost. This is not an exhaustive list, nor do we mean to single out any particular country. Instead, we want to show how corruption is widespread, varied in its forms, and — increasingly — difficult to get away with, based on information we gathered from news sources, research entities and nonprofits. In addition to individual instances of corruption, we look at Transparency International's Corruption Perceptions Index with our color-coded heat map.
all values in us dollars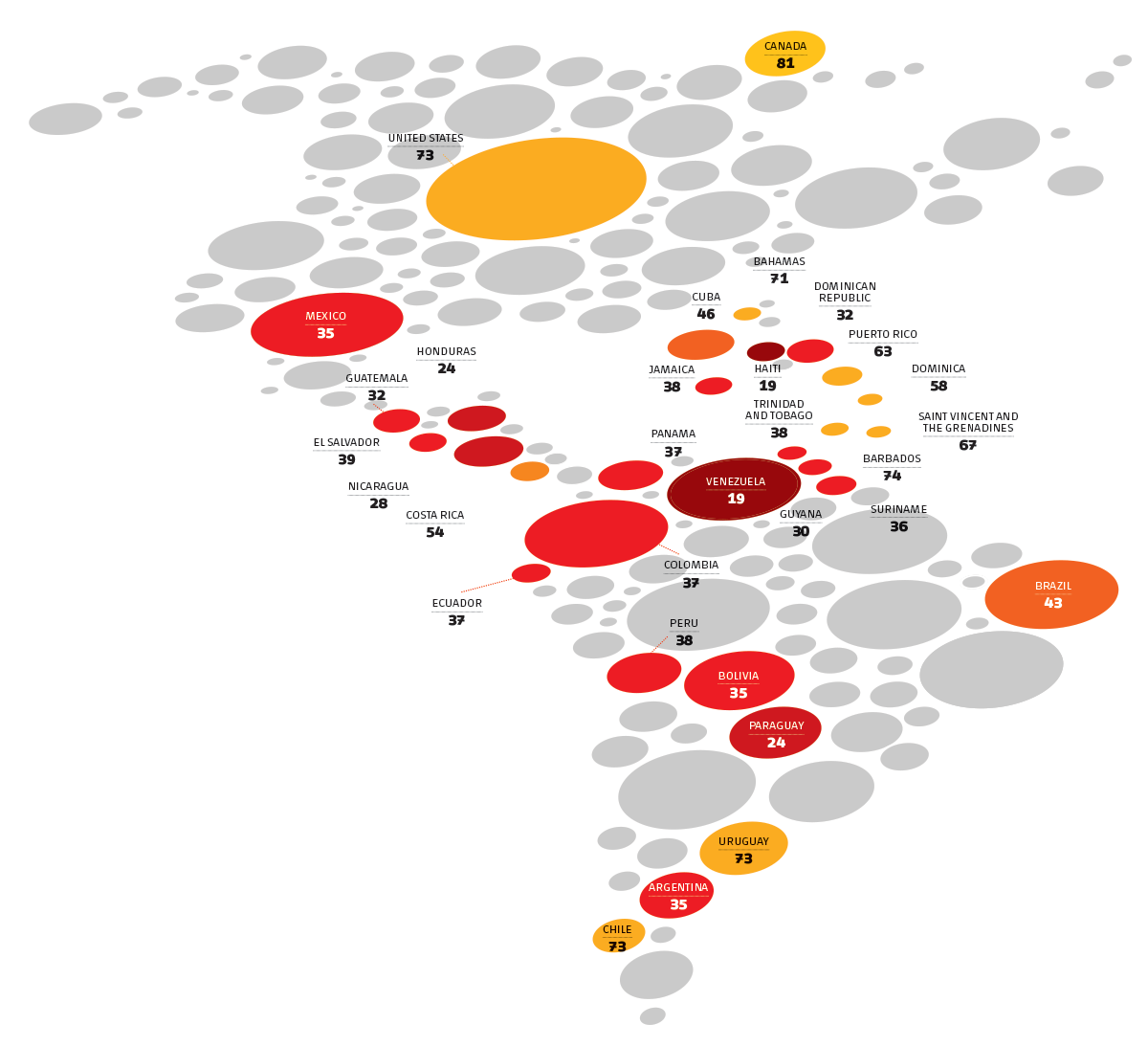 Chile
In 2015, a campaign financing scandal known as Pentagate erupted. The attorney general's office estimates that the government was defrauded of $4 million.
Canada
In 2015, ex-McGill hospital director Arthur Porter was set to be extradited from a Panamanian jail for corruption charges after accepting $22.5 million in payments from SNC-Lavalin back in 2013.
United States
In 2013, Consumer Group U.S. PIRG estimated that the U.S. government lost out on $150 billion to tax havens.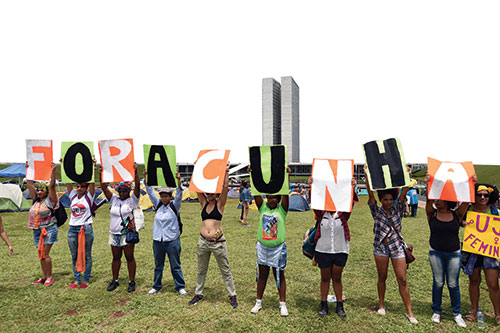 Brazil
In 2015, construction firm bribes totaled $2.1 billion. A probe has uncovered Petrobras-related bribes totaling almost $3 billion. Through November, there have been 117 indictments, five arrests of politicians, and criminal cases brought against 13 companies.
Argentina
In 2015, the former chief financial officer of Siemens Argentina admitted in Manhattan federal court to conspiring to pay $100 million in bribes to government officials to win the $1 billion national identity card project in Argentina.
Bolivia
In 2015, La Prensa reported that in order to secure a promotion in Bolivia, low-ranking police must pay between $30 to $50 in bribes, while mid- and high-ranking officials can expect to pay $500 to $2000.
In 2015, the state attorney of Bolivia began an investigation into the $6.8 million designated to Fondo Indígena for rural development, as it was believed the money was transferred into individual accounts.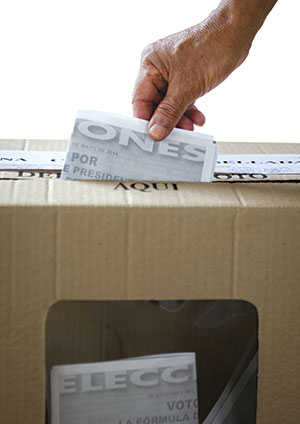 Colombia
in 2015, some voters in Colombia
were paid between about $8 and $65 per person for votes in regional and national elections. An estimated 800,000 voters were registered irregularly across the country.
In 2015, Colombia's health minister announced that the country's health care system had a deficit of $1.6 billion, largely due to mismanagement and embezzlement.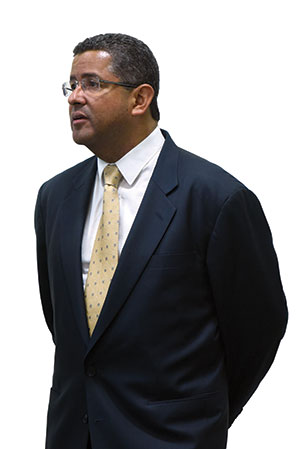 El Salvador
In 2014, former President Francisco Flores was accused of misappropriating $15 million donated by Taiwan in 2001 for earthquake relief efforts. He denies wrongdoing.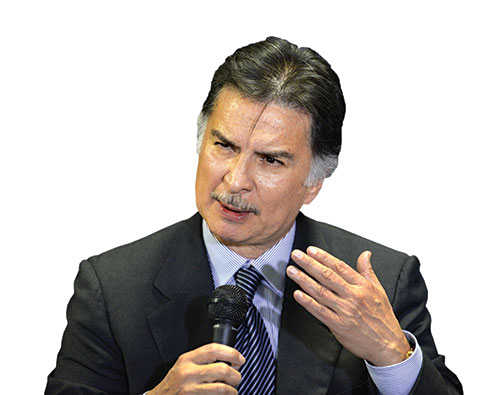 Guatemala
In 2015, Guatemala lost an estimated $103 to $116 million to La Linea, the corruption network that took advantage of Guatemala's customs system.
In 2010, former President Alfonso Portillo was accused of embezzling public funds, including approximately $2.5 million from the Taiwanese government and $3.9 million from the Guatemalan Defense Ministry.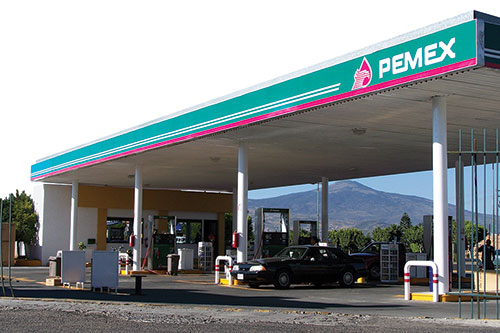 Mexico
In 2015, the Mexican Institute for Competitiveness estimated money lost to corruption in Mexico to be $53 billion annually, or 5 percent of the country's GDP.
In 2011, oil company Pemex paid $9 million to tow an oil rig from the United Arab Emirates to the Gulf of Mexico. But the rig was already there, suggesting the money was pocketed.
Peru
In 2013, the then-prime minister, Ana Jara, estimated that the government lost out on $3 billion due to corrupt acts.
Honduras
In 2015, the Organization of American States promised to create a mission to tackle graft in Honduras after a $200 million corruption scandal for overcharging for services at the Honduran Institute of Social Security.
Paraguay
In 2012, the Council on Hemispheric Relations reported that unofficial exports of contraband reached
$4 billion, the same amount as its official, legal exports.
Haiti
In 2012, Haiti created le Comité Interinstitutionnel to combat corruption and try to recover the estimated
$500 million lost annually to corruption in imports and customs
Venezuela
In march of 2015, Petróleos de Venezuela, S.A was accused of siphoning off $2 billion.
sources: americas quarterly; bbc; cbc; colombia reports; el comercio; council on hemispheric relations; cnn; insight crime; el ministerio del interior de ecuador; el mostrador; national observer; the new york times; el pais; quartz; reuters; el tiempo; l'unité contre la corruption; united states public interest research group; wall street journal.
images: johan ordonez/afp/getty; luis robayo/afp/getty;
magister mathematicae/wikimedia; simon chara/wkimedia;
recinos/afp/getty; theodore scott/wikimedia; evaristo sa/afp/getty