Reading Time:
2
minutes
Brazil | Colombia | Costa Rica | Mexico | Paraguay | Venezuela | Cuba
See above for a breakdown of the region's other 2018 transitions, or click here for the full list from our print edition.
---
Not all transfers of power come at the ballot box. Here's a look at how 2018 could play out in one of the region's least democratic countries.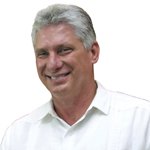 Miguel Díaz-Canel, 57, first vice president
Communist Party
"Let them say we censor (the media). It's fine. Everyone censors."
Why it's not democratic: The Communist Party has relaxed entrance rules for local elections, in theory. In practice there's still only one game in town. One group of around 170 opposition candidates that attempted to register for municipal elections in 2017 was blocked from getting on the ballot entirely. The decision of who governs Cuba — let alone who will take over for Raúl Castro as president in 2018 — is not one for the voting booth.
How he got here: As first vice president, Díaz-Canel is constitutionally in line to take over for Castro, and he's widely viewed as the favorite for the job. The 57-year-old started as a low-level civil servant and worked his way through the Communist Party ranks. The National Assembly will choose a new president in April, and Castro will stay on as leader of the party. But if all goes as expected, Díaz-Canel could soon be the most powerful man in Cuba.
What he might do: Not much was known about Díaz-Canel until 2017, when a video leaked in which he took a hard line against any democratic opening on the island. He suggested the government should disallow opposition candidates, maintain strict limits on private businesses, crack down on dissent, and keep the U.S. at arm's length. Some wonder if the leak had more to do with political theater than with what Díaz-Canel really believes. Nevertheless, he shouldn't be expected to reverse course on the policies that make Cuba what it is — especially not in the Trump era.