Reading Time:
3
minutes
Mamadou Marcel Blondin Beye is general manager for Policy, Government and Public Affairs for Chevron Africa and Latin America. Since joining the company in 1997, he has worked in Angola, South Africa, the United Kingdom and the United States. He oversees Chevron's social investment program in Africa and Latin America, which has included more than 350 projects over the last five years. Here's his take on the importance of working together with local communities in Latin America.
How important is it for international companies operating in Latin America to support local communities?
Chevron has had a presence in Latin America for nearly a century, and we believe that our investments in the people and communities there are as integral to our business success as our investments in drilling wells or building production facilities. Chevron's social goal is to help develop strong, sustainable economies with healthy, thriving populations in the communities wherever we operate.
What does a company like Chevron offer to young job-seekers in the region?
The potential of Latin America is hard to overstate, and the future for the energy industry there is exciting, which should be appealing to any young job seeker. Through projects focused on education and training, we help kids develop the knowledge and skills to fill the good paying jobs of tomorrow.
Are there any characteristics of Latin America that make it easier or more difficult to implement social investment programs focused on youth?
Based on our experience, it has not been difficult to implement social investment programs focused on youth. We take the time to understand the needs of our host countries in order to develop collaborative and sustainable social investment programs. We have grown to understand and appreciate the deep connection between the success of our business and the quality of life for the Latin American people.
Can you describe some of your projects that are specifically focused on helping the youth?
In eastern Venezuela, Chevron helped build Instituto Maria Auxiliadora, a large new school that provides technical and vocational education for more than 1,400 students from rural areas of Sucre state. And in Brazil, the program Qualifica Chevron teaches young men and women from impoverished areas of Rio de Janeiro skills in welding and occupational health and safety that match the needs of the city's construction industry.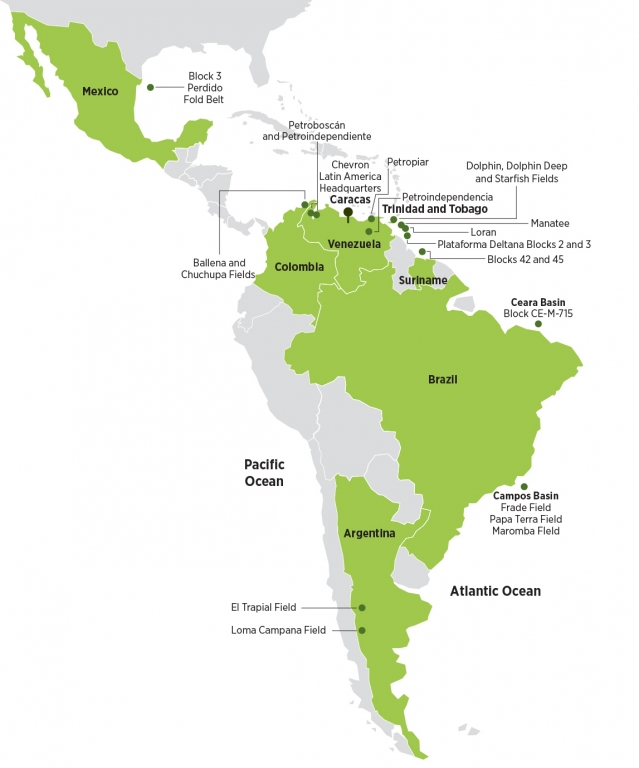 Chevron's history in Latin America began in the 1920s with oil exploration activities in Venezuela and Colombia. Today, Chevron has interests in seven countries across the upstream and downstream sectors of the oil and gas industry in the region.
Is there a non-youth specific project that has had a significant impact in the region?
Near our operations and interests in northern Colombia and western Venezuela live the indigenous Wayúu people. In these communities, Chevron supports programs to improve health, education and economic opportunities, always in keeping with our goal of respecting their ancestral heritage. One of our most successful programs was created through a partnership with the Baylor College of Medicine Pediatric aids Initiative at Texas Children's Hospital: a $1.5 million, five-year pediatric health care program in Colombia called sail (Salud y Autosuficiencia Indígena en La Guajira). The program provides care for nearly 5,000 Wayúu mothers and children with the goal of reversing the high morbidity and mortality rates, which in La Guajira are three times higher than the national average.
What is your philosophy regarding the importance of partnering with the public sector and non-profit organizations?
We have learned through decades of experience that Chevron's business success is built on long-term, mutually beneficial relationships. While there will always be a need for donations and traditional corporate philanthropy, the world today demands more deeply collaborative, lasting partnerships between the private and public sectors that foster prosperity and leave a lasting impact.
Do you have any final thoughts?
I believe the measure of our success in Latin America can be seen in the form of improved family incomes, healthier children, more skilled and educated young men and women, greater job opportunities and cleaner environments. We look forward to our ongoing collaboration with educators, employers, policymakers and program implementers to help ensure that education quality continues to improve and that young men and women can effectively contribute to the region's growth and prosperity.