Reading Time:
5
minutes
This article is adapted from AQ's print issue on how to make Latin American cities better. Click here to see the rest of our Top 5. | Leer en español
CIUDAD JUÁREZ, Mexico – One of the first things visitors to Technology Hub encounter is a heavy, bulletproof metal door — a relic of the days when the U.S. consulate was housed here.
But today, the metal detectors in the lobby are gone, replaced with works by local artists. What used to be a bomb shelter for the consul is now a meditation room. Old pay phone booths outside have become chargers for electric cars. And a Mexican flag has replaced the stars and stripes.
This 55,000-square-foot co-working space and incubator for local startups is the brainchild of CEO Ricardo Mora, a 48-year-old entrepreneur who split his youth between here and El Paso, the Texas city across the border. Mora drew his inspiration from Silicon Valley, but knew he would have to account for local realities. Just a few years ago, cartel violence had made Juárez one of the world's most dangerous cities. Founding Technology Hub was a way for businesses to try to push the reset button — and attempt to stimulate productivity, jobs and growth.
"We were really divided," Mora told AQ. "When everything died down, we needed to bring everyone together again."
In the three years since Mora and his three co-founders purchased the old consulate with their own savings, Technology Hub has become home to 100 companies and created some 300 tech jobs. While city residents once came to this property seeking visas to leave Mexico, now young people are building businesses that keep them here. A few entrepreneurs from across the border, including Luis Lopez, a former Marine from Chicago, have even rented offices.
"What was before a fortress turned out to be a place of welcome and collaboration," Lopez said.
Although Mora lived through Juárez's darkest years, his personal ties to the city made him realize businesses can thrive here under the right conditions. His grandfather started the first customs broker in Juárez, and his parents were both entrepreneurs — his father a translator and manager in manufacturing, his mother the owner of a salsa bottler. Mora got his start delivering Domino's pizzas — and when his mother's business went under, he started a hot dog stand using the leftover salsas. He grew it to three locations, sold them, and then expanded into the telecommunications sector — building a company with more than 250 employees.
More: Latin American Cities and the Future of Work
Mora said creating Technology Hub would, under other circumstances, have required investing about $500,000, though buying the former consulate meant it was more expensive. He said "all the ingredients are already here" in Juárez for a successful incubator, due to a large presence of Fortune 500 companies operating maquiladora assembly plants and other businesses.
"We believe we can leverage that to help the community move toward advanced manufacturing," he said.
Still, winning the business community's support for Technology Hub was not easy.
Juárez gained international notoriety in the early 1990s when journalists began reporting a spike in murders of women, whose bodies were often mutilated and left in the desert. A surge in gang-related violence followed. The murder rate rose so fast that a decade ago, then-President Felipe Calderón sent the armed forces in to patrol the streets. Some economic activity continued, but investment and innovation clearly suffered. Even after the violence receded, the clashes had left local entrepreneurs "closed off to new projects," said Verónica González, Juárez's chief resilience officer, a city official who coordinates efforts to prepare for future challenges — natural and manmade.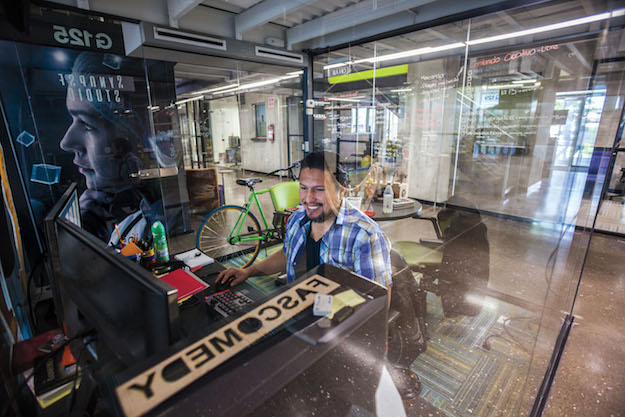 Entrepreneurs at Technology Hub have started companies in fields as diverse as cosmetics and law.
Colleagues describe Mora's demeanor as serious and a bit impenetrable — "I wouldn't want to play poker with him," one said. But González said Mora broke through the local hesitancy with an emphasis on "openness and integration." While these concepts may sound basic to an outsider, they were not obvious to tech entrepreneurs, who are notoriously paranoid about their innovations being stolen.
Lopez, the Chicago transplant, admitted to initial doubts. "At first I would think that if I had a great idea, I wouldn't want anyone to take it." His company, Negawatt Industries, helps factories reduce energy costs by optimizing their machinery. "Now I share it openly because by talking about it, it might bring me something I've never thought about before."
Technology Hub's state-of-the-art amenities help cultivate this attitude. They include the city's first fabrication lab, or Fab Lab, which clients can use to build or 3D-print a prototype of a new product. Elsewhere, a set of augmented reality smart glasses offers businesses a tool to virtually train in new manufacturing technologies.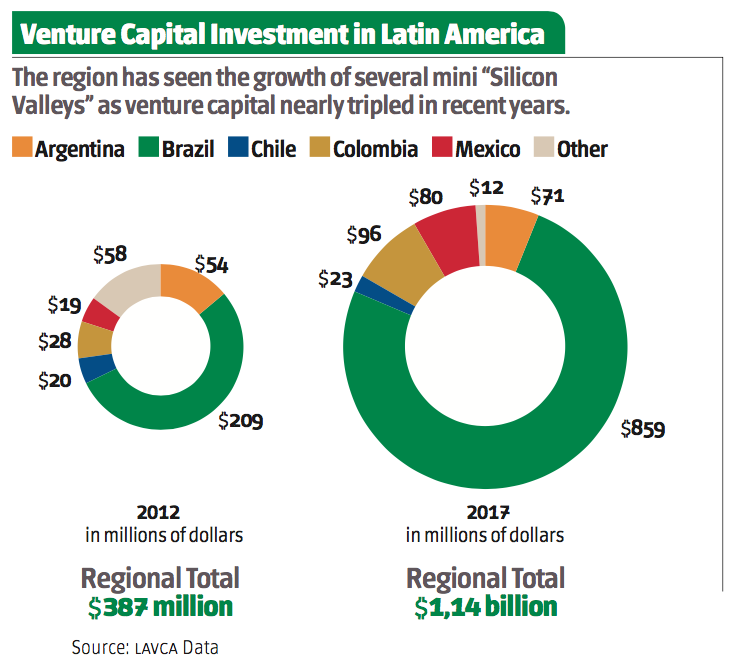 There are signs Mora's vision of collaboration and renewal is catching on outside Technology Hub's walls. Some speak of a 15-story mixed-use building going up — unheard of in Juárez. The state government has also begun work on a $14 million project to transform 12 acres of an abandoned racetrack into an innovation district. When completed, it will be home to an artificial intelligence facility and a center to train local suppliers in emerging technologies, giving workers skills multinationals demand.
"A space like this will enable suppliers so they don't have to do it on their own, so they're part of an ecosystem where they feel supported," said Alejandra de la Vega, the state's innovation and economic development secretary. One of her first acts was to move the agency's headquarters from the state capital to Technology Hub.
Downtown, there are other signs of change, like the colorful Juan Gabriel Plaza inaugurated in 2016 as part of a former red-light district's revitalization. And instead of tanks, these days double-decker buses take tourists sightseeing.
There are still numerous challenges: Technology Hub is itself not yet profitable, raising questions about its future sustainability. While the municipal government has sponsored events at the Hub, Mora says they're not doing enough to incentivize such projects.
"We've learned that there is no secret sauce to building these urban spaces, especially with the challenges faced in getting government to understand the vision," Mora said.
Numerous dilapidated buildings in the city center sit empty, and Juárez's developed area has grown an additional 61 percent in the past decade — suggesting many residents would rather expand outward than invest in renewal.
Juárez's pacification has also proved fragile. After falling for four consecutive years, homicides began climbing again in 2016, and the murder rate in the first half of 2018 was the highest since 2011. If things continue to get worse, there will surely be more skepticism about startups and innovation districts. "You can have all the technological innovation, but if you don't have rule of law and democracy, it doesn't serve you much," said Sergio Meza, director of Plan Estratégico de Juárez, a nonprofit group.
Nonetheless, Mora has continued moving forward. Through an affiliated nonprofit, Fundación Axcel, Technology Hub organizes a free entrepreneurship and innovation conference for students. Axcel's executive director, Nancy Estrada, is also fundraising for a mobile lab that will offer free courses on subjects like robotics and 3D printing at Juárez high schools. Students will "develop skills that go beyond technical skills," Estrada said. "They'll make better choices; they'll learn how to work on a team."
That focus on collaboration is what will get Juárez through dark times ahead, said Edwin López, a journalist. "You can measure homicide rates, but you can also measure resilience," López told me as we drove past a restaurant where he witnessed a shootout as a teenager. "Maybe things get bad again, but businesses will get better at adapting."
Back at Technology Hub, Mora embodies this kind of optimism. "We believe in the changes that are happening," he said.
"We believe in the music we're making."
—
O'Boyle is a senior editor for AQ