Reading Time:
2
minutes
On November 24, excited, flag-waving fans crowded Brooklyn's recently-opened Barclay's Center in anticipation of its first-ever Latino concert. "Is Brooklyn ready to sing?" Colombian rock star Juanes asked the crowd of 10,000 people.
Juanes opened the show for the Dominican multi-Latin Grammy recipient Juan Luis Guerra. It was not a coincidence that the acts were Colombian and Dominican—there are 800,000 Dominicans and 200,000 Colombians who live in New York City, which is now 30 percent Latino.
Juanes' 12-member band played songs for both the older and younger generations, from the Bob Marley original "Could this be love?" to Inolvidable, a tune that your parents or grandparents probably danced to at their wedding. He also sang Cada vez, a duet with one of his backup singers from Puerto Rico, as well as the Grammy-winning Camisa Negra and the all-time salsa classic salsa, No Le Pegue a la Negra, a Colombian anthem describing the history of slavery in Cartagena—though Juanes added some electronic fusion sounds to the original version and tweaked the speed.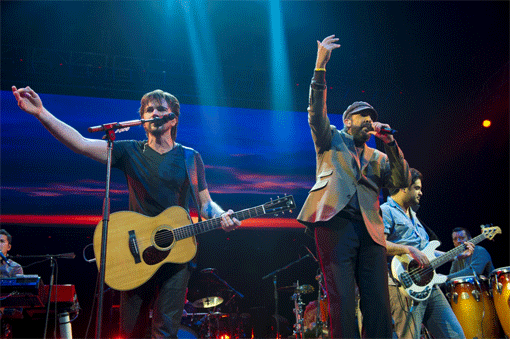 Photo: Courtesy of Errol Anderson / Barclays Center
Juan Luis Guerra joined Juanes midway through his performance and sang "Love and Hate," a celebration of change and peace. Guerra caught the fans off guard—no one introduced him before he came onstage. The music took off—and so did the fans, who got on their feet and started to dance and shout requests for Como Tú, a contagious song off of his new album, A Son de Guerra. The album is Guerra's eleventh studio album and was named 2010 Grammy album of the year. He also sang the beautiful ballad Bendiciones.
Guerra did not shy away from social themes during his performance: the classic Ójala que llueva café, was accompanied by images addressing poverty in the Dominican Republic. He also livened up the stage with El niagara en bicicleta, a poignant song that he wrote in the 1990s about the Dominican Republic's poor infrastructure, the deteriorated conditions of its hospitals and the scarce government resources for healthcare.
President and CEO of Cardenas Marketing Network (CMN) Henry Cárdenas, who brought the duo to Brooklyn, called Barclays Center "absolutely breathtaking," and said he would be back on February 16 with Marc Anthony in time for Valentine's Day. "There's no venue like it," he said of the three-month-old concert and sports arena.
Also on display at Saturday's concert was the growing economic strength of the Latino population. A report by the Selig Center for Economic Growth recently revealed that Hispanics have the greatest purchasing power of any U.S. ethnic group and will soon represent the world's ninth-largest economy, with $1.5 trillion in purchasing power. Meanwhile, the Hispanic advertising industry is outpacing all other sectors of advertising, increasing four times faster, and is now a more than $5 billion industry.
Proceeds from the concert will be donated to the Red Cross, providing relief for those who were affected by Hurricane Sandy after it swept through the Caribbean, mid-Atlantic and northeastern United States. As of press time, an estimated $160,000 was collected by Cardenas Marketing Network (CMN).