Reading Time:
< 1
minute
This article is adapted from AQ's special report on the battle over fake news. Click here to learn about other governments' relationships with China.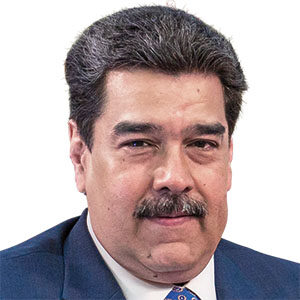 IN OFFICE SINCE 2013
Nicolás
Maduro
"President Xi Jinping, today we are more united than ever, China and Venezuela are in good health, and China will meet this century by setting an example."
—June 2021, marking 47 years of Venezuela-China diplomatic relations
"Thanks to China and other friends from around the world, we were able to obtain public health supplies to face the pandemic."
—August 2021
Venezuela remains dependent on China for its oil demand, even with investments and finance projects dropping off as Beijing reevaluates its exposure to the Bolivarian Republic's ongoing economic meltdown. The oil-for-loans relationship between the two countries has grown more complex in recent years, as the Sinovensa joint venture between China National Petroleum Corp and Venezuelan state-owned oil firm PDVSA has persisted, even following the end of state-to-state lending in 2016. The Maduro regime owes roughly $20 billion to China, and has struggled to repay due to significant drops in oil production. Venezuelan crude petroleum exports to China fell by 57% from 2013 to 2019. China has allegedly skirted U.S. oil sanctions for some of these imports, employing techniques such as ship-to-ship transfers. In response to drops in output, Beijing extended a moratorium on debt payments to the end of 2020. (As of September 2021, no information was available regarding whether payments have resumed or not.) China's approach to Venezuela also involves medical diplomacy. Between the start of the pandemic and May 2021, China sent more than 420 tons of medical supplies. By early July, Venezuela had received 1.8 million doses of Chinese vaccines.
"President Xi Jinping, today we are more united than ever, China and Venezuela are in good health, and China will meet this century by setting an example."
—June 2021, marking 47 years of Venezuela-China diplomatic relations
"Thanks to China and other friends from around the world, we were able to obtain public health supplies to face the pandemic."
—August 2021
LARGEST TRADE PARTNER N/A
NO NEW MAJOR CHINESE INVESTMENTS OR FINANCING SINCE 2019
← BACK
Tags:
China and Latin America
,
Nicolas Maduro
,
The Battle Over Fake News
,
Venezuela