Reading Time:
4
minutes
Venezuela's political and economic crisis has done deep and lasting damage to its population's health. In the past year, 74.3 percent of the population has lost weight — an average of 8.7 kilograms (19 pounds) per person – because of food scarcity, according to a recent study by three of Caracas' largest universities (UCAB, USB and UCV) and the nonprofit Bengoa Foundation. The problem has its roots in 17 years of economic mismanagement and the gradual deterioration of Venezuela's means of producing, importing and distributing foodstuffs and other necessities. The situation has gotten so dire that Venezuelans have termed the way they've modified their eating habits the "Maduro diet."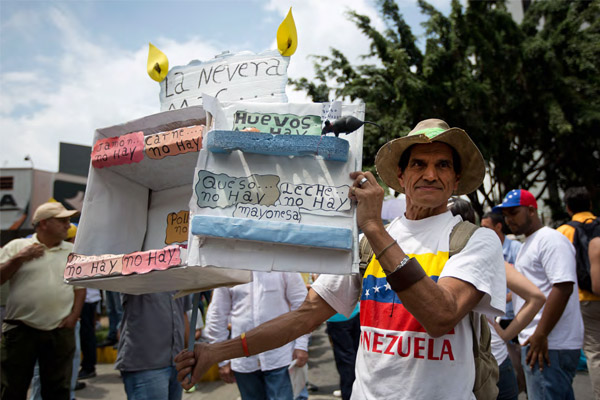 Protestors in Caracas call attention to ongoing shortages of basic foodstuffs.
Since the beginning of the Hugo Chávez era, importers in Venezuela have required approval from the government to exchange the local currency, the bolívar, into dollars to bring products into the country, and have had to do so at a rate that overvalues the bolívar. When oil prices dropped in 2014, the Maduro administration tightened this control, causing a significant decrease in imports and more inflation. Today's scarcity and malnutrition are a direct consequence of these policies.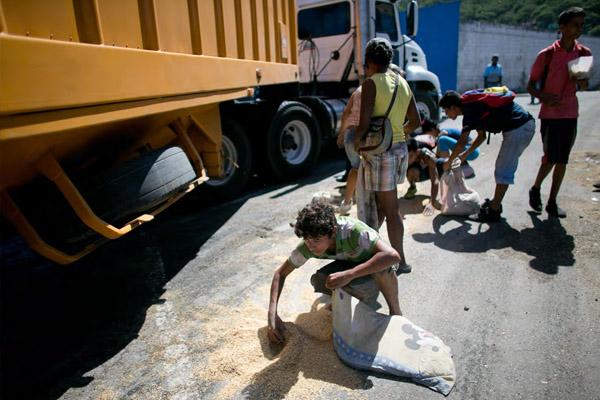 A boy picks up rice that fell off a truck headed to Puerto Cabello, the country's main food port.
In February 2016, the government established Comités Locales de Abastecimiento y Producción (CLAPs), or Local Committees of Supply, to provide subsidized food baskets to families. But according to Fedecámaras, the business and production federation, CLAPs have only reached 20 percent of the population. In March, the opposition-led National Assembly approved a decree declaring a food emergency and asking the government to respond accordingly. Meanwhile, 9,600,000 people are eating two or fewer times a day, according to the survey.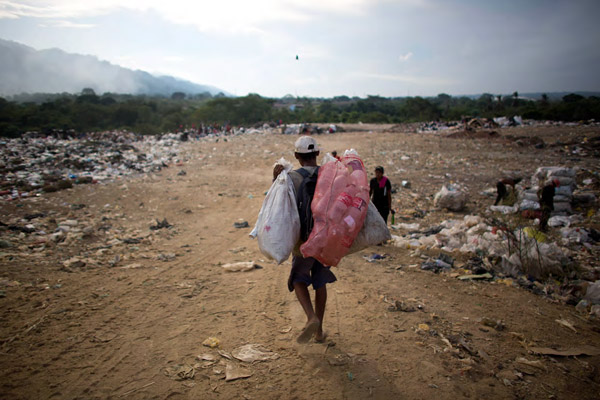 In November, 90 percent of the population said it couldn't afford enough to eat, according to the AP. That has led large numbers of Venezuelans to go to painful lengths to find their next meal. Residents told AP that they've found oats, sunflower seeds, and pig feed at a landfill in Puerto Cabello where the military gets rid of rotten food (above).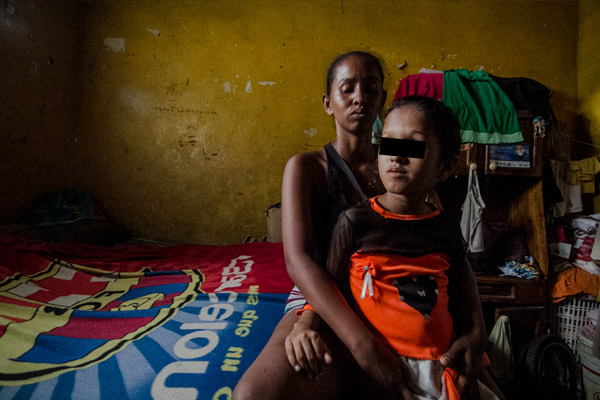 Venezuelan photojournalist Rafael Hernández traveled to Yare, a poor neighborhood two hours from Caracas, for AQ to document the country's rising food insecurity. Though the crisis has touched all sectors of society, vulnerable and low-income populations have been most affected.
Franyelis, a 9-year-old girl from Yare, was diagnosed with severe malnutrition (AQ has blocked her face in compliance with laws pertaining to the depiction of minors in Venezuela). Franyelis' mother said their diet consists of root vegetables. If they have breakfast, they don't have lunch, she said. Franyelis started falling below the expected weight for her age when she was six months old and her condition has continued to deteriorate in the past years.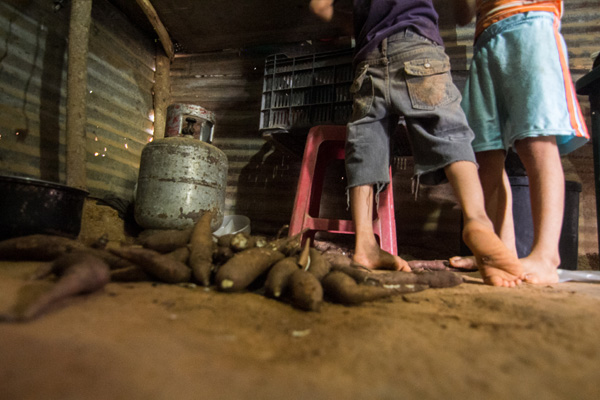 According to a study by Cáritas, a non-profit that is working to combat malnutrition in the states of Miranda, Distrito Capital, Vargas and Zulia, the number of families that have had to adopt a survival strategy due to the food crisis increased from 77 percent in 2016 to 82 percent in the first two months of 2017. Cheap root vegetables such as Yucca (above) have become main meals for many.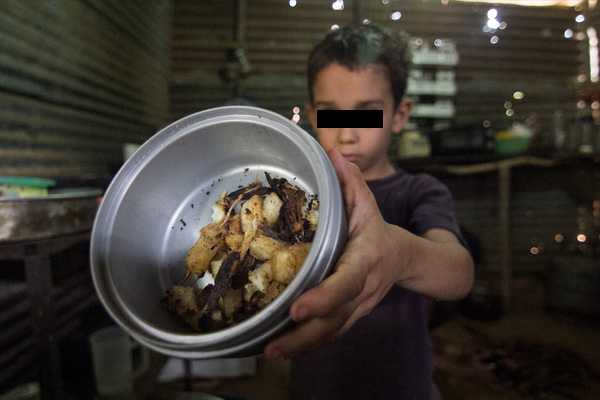 Severe malnutrition in children under 5 years old increased from 8.9 percent in the last trimester of 2016 to 10.2 percent in the first period of 2017, according to the Cáritas study. The World Health Organization considers this level of malnutrition critical. Above, a boy in Yare shows what a typical meal looks like for him and his family.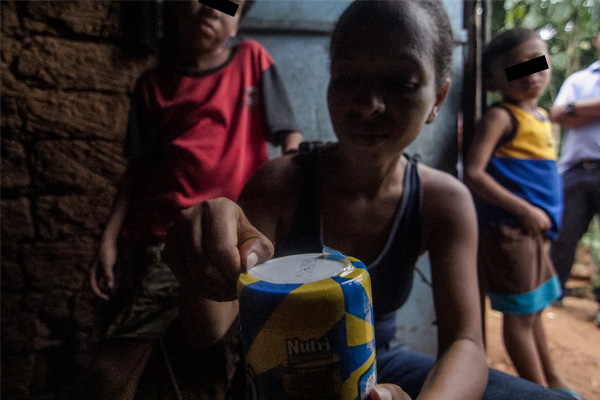 Juliani is also from Yare. Juliani's mother is now receiving milk formula from Cáritas to treat her daughter's malnutrition, which is critical.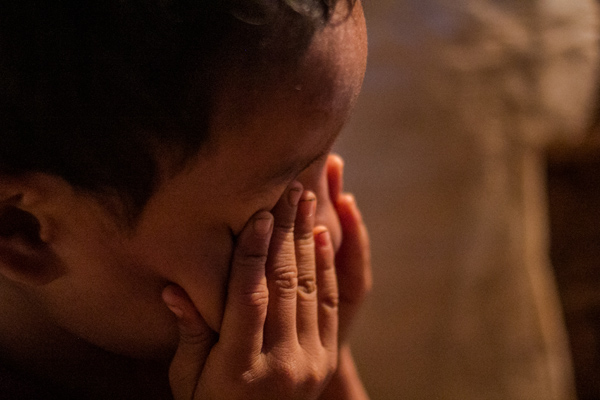 Juliani burst into tears when the photographer asked her what she eats every day. For breakfast, lunch, and dinner, she eats yucca or squash, she said.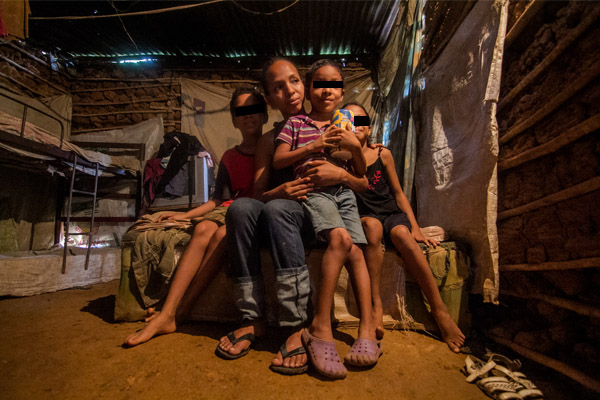 Juliani's whole family has been diagnosed with some level of malnutrition. The six children rarely go to school because they have no food to take with them. The mother rises early to search for food in the streets.
By the end of this year, 380,000 children will suffer of malnutrition, a study by the Central University of Venezuela found.
Photo credits: Rafael Hernández; Ariana Cubillos/AP (3); subsequent photos Rafael Hernández (6)
—
Krygier is an editorial intern for Americas Quarterly. She is from Venezuela.