Reading Time:
4
minutes
SANTIAGO — Green hydrogen is flaunting its potential across Chile, nudging out pipeline gas in Coquimbo, fueling forklifts at a Walmart distribution hub in Santiago, and synthesizing with CO2 to make carbon-neutral gasoline in Magallanes. Next year, it will power a train in Antofagasta and cool a power plant in Valparaiso. C-suite zeal for hydrogen is catching on, particularly in hard-to-electrify industries such as steel, shipping, and aviation. Still, for some, the government is not doing its part to move hydrogen to a commercial level.
Global demand for climate-friendly green hydrogen is predicted to skyrocket over the coming decades, and Chile aims to export $30 billion of the versatile resource by 2050. The country has ample renewable energy potential to get there, but it must overcome critical obstacles to avoid squandering its early-mover advantage. The stakes are high: if Chile doesn't create regulatory frameworks that incentivize the industry and allay local environmental concerns, it may fall behind in the international green-hydrogen "gold rush." This would curtail investment, deprive the country of future revenue, and derail Chile's climate commitments. The race is on.
So far, the green hydrogen initiative enjoys high-level support across most of Chile's political spectrum—a rare feat in a polarized era. In late 2020, the center-right government of former President Sebastián Piñera announced a national strategy to create a green hydrogen industry to rival the nation's giant copper mining sector. The country aims to be the world's lowest-cost producer by 2030 and rank among the top three hydrogen exporters by 2040, with inaugural shipments targeted for 2027-28. Yet a concrete action plan to roll out regulations, market incentives, and additional financing has been repeatedly delayed. That's starting to worry government and private-sector officials in the European Union, which is counting on future supply from Chile to meet its ambitious clean energy mandates.
Action, not words
In July, President Gabriel Boric named a strategic committee to craft an action plan, reflecting the industry's broad political support: The committee's members include former President Michelle Bachelet on the left and Piñera's former energy and mining minister, Juan Carlos Jobet, on the right. This consensus has encouraged a boom in hydrogen project proposals from companies like AES, Enel, EdF, Siemens, and Antofagasta Minerals that aim to capitalize on Chile's natural advantages, namely blazing sun in the northern Atacama Desert to expand solar energy and relentless winds in the deep south to build out wind power. Hydrogen is "green" when it is split from water using clean energy, rather than the fossil fuels that account for almost all existing hydrogen production worldwide.
Yet a lack of clear rules, capital investment, and market incentives have cooled the initial exuberance. "There is still enthusiasm in the private sector, but with a different sense of reality," Marcos Kulka, executive director of trade group H2Chile, told AQ. "For this industry to take off, when the costs are still not competitive, the state has to take a leading role."
As hydrogen developers await the delayed action plan, other aspiring exporters, like Australia and the U.S., are gaining ground. Countries like Brazil and Colombia have also issued ambitious hydrogen plans in Latin America. "Now, you need to compete with all these other places that have almost as good renewable resources as Chile, and they have a lot of local incentives, such as availability of funding or subsidies," Johan Dreyer, a hydrogen project developer and president of an Antofagasta hydrogen trade group, told AQ.
Incentives in the works
The action plan will be "super ambitious" but "very pragmatic," Alex Santander, head of policy and research at Chile's Energy Ministry, told AQ. The plan will lay out steps to streamline permitting, promote financing, accelerate territorial planning, and mitigate underlying energy cost risks, Santander said. At an October 25 green hydrogen summit in Santiago, Energy Minister Diego Pardow said the action plan will be released for public comment by the end of the year after two more sessions of the strategic committee. The document was initially supposed to come out in August.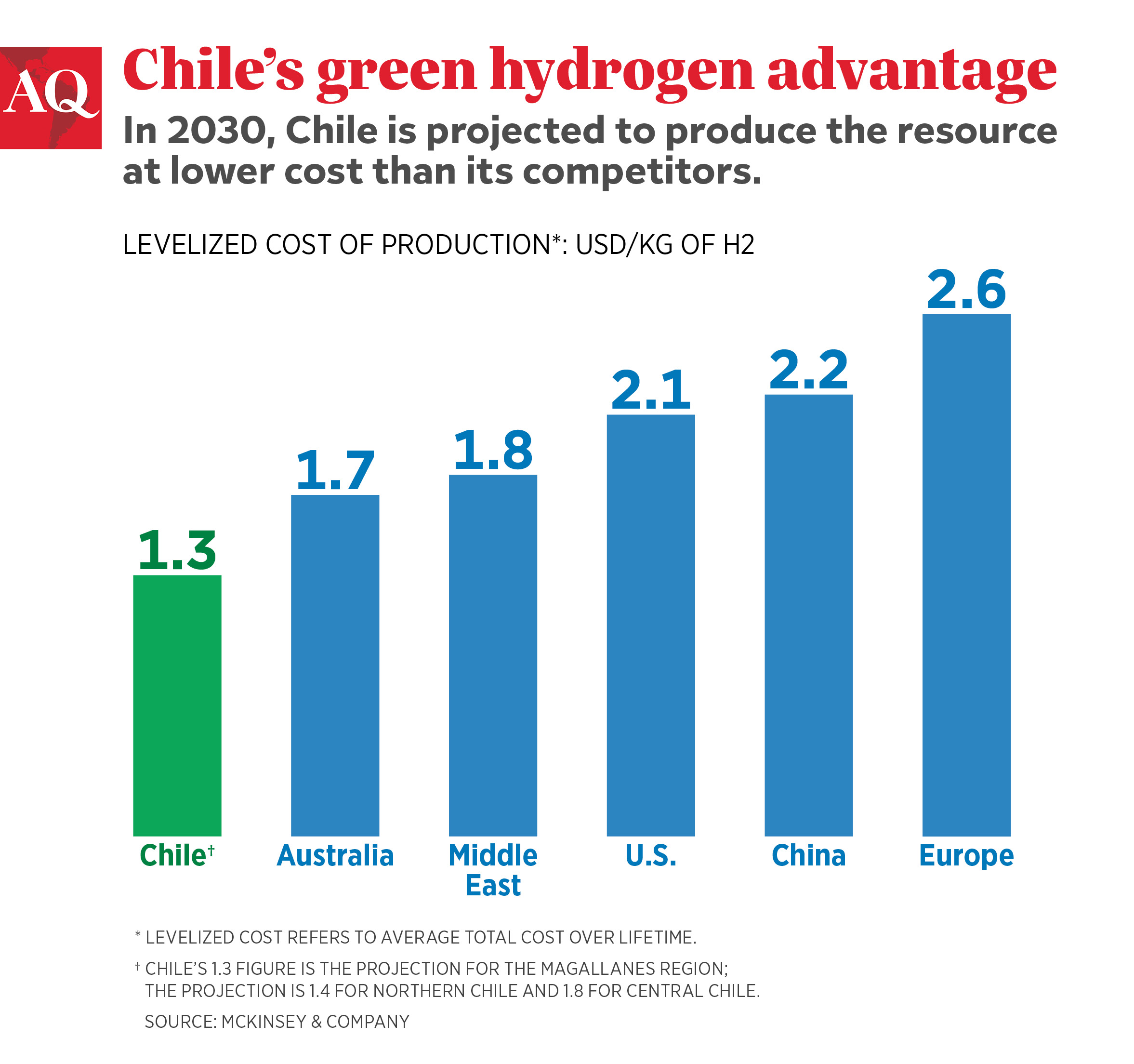 Meanwhile, the Finance Ministry is preparing tax incentives for green hydrogen projects, complementing a new internationally backed $1 billion credit facility announced in June. Institutions such as the Inter-American Development Bank, the World Bank, the German Development Bank, and the European Investment Bank have committed loans that will leverage investments of approximately $12.5 billion to develop Chile's hydrogen industry.

This credit line is a start but is nowhere near enough from the international community, former Chilean Finance Minister Andrés Velasco told AQ. "Developers and investors have a very legitimate gripe about the failure of the international system to come up with a very straightforward, reasonably priced way of getting more capital into these investments."
Globally, emissions-free hydrogen still costs around three times its fossil fuel-based equivalent to produce. International mechanisms like carbon taxes can go a long way to making hydrogen more competitive in its early stages, and prices are expected to fall significantly as economies of scale take shape. When it finally comes, Chile's action plan will focus on positioning the country to take maximum advantage of international support to demonstrate what's possible. Advances in Chile and elsewhere have already had significant impacts, like cutting prices for electrolyzers, the essential kit that pulls hydrogen out of water.
Grassroots opposition
Some communities are pushing back against green hydrogen at the local level. Ground zero for such resistance is the deep-south Magallanes region, where European companies, in partnership with Chile's state-owned oil company Enap, are planning massive hydrogen export projects. These would install over 3,000 wind turbines and related infrastructure like ammonia plants and export terminals.
Unlike copper-rich northern Chile, where the state owns much of the land and communities are accustomed to heavy industry, Magallanes is known for sheep ranches and ecotourism. In August, a new civil society group, the Citizen Panel on Hydrogen in Magallanes, declared that the hydrogen industry's plans amount to extractivism that would transform the region into a "big new zone of sacrifice to satisfy the needs and urgencies of the first world."
This opposition poses a unique political dilemma for Boric, who came into office last year promising a vanguard "ecological" government. The Magallanes capital, Punta Arenas, is his hometown, and detractors there and in Santiago are core members of his progressive constituency. Chilean hydrogen advocates acknowledge the inevitability of local environmental trade-offs but say a delay would cede the opportunity to competitors, derail Chile's climate goals, and forfeit high-skilled jobs and revenue for social spending.
Implementing the action plan will test the Boric administration's pledge to balance the industry's development and sustainability. There's a lot in play, the Energy Ministry's Santander said. "If we get this wrong, it's almost irreversible."
Tags:
Alternative energy and renewables
,
Chile
,
energy
,
FDI
,
Green Hydrogen