Reading Time:
2
minutes
This article is adapted from AQ's latest issue on the politics of water in Latin America.
Guatemala is part of the Dry Corridor, a region extending almost 1,000 miles from Mexico to Panama that suffers waves of intense drought and extreme precipitation. Water resources are abundant in the volcanic sierras, with 18 major rivers and high annual rainfall, while the majority of the population is located in highland valleys. Guatemala City sits in one such valley located on the Continental Divide where river discharge is minimal. Agro-industrial runoff and deforestation contribute to contaminated waterways and the majority of the nation's wastewater goes untreated. There is also a gap in access to sanitation for rural populations and the indigenous community, who comprise nearly 40% of the total population. As eastern Guatemala faces several years of drought, mass emigration due to crop failures in subsistence farming communities has spiked.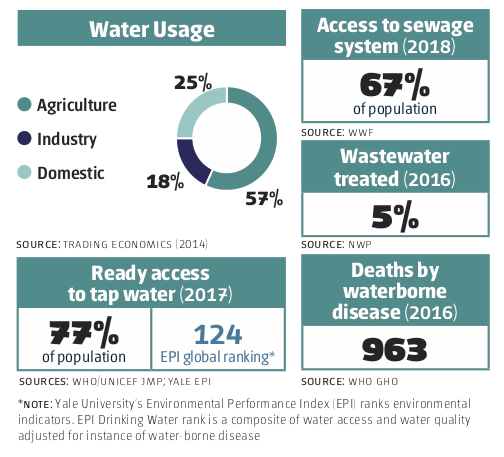 What the Government Is Doing
Several agencies oversee Guatemala's water management, which complicates governance. According to the Ministry of Environment and Natural Resources, the lack of a single regulator leads government agencies to duplicate efforts, reducing the state's ability to effectively manage resources. Although outgoing President Jimmy Morales named the environment and protecting natural resources as one of the five pillars of his general government strategy, he has put forward few policies in this area. Morales implemented a National Irrigation Plan in 2018 to assist farmers after a prolonged heat wave and dedicated $150 million to combat deforestation.
---
Guatemala's Water Hot Spots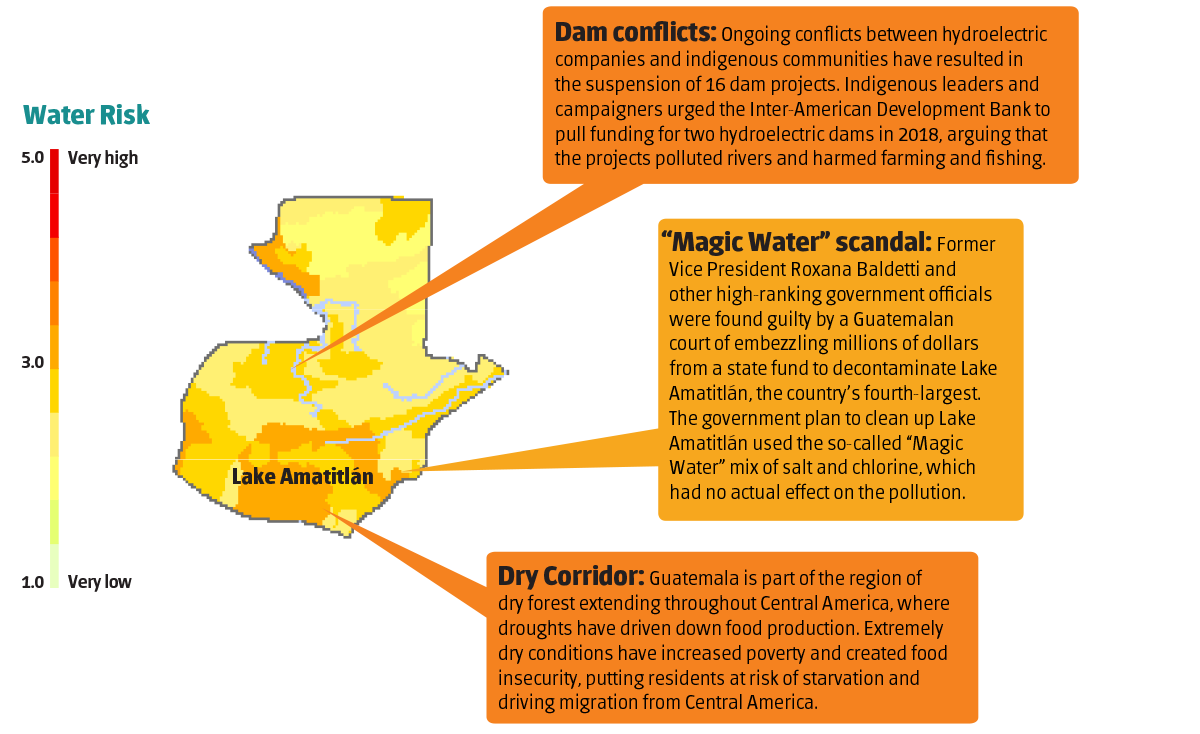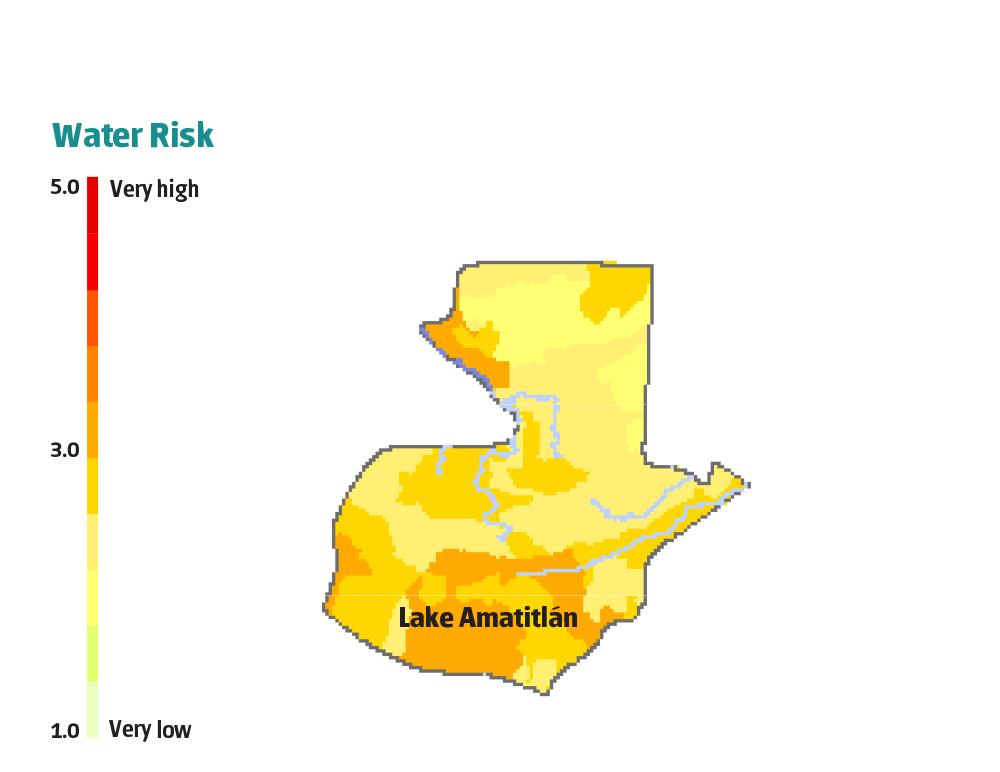 Dam conflicts: Ongoing conflicts between hydroelectric companies and indigenous communities have resulted in the suspension of 16 dam projects. Indigenous leaders and campaigners urged the Inter-American Development Bank to pull funding for two hydroelectric dams in 2018, arguing that the projects polluted rivers and harmed farming and fishing.
"Magic Water" scandal: Former Vice President Roxana Baldetti and other high-ranking government officials were found guilty by a Guatemalan court of embezzling millions of dollars from a state fund to decontaminate Lake Amatitlán, the country's fourth-largest. The government plan to clean up Lake Amatitlán used the so-called "Magic Water" mix of salt and chlorine, which had no actual effect on the pollution.
Dry Corridor: Guatemala is part of the region of dry forest extending throughout Central America, where droughts have driven down food production. Extremely dry conditions have increased poverty and created food insecurity, putting residents at risk of starvation and driving migration from Central America.
Jump to: Peru | Mexico | Guatemala | Colombia | Chile
Venezuela | Argentina | Brazil | Full List
Tags:
Drinking water
,
Water resources