Reading Time:
2
minutes
This article is adapted from AQ's special report on closing the gender gap.
Cries flood a clandestine clinic in the Peruvian highlands. An indigenous Quechua woman, Georgina (Pamela Mendoza), is forcefully separated from her newborn daughter. What follows is a tragedy repeated untold times in the tumult of Peru in the 1980s, dramatized here in spellbinding black-and-white by first-time director Melina León.
Informed by real-life cases of child smuggling during Peru's internal conflict with the Shining Path and other guerrilla groups, Song Without a Name (Canción sin nombre) depicts the country's macro issues through the lens of its despondent protagonist's personal tragedy. Rampant inflation suffocates the economy just as the guerrillas intensify their attacks, terrorizing the population and recruiting impoverished young men as scapegoats.
Georgina and husband Leo (Lucio Rojas), a humble couple who survive by selling potatoes, begin a fruitless search for answers after a medical organization in Lima helps Georgina give birth but then kidnaps her baby. Realizing she is not the only mother grieving, Georgina finds a determined ally in novice journalist Pedro (Tommy Párraga), whose sexual orientation also makes him a target.
Sorrowful but not defeated, Mendoza's expressive portrayal asserts that Georgina is not a passive spectator of her own misfortune. Comparable to Yalitza Aparicio's turn in Alfonso Cuarón's Roma, but conveying more decisive agency, Mendoza harnesses her character's raging pain as an inextinguishable fuel to aid her search.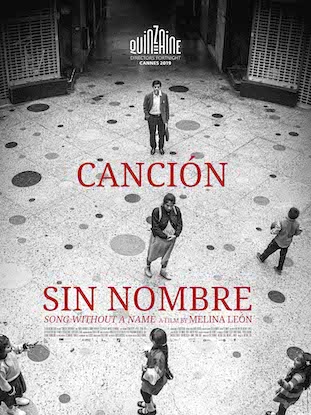 Song Without a Name is visually precise and at times astonishing, as cinematographer Inti Briones brings a modest grandeur to the film's boxy 4:3 aspect ratio. Extreme wide shots of Georgina and Leo walking to their isolated abode or entering an imposing government building impart a sense of perceived powerlessness and are reminiscent of the work of legendary Mexican cinematographer Gabriel Figueroa.
León and co-writer Michael J. White enrich their succinct but textured plot with traditional indigenous events and dances that speak to the unity and cultural resistance of these communities. At the mercy of both institutional power and the armed groups fighting it, people like Georgina are caught in the crossfire.
Song Without a Name thus captures the human and the political with distinctive formal style, and reveals León as an inspired writer-director. Her film is a chant made of alluring images, giving voice to a tragically unsung lullaby.
Directed by: Melina León
Written by: Melina León and Michael J. White
Starring: Pamela Mendoza, Tommy Párraga, Lucio Rojas
Country: Peru
AQ's Rating: 9/10
__
Aguilar is an independent critic and filmmaker based in Los Angeles