Reading Time:
5
minutes
This story has been updated.
In Guatemala's last presidential elections, in 2019, Thelma Cabrera gave the Guatemalan political establishment a shock. As the candidate for the Movimiento para la Liberación de los Pueblos party (MLP), a savvy social media campaign helped her earn an unexpected 10% of the vote. She finished fourth and missed the runoff, but placed herself at the forefront of indigenous politics in the country. It was the most successful presidential run by an indigenous person in Guatemala's modern history – the only other was by Nobel Prizewinner Rigoberta Menchú in 2007, who won 3% of the vote.
Cabrera's biography is striking. She grew up in a Maya Mam family of poor laborers on a coffee plantation on Guatemala's Pacific coast and was married at 15. She described in a book how she and her sister Vilma went to school through the sixth grade because their mother – who could not read or write – saw education as crucial. "I live in obscurity," Cabrera recalls her mother saying, "And you two shouldn't have to live that way."
Not long after turning 20, Cabrera got involved in grassroots political organizing in the MLP's parent organization, the Comité de Desarrollo Campesino, or CODECA. She hasn't stopped since. "Thelma's profile grew as the movement grew," said Leiria Vay, a spokeswoman for CODECA. "As the movement expanded, so has her leadership."
It's unclear whether Cabrera and the MLP can evolve into an enduring national force – the party is still in its infancy, and won just one seat of 160 in Congress in the 2019 elections. Some question whether its agenda is too far left for Guatemala's traditionally conservative politics. But many see potential for growth. Guatemala's indigenous population is estimated between 45% and 60% of the country, with a large group descended from Maya peoples, while the country's political and economic elite remain largely European-descended – and prejudice against indigenous people is widespread.
Other countries in Latin America with large indigenous populations have already seen the rise of powerful indigenous political movements in the 21st century, such as Evo Morales's Movimiento al Socialismo in Bolivia and Peruvian President Pedro Castillo's Perú Libre party, whose base is in the Peruvian Andes, an area with a large indigenous population. The question now is whether Cabrera can repeat their success – perhaps as soon as the next presidential elections in 2023.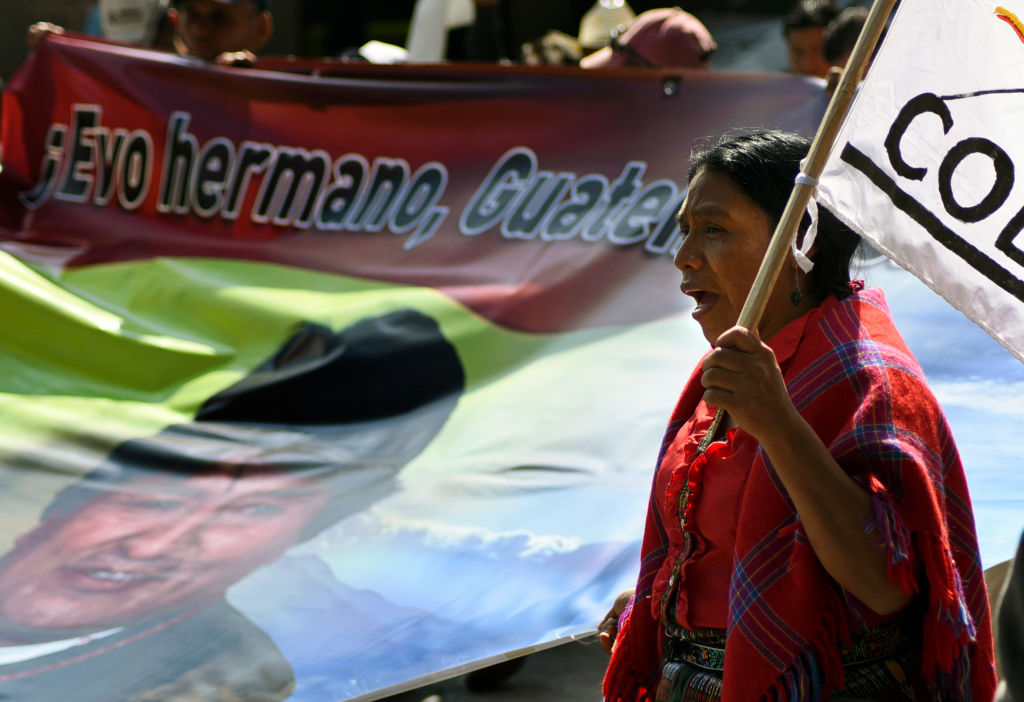 A history of confrontation
Indigenous political movements have long struggled to take hold in Guatemala, in large part because of a deeply troubled second half of the 20th century marked by coups, civil war, military dictatorships and genocide. This trajectory began with a 1954 CIA-sponsored invasion that overthrew the democratic government of President Jacobo Árbenz, who had been undertaking a land reform through compensated expropriation of uncultivated land and redistribution to poor families including indigenous Guatemalans, in hopes of turning a feudal country into a modern society.
Árbenz was replaced with a succession of military dictatorships, followed by a brutal civil war in which more than 200,000 people were killed, many of them indigenous peasants in rural areas. When the war formally ended in 1996, Guatemala had one of the highest rates of land inequality in the world. "It's not just what Árbenz could have achieved, but what the ousting of Árbenz opened up," said Gabriel Wer, director of Instituto 25A, a Guatemalan nonprofit.
Despite that history, or perhaps because of it, the MLP is not shying away from confrontation. The party puts indigenous issues at the top of its agenda, including a new constitution that would categorize Guatemala as a "plurinational" state. It's a gesture inspired in part by Bolivia, which became the Plurinational State of Bolivia in 2009, when a new constitution was adopted during Morales' government. "The powerful are angry with us – and more than that, they're scared," Cabrera said in a speech on the campaign trail in which she defended the idea of a new constitution.
"This was an agenda that made no apologies," former Costa Rican president Luis Guillermo Solís told AQ about observing Cabrera during the 2019 elections. "It (reminded me) of what I had heard in Bolivia before."
The party has a strong support network in rural areas across the country. Active since the 1990s, it has demonstrated resilience in the face of targeted political violence; as of February 6, the organization reports that 23 of its leaders have been killed since 2018.
A central focus of CODECA's organizing is the issue of high electricity prices in rural communities – and the MLP's platform includes nationalizing electricity distribution in the country. (A private utility company, Energuate, owned by U.S.-based private equity firm I Squared Capital, runs a monopoly in rural Guatemala.) CODECA frequently organizes demonstrations against corruption, the high cost of electricity and other social issues that block roads across the country. The organization has also been accused of helping people steal electricity from the energy grid. (A spokesperson for CODECA denied this, alleging it was part of a "disinformation campaign" and noted that no CODECA affiliate has been convinced of stealing electricity.)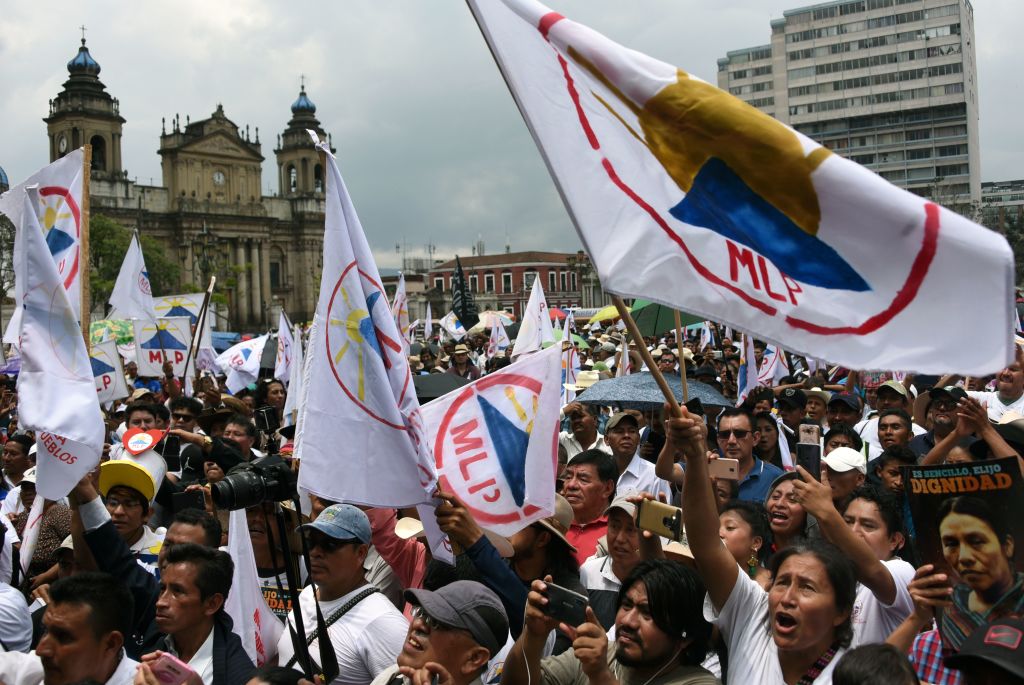 Building a nationwide network
However, it's far from clear that the MLP can achieve a MAS-like dominance of the Guatemalan political scene.
Indigenous politics in Guatemala are divided – another party, WINAQ, counts Rigoberta Menchú among its prominent members, and official statistics show a roughly equal number of members for each party. After the MLP won just one seat in Congress 2019, Cabrera claimed the disappointing result was due to electoral fraud. (Freedom House, a democracy watchdog, called the results of the 2019 election "credible," but also noted irregularities including voter intimidation.) A dozen CODECA members were killed in the 18 months prior to the election, according to the International Federation for Human Rights.
The MLP's unapologetically left-wing language and stances on nationalizing energy distribution alienate some voters. Others may be convinced by opinions voiced in Guatemalan media and government that the MLP and CODECA are dangerous organizations. One columnist for República recently called CODECA "criminal terrorists and thieves." Considering the violence CODECA has faced, some indigenous Guatemalans may feel it is safer not to stick their own necks out by associating with the MLP.
Still, some analysts say the party has a good chance of expanding its representation in the legislature in next year's election. CODECA is unlikely to unite indigenous voters, but it could be an important part of a growing opposition coalition. Its rhetoric has already had an impact in the broader political scene, as calls for a new plurinational constitution become more common in other parties and the media.
Intent on playing the long game, the MLP has been working to expand its support in urban areas, approaching white-collar groups as well as prominent figures in other social movements. That may pay dividends down the road, as many Guatemalans want change to the country's status quo. Though the country's economy has endured the pandemic in tolerable shape, expected to grow by 4% in 2022, inequality and malnutrition rates are high. President Alejandro Giammattei is currently continuing a crackdown on the country's judiciary and anticorruption prosecutors as new allegations of corruption have emerged against him. Cabrera and the MLP were at the forefront of protests demanding Giammattei's resignation last August.
"People in general are just tired of business as usual," said Wer. "But I don't know if they're prepared to trust indigenous candidates."
As for Cabrera herself: MLP spokespeople say their presidential candidate for the 2023 elections will be chosen in consultation with the organization's grassroots, but Cabrera is widely expected to be the nominee again next year. The results will test the MLP's potential for growth in years to come – and the strength of Guatemalan democracy.
This story has been updated to clarify the range of estimates of the size of Guatemala's indigenous people.
Tags:
Democracy in Latin America
,
Guatemala
,
Indigenous Rights in Guatemala
,
Indigenous Women