Reading Time:
2
minutes
This article is adapted from AQ's special report on Latin America's armed forces | Click here for the rest of our Top 5
"I always thought that something like this was impossible," said 38-year-old Idania del Rio, a Cuban designer and entrepreneur.
That "something" is Clandestina, the brand Del Rio started out of an Old Havana storefront five years ago that has been hailed as the first Cuban fashion brand to sell online globally. Del Rio and her Spanish business partner, Leire Fernández, founded the company in 2015 after then-President Raúl Castro relaxed regulations for independent businesses and trade, seeing an opportunity for innovation in Cuba's emerging private sector.
Selling casual streetwear that celebrates Havana's laidback culture, Clandestina has taken root thanks to a devoted local following and the many tourists seeking a "different kind of souvenir" from Old Havana.
The brand's success even landed Del Rio a meeting with President Barack Obama and Cuba's Minister of Foreign Trade and Investment Rodrigo Malmierca Díaz when Obama visited the island in 2016. Even so, doing business both online and abroad has posed constant challenges. "At first our site and social media were very basic because we had to find the time to go to a hotel or park to access Wi-Fi," Del Rio told AQ. And despite Obama's easing of embargo policies — largely reversed under President Donald Trump — it was still necessary to open a Miami-based LLC and production facility to bring Clandestina to U.S. consumers.
Del Rio started her brand out of a Havana storefront five years ago (Photo Yamil Lage/AFP via Getty)
Amid the barriers, Clandestina has stood out for its commitment to inclusivity, independence and humor. What started out as promotional block parties have grown into a print-your-own-T-shirt festival that draws thousands. Their mission statement reads: "We are LGBTQ, we are of every race, and background, and belief. Plus, we're funny."
Clandestina's latest collection, Glorias Deportivas (Sport Glories), brings its witty and dynamic design to the topic of Olympic sports. "As a very small island, why does Cuba have so many gold medalists?" Del Rio asked. The garments themselves answer that question with regal robes, sleek tracksuits and colorful spandex. "Every Cuban is a champion, because we go through so much every day."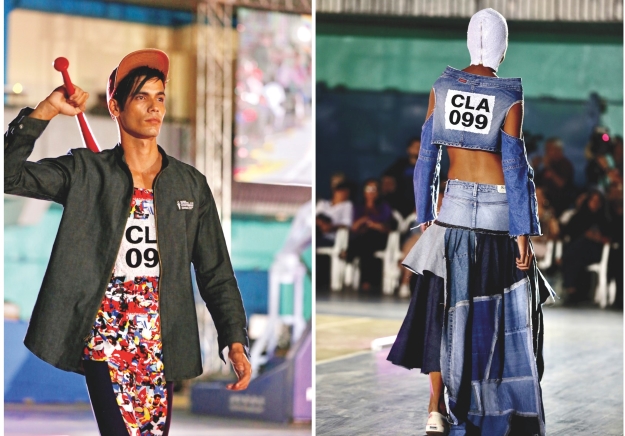 (Photo: Gabriel Guerra Bianchini)
As for the challenges of doing business under an embargo, Del Rio advises her fellow entrepreneurs to be patient. "Take a deep breath, because the race is really long."
—
Miller is AQ's production editor
Tags:
Fashion Innovators