Founded 2015
---
Annual revenue $10.3 million (2020)
---
Global beef market $332.92 billion (2020)
---
Brazil beef market $40.4 billion (2019)
---
Projected growth in Brazilian beef production
4% in 2021, according to the U.S. Department of Agriculture
Reading Time:
2
minutes
This article is part of AQ's special report on sustainable development of the Amazon.
Cattle ranching brings some $2 billion to the Brazilian Amazon every year, but the industry has taken a toll, with ranchers clearing forest to expand pasture that has become degraded by soil mismanagement and the lack of trees. As a result, the industry accounts for more than 80% of Amazon deforestation since 1985. Even though approximately 174,800 square miles of forest have been turned into pasture in the Brazilian Amazon, 44% are degraded.
Sustainable Livestock of the Amazon, or PECSA by its initials in Portuguese, is breaking this cycle by partnering with local ranchers to sustainably intensify production on existing pastures without cutting down more forest.
To do so, this cattle ranching management firm institutes changes on their partners' ranches such as moving to rotational grazing modules, to allow for soil regeneration and help sustain a larger herd of cattle. Its model increases productivity five to seven times the average in Alta Floresta, the region where it first started operations, and increases profits. By restoring soil quality and changing the cattle's diet, independent studies also found that greenhouse gas emissions on PECSA ranches have been reduced by up to 85%.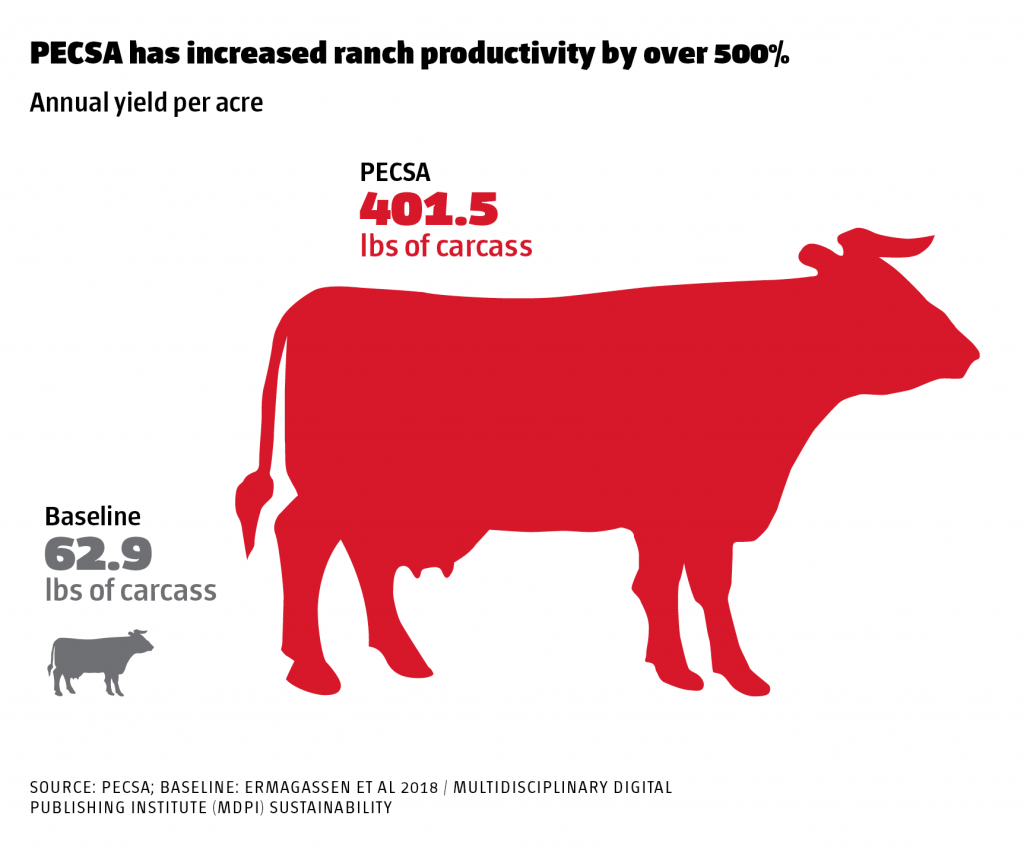 Additionally, PECSA requires its partners and suppliers to register in a state-level zero deforestation database to assure clients that they're not adding to deforestation.
With funding from climate-focused investors, PECSA tailors contracts based on the financial capacity of ranchers and the initial investment needed. When output increases, PECSA keeps a percentage of the profits.
"We wanted to create a business model that is inspiring and can serve as a reference for others to adopt," Laurent Micol, PECSA's co-founder, told AQ.
PECSA's main challenge to scale is raising the capital to finance initial investments with partners, Michol said. The upfront investment to regenerate ranches is, on average, $630 per 2.5 acres, which is unattainable for most ranchers without PECSA's help. Despite this, PECSA has plans to scale across Mato Grosso state.
Incentives are mounting for an industry-wide transformation and PECSA shows the profitability of certifying zero deforestation for larger clients. International pressure for beef traceability has grown, said Johnny da Silva, an analyst at Fitch Ratings who covers large meat companies. "Five years ago, investors were not asking whether JBS or Marfrig had an impact on deforestation. Now everyone asks."