Reading Time:
4
minutes
This article was adapted from our latest print issue. To see the rest of our package on Brazilian politics, click here. | Ler em português
RIO DE JANEIRO – Four shots to the head failed to kill Marielle Franco. Her body may have been buried, but her voice, once confined to Rio de Janeiro, has spread to the rest of Brazil.
In a country where black women make up almost 30 percent of the population, but occupy just 2 percent of Congress, the March assassination of the Brazilian councilwoman sparked a genuine movement. More than 1,000 black women all over Brazil raised their hands to run for office in October's elections for Congress and state assemblies — a 60 percent increase over the 2014 election cycle.
Many triumphed, including Franco's own chief of staff, Renata Souza, 36, who won a seat in Rio's state assembly and vows to keep her friend's memory alive.
"While they keep murdering our people, we have to do something," Souza said during the campaign. "We can't stand still. There is no other way."
Police have still not fully determined who was responsible for the murder, but most observers believe organized crime figures were trying to silence Franco — and intimidate other politicians who might dare to defend the rights of marginalized Brazilians.
If so, their bullets had the opposite effect, as the brazen murder of a black, queer politician in the middle of downtown Rio became a cause far beyond Brazil's borders. Posters reading Marielle Vive (Marielle lives) were spotted in Amsterdam and New York, as well as Rio and São Paulo. The outpouring of support coming from the "asphalt," as favela residents often refer to the outside world, helped embolden women across the country to leave community activism and enter the official political arena.
The election of Souza and others also illustrates how minority groups are organizing — and in many ways, succeeding — following the October election of former Army Captain Jair Bolsonaro and a broader shift to the right in Brazilian politics.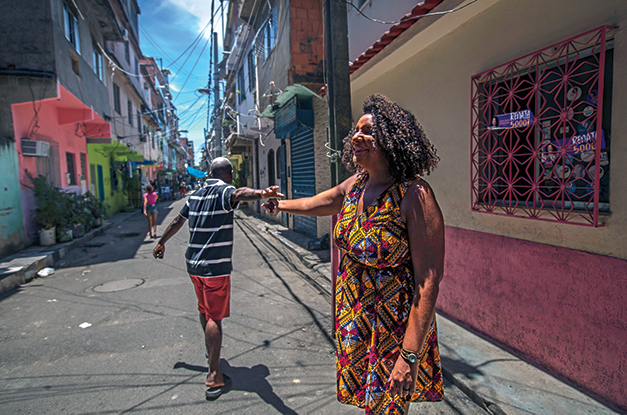 Souza was more than just Franco's co-worker. The two had met 18 years ago in Complexo da Maré, a slum that is home to 130,000 people in the north zone of Rio, when both were trying to fulfill a dream that can be far-fetched for girls raised in a favela: higher education. As they prepared to take university admission exams, the two created a bond over their shared belief in human rights and will to help their community.
"We managed to understand what our place in society is. And our place is one of permanent exclusion," Souza said. "And when you understand that, you will fight against that exclusion."
In 2006 they campaigned together in their native Maré to elect human rights activist Marcelo Freixo — a white, middle class male — to the state assembly. Once elected, Freixo hired both as his advisors. The two women worked side by side at the state assembly for 10 years supporting Freixo as he headed the human rights commission. But fellow community activists started to pressure them to come out from the shadows and run for office themselves.
Franco was chosen as the candidate, but theirs was a collective project. "We grabbed Mari's candidacy and did what we did: almost 50,000 votes with no money," Souza said. "If it wasn't her, it would have been me."
"It could have changed everything," she reflected. "Marielle could be the one talking to you now."
Souza was elected in October with even more votes than Franco once received: 63,937, making her the ninth-most voted legislator in this state of 17 million people.
Three other newly elected officials were especially connected. They were fellow members of the Socialism and Liberty Party (PSOL) and, together with Souza, the local press dubbed them the "new Marielles."
The multiple candidacies of black women is a counterreaction to Franco's death, but also a safety measure. Franco was the only black woman in the city council, and many say that made her more vulnerable. "We were very concerned about not electing just one," Freixo said. "We can't put all of this on only one person's back."
Souza's mom, Jorgelita, is proud, but knows the whole group faces risks, including her daughter. "I can't sleep before she gets home," she said. "I get really worried."
Souza has studied journalism as an academic for years. Her former professor Raquel Paiva, from the Federal University of Rio de Janeiro, remembers her as a skinny high school student visiting her class, who already "knew that she had to speak for the people around her." A passionate critic of how mainstream local press reports on the violence in Rio's favelas, Souza has written about how news outlets often treat them as criminals, instead of citizens targeted by violent public security policies. "Being young, poor and black is a precondition to being socially represented as a criminal," Souza wrote in her master's thesis in 2011.
Rio's police force is among the deadliest in the world. By the end of October it was responsible for 1,181 of the 5,197 violent deaths in the state, according to the local Institute of Public Security.
Bolsonaro, who said during his campaign that "a policeman who doesn't kill is not a policeman," has vowed an even tougher security policy upon taking office. His Social Liberal Party (PSL) elected a wave of representatives to office, including Rodrigo Amorim. A week before election day, Amorim dominated headlines after breaking a plaque in honor of Marielle Franco and showing off the pieces to a crowd.
Amorim told the local press he will fight PSOL for the presidency of the human rights commission in the state assembly. Souza has vowed not to let it happen, presaging further fights ahead. "The attempt to preside the commission by people who publicly speak against human dignity is unacceptable," she said. "It won't be without a fight."
—
Andreoni is a journalist based in Rio de Janeiro, where she was born and raised
Tags:
Dani Monteira
,
Marielle Franco
,
Mónica Francisco
,
Renata Souza