Reading Time:
5
minutes
When Cai Wei visited Buenos Aires in July 2022 as the Chinese Foreign Ministry's director-general for Latin America and the Caribbean, he took a controversial detour. Cai accompanied an Argentine official to the Malvinas Museum, founded to memorialize Argentina's claims to the islands otherwise known as the Falklands, where the official thanked China for its support on the matter—a major point of contention with the UK.
Argentina's relationship with China has only deepened since. In April, Argentina agreed to start paying $790 million per month for Chinese imports in yuan rather than U.S. dollars. In June, the country's central bank announced that individuals could open accounts in yuan, further displacing the greenback. Earlier this month, Economy Minister Sergio Massa touted an agreement to use yuan from its expanding currency swap line with China to settle most of its IMF debt.
All this reflects China's assertive post-pandemic push to grow its influence throughout Latin America and the Caribbean. Brazil, Argentina, and Bolivia now all regularly use the yuan, talks with Uruguay, Honduras, and Nicaragua on bilateral free trade agreements (FTAs) are advancing, and China is stressing that its investments enhance local value chains, from lithium and electric vehicle production in Mexico to vaccine manufacturing in Chile.
Cai, 52, is spearheading this push. A soft-spoken veteran diplomat who studied law, he has traveled widely in the region since taking on his current role in early 2021. His statements and visits provide direct insight into Chinese priorities there, said Yanran Xu, an assistant professor at Renmin University's School of International Studies in Beijing. Cai has shown that—even as Chinese investment in the region is flagging—China is focused on FTAs and access to natural resources, its relationships with smaller states, and using multilateral forums to strengthen its diplomacy.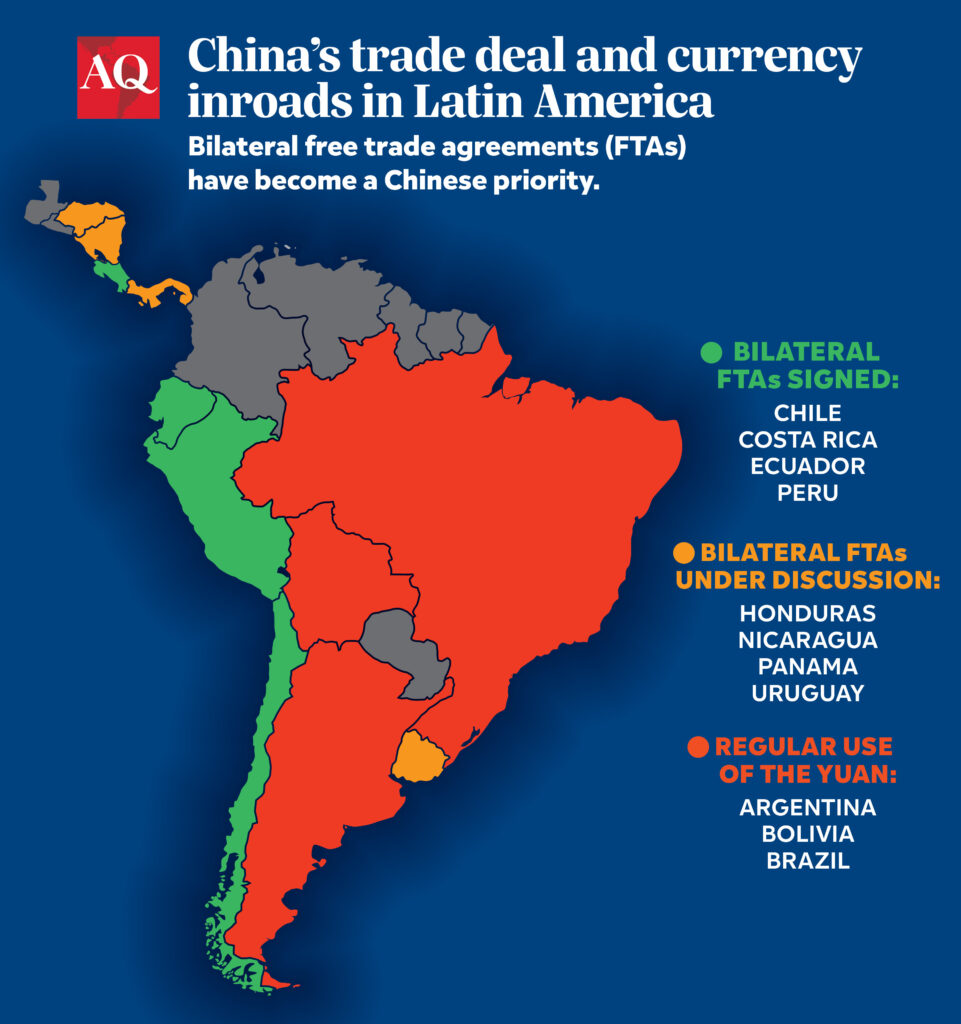 But to read his signals, observers must pay close attention because he keeps a low profile, and not much is known about him publicly. In his current role, he has more in common with Beijing politicians than ambassadors in the field, Xu said. "Directors-general don't want the spotlight on themselves," Xu told AQ, because they must hew especially close to the strategies and language formulated in Beijing by their higher-ups.
Ambassadors have more leeway to adapt to local contexts, which helps explain why Cai has not echoed the more combative style that some Chinese diplomats adopted in Latin America after the onset of the COVID-19 pandemic. In 2020, they published punchy op-eds in local papers from Rio de Janeiro to Mexico City, with Xu Bu, then the ambassador to Chile, penning one about the U.S. Secretary of State titled "Pompeo The Liar." On social media, Chinese diplomats pushed back on attempts to blame China for the pandemic or accuse companies like Huawei of being security risks. In Brazil, Ambassador Yang Wanming tangled aggressively on Twitter with former President Jair Bolsonaro's son Eduardo and then the U.S. ambassador.
A controversial post
Cai remains based in Beijing and its political arena, where he has spent most of his career, and his assignments over two decades have focused exclusively on the Americas and Australia. But he hasn't avoided the spotlight completely. After serving in Ottawa, Canada (2000-04) and Canberra, Australia (2014-19), his last overseas post as consul-general in Houston, Texas was short-lived. In 2020, the Trump administration shuttered the consulate as then-Secretary of State Mike Pompeo called it a "hub of spying and intellectual property theft."
The State Department's policy head for East Asia at the time, David R. Stilwell, cited little evidence and just one concrete example in an interview with The New York Times, saying that Cai and two other Chinese diplomats were caught using false identification to escort Chinese travelers to a charter flight. Cai emphatically denied the accusations and expressed surprise in a televised interview that shows his gentle manner of speaking in accented English. (For Spanish, he tends to use an interpreter.)
China's Foreign Ministry declined to comment for this article.
Articulating priorities
In March, Cai spoke at the China-Mexico Cooperation and Development Forum, outlining China's priorities in its relationship with Latin America's second-largest economy. "Mexico is welcome to participate in the Belt and Road Initiative in fields including finance, 5G, lithium and electric vehicles to improve supply chain connections," he said.
This sector-specific emphasis on lithium and electric vehicles is part of how China "is trying to work with local partners to build their lithium supply chains up and downstream as well," said Mitch Hayes, founder of The China Signal newsletter and a director at consulting firm Veracity Worldwide. "You've seen a lot of enthusiasm from the Argentine government, for example, to bring in Chinese partners from lithium miners all through that supply chain up to battery factories." This approach earns friends in countries attempting to move beyond commodity exports to strengthen local industries. Even in its vaccine diplomacy, China, which bested the U.S. in Latin America on this front, has emphasized its companies' willingness to invest in vaccine production facilities in places like Colombia, Ecuador, and Chile.
During Cai's tenure, China has also made significant strides on the issue of Taiwan. On August 21, the Central American Parliament voted to expel Taiwan as a permanent observer and replace it with China. Nicaragua cut ties with Taiwan in December 2021—it received a million Chinese vaccines just days later—and Honduras followed suit in March. Cai immediately visited Honduras to lay the foundation for a new relationship, which now includes a proposed FTA and then visited Nicaragua as talks on a proposed FTA with that country also appeared to advance.
China has signed FTAs with Chile, Costa Rica, Peru, and, this year, Ecuador—and is eager to add to the list. In July 2022, just before his trip to Buenos Aires, Cai visited Uruguay to discuss yet another potential bilateral FTA rattling Mercosur, a trade bloc supposed to negotiate such deals collectively.
Focus on new spaces
These visits also demonstrate China's efforts to strengthen relations with smaller countries. Cai has traveled to the Bahamas and Suriname for Caribbean Community (CARICOM) Heads of Government summits, and when Cai was in Honduras in March, he took the time to huddle outside an official event with Caribbean journalists, urging their nations to cut ties with Taiwan and enjoy the benefits.
Shortly afterward, back in Beijing, Cai held another press conference with Caribbean reporters. He highlighted the progress of new partnerships, including the China-Caribbean Development Center (CCDC) in Jinan launched last year and plans to help Guyana and Suriname boost agricultural production to improve food security in the region. Cai promotes such investments, Hayes said, because in small economies, modest initiatives can yield outsize return-on-investment on critical issues like Taiwan and in terms of votes in international forums like the UN.
The CCDC was first announced in a joint Community of Latin American and Caribbean States (CELAC)-China forum, just one of many China has spearheaded. Last year alone, at least five CELAC-China forums were held on topics ranging from transportation policy to disaster preparedness. China's rising profile in such conferences—much like its support for countries like Argentina to join the BRICS group—isn't likely to reshape global politics anytime soon, said Neil Thomas, a fellow on Chinese politics at the Asia Society Policy Institute's Center for China Analysis in Washington. But they "do normalize China's presence in the region as a partner in governance initiatives, which has previously been the domain of the United States and other Western countries," he said.
These multilateral initiatives lay the foundation for relationships that can be intensified in response to global events, Hayes of The China Signal, told AQ. "When there's a crisis, sometimes forums or meetings can suddenly take on much greater importance like the G20 did through the financial crisis," he said.
As Cai works to strengthen relationships across the region, his travels and statements will continue to signal China's evolving priorities.
Tags:
China
,
Chinese Investment in Latin America