Reading Time:
4
minutes
In November 2019, during Chile's tumultuous social uprising (estallido), Mayor Evelyn Matthei was reviewing damage to Providencia, her district of Santiago, when members of the press crowded around her. Apparently tired of their questions, Matthei, then 66, abruptly took off running down the street—and proceeded to outrun reporters seemingly half her age.
Video of the moment went viral—and Matthei herself joined in the fun, later sharing her favorite memes, including one dubbed to the soundtrack from Rocky.
The episode captured what many Chileans like about a hands-on, no-nonsense figure who "probably is the de facto leader… of the right right now," according to Peter Siavelis, a Wake Forest University professor who has published widely on Chilean politics. That would mark a shift toward the center compared to the hard-right faction represented by José Antonio Kast, who finished second in Chile's 2021 election. But after the instability that followed the estallido, and the rejection of a proposed new Constitution earlier this year, many Chileans on both left and right seem to be embracing more moderate figures who seem best positioned to address everyday concerns like crime and inflation.
Some say Matthei's relentless focus on security—which Chileans describe in polls as the country's biggest challenge—makes her an early favorite to run for president again in 2025, after a previous campaign fell short in 2013. But true to form, Matthei has deflected questions about her future, saying she is focused on her work as mayor and ensuring that violent crime doesn't tear the country's young democracy apart.
"There is a risk of populism and democratic backsliding due to the crime wave," she said in a written response to questions from AQ. "Sixty-two percent of Chileans are ready to give up freedoms to control the violence. Improving security is the basis of our democracy." She also highlighted plans to improve education, health and water management.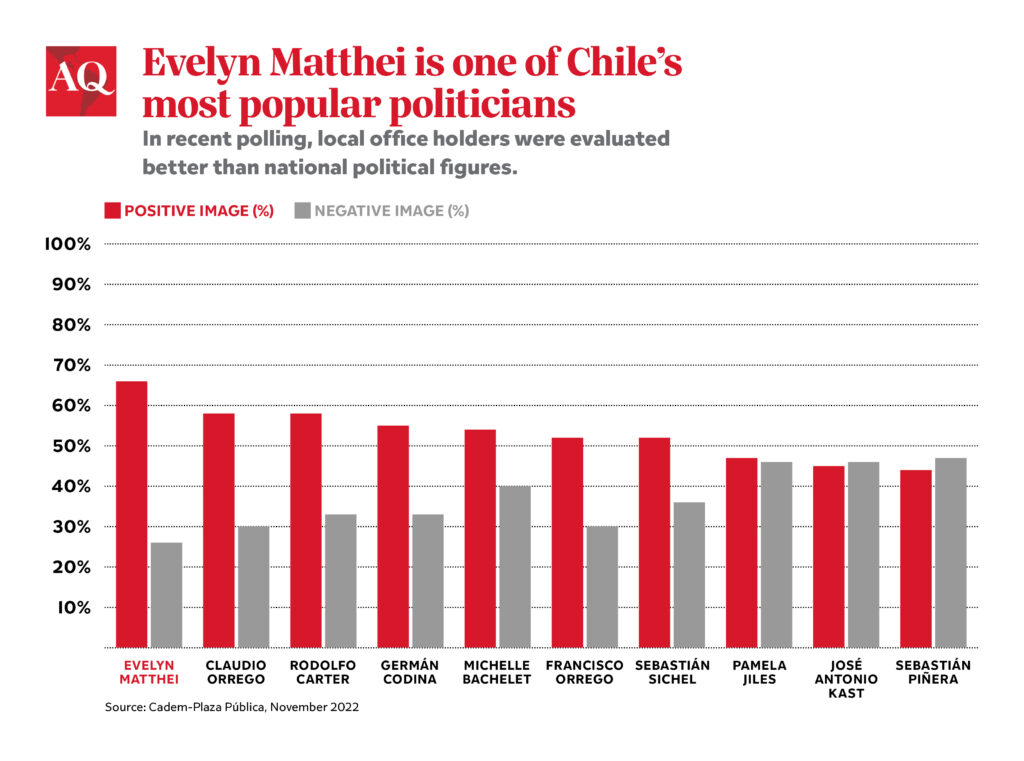 A similar dynamic has occurred on Chile's left, as President Gabriel Boric reshuffled his cabinet in September to include more moderate, hands-on figures like Carolina Tohá, a former mayor of a district of Santiago who is now the interior minister.
Matthei is a member of Chile's political establishment—a contemporary and childhood friend of former President Michelle Bachelet, who defeated her in that 2013 presidential campaign. Their fathers, both air force generals, were close; their families lived on the same base in northern Chile in the late 1950s. Later, their lives took different paths—Bachelet's father worked in Salvador Allende's government and died in 1974 after he was detained and tortured. Matthei's father joined Augusto Pinochet's military junta in 1978, and became the first junta member to recognize Pinochet's defeat in the 1988 plebiscite.
Their daughters also diverged politically. Bachelet joined the Socialist Party, and Matthei trained as an economist before entering politics in the late 1980s as one of the few women in the Chilean right. She served in Congress for almost two decades, becoming the first woman to preside over the Senate finance commission, and was labor minister for part of President Sebastián Piñera's first term.
After her run for president, Matthei taught mathematics at a public school in Santiago before returning to politics and being elected mayor of Providencia in 2016. She considered participating in her coalition's presidential primaries last year, but opted not to after she was reelected as mayor.
Matthei's mainly middle-class district is located between downtown Santiago to the west and wealthier municipalities to the east. Providencia is "a place where many people work and pass through, and it's affected by crime, immigration and all the issues that are relevant for urban areas," noted Patricio Navia, a professor at NYU and at Diego Portales University in Chile.
Her district includes Plaza Baquedano, known by protesters as "Plaza Dignidad," the center of unrest in 2019 and still a frequent target of vandalism. Last month, her administration began remodeling the plaza. Matthei told AQ that "the economy and the loss of self-control that resulted from the estallido are a dangerous mix."
"People might think it's strange to go from being a senator [and] presidential candidate to being just the mayor of Providencia," said Siavelis. "But especially in major districts of Santiago, being mayor is sort of a national office."
Matthei is widely known, with name recognition above 90%, and is the most popular politician in Chile, according to November data from pollster Cadem. "Everyone holds her in great respect. She's a straight shooter," Navia said.
She was a prominent voice in the campaign to reject the proposed constitution and has been a vocal critic of the Boric administration. As Universidad de los Andes professor Paula Schmidt observed, "She's at the point where she can take the lead and the right will follow."
An atypical conservative
While the right may follow her lead, Matthei is by no means a traditional right-wing politician. "In her politics, she has always been more moderate than the right at the time," said Navia.
Matthei emphasizes issues of law and order that appeal to conservatives, but she has moderated some of her stances over the years. She supports same-sex marriage and pushed for the decriminalization of abortion when medically necessary. "She's the perfect package of policy options that Chileans are looking for these days," Siavelis said.
Matthei is also known for her ability to reach across the aisle and collaborate with fellow mayors. Loreto Cox, an assistant professor at the Universidad Católica de Chile's School of Government, observed that Matthei is "signaling that she is willing to make agreements throughout the political spectrum. And I think that that's something that people in Chile really want."
Socialist Party veteran and former minister José Antonio Viera-Gallo was in Congress with Matthei, and also acknowledged her political savvy. "[She] commands respect, and at the same time knows how to handle debates," he told AQ.
The opposition seems well-positioned to win the presidency in 2025; Boric's presidency is off to a rocky start, anti-incumbency sentiment is prevalent across Latin America and Boric can't run for immediate reelection.
AQ asked Matthei if she plans to run for president. "Chile is going through a challenging moment in terms of governability, and it is not helpful to launch presidential candidacies," she replied. "I believe it is disrespectful to Chileans to always be speaking about running, when what people want is for today's problems to be solved."
But observers expect her to run. "I wouldn't be at all surprised if, with the right timing, she eventually throws her hat in the ring," said Siavelis. "By not tying herself too closely to the right and also working from the level of local government," he said, Chileans may find her an especially attractive candidate.
Tags:
Chile
,
Evelyn Matthei