Reading Time:
4
minutes
QUITO – Last year, the surprise election of President Guillermo Lasso's center-right, pro-business government was hailed by international markets after over a decade of left-wing populism followed by the volatile Lenín Moreno administration. Ecuadorian bonds have been buoyed by a fiscal consolidation push, the prospect of economic liberalization policies backed by the IMF and, most recently, an upswing in oil prices. The economy is expected to grow by 3.5% in 2022, after registering 2.8% growth in 2021, while inflation is low for the region at 2.6% as of January.
But despite an improving economic outlook, Ecuador's political situation is rapidly deteriorating. To blame is institutional malaise, division and the arrival for the first time in Ecuador of the kind of brutal violence on a mass scale faced by other countries in the region. Polls show Lasso still has some goodwill from Ecuadorians – but can he get abreast of these problems before they overwhelm his capacity to govern?
Security becomes a major threat
In 2021 alone, Ecuador's murder rate nearly doubled, with increases concentrated in Guayaquil. The rise was driven not just by an uptick in murders on the streets but also numerous large-scale prison massacres – which have claimed the lives of 320 inmates in January and February alone. This violence has been linked to gang warfare between drug traffickers, as record drug seizures show an uptick in narcotrafficking.
Last month, images circulated of bodies hung from a bridge – providing shocking evidence of the importation of terror tactics used by Mexican and Colombian drug cartels, who appear to be behind spiraling levels of violence.
Government authorities have acknowledged that Ecuadorian security forces are ill-prepared to deal with such an unprecedented threat and have responded by relying increasingly on U.S. government support to deal with the cartels.
More Ecuadorians are feeling unsafe as the government struggles to maintain a sense of control and competency amid a worsening security outlook. Polls show that security ranks second among the public's top concerns and is partly responsible for the dip in Lasso's approval ratings following last year's highs, which had been driven in part by a successful COVID-19 vaccination campaign.
Furthermore, it is probably only a matter of time until criminal organizations find common ground with some opposition groups in the effort of destabilizing a government fully aligned with the U.S. in the fight against the drug cartels.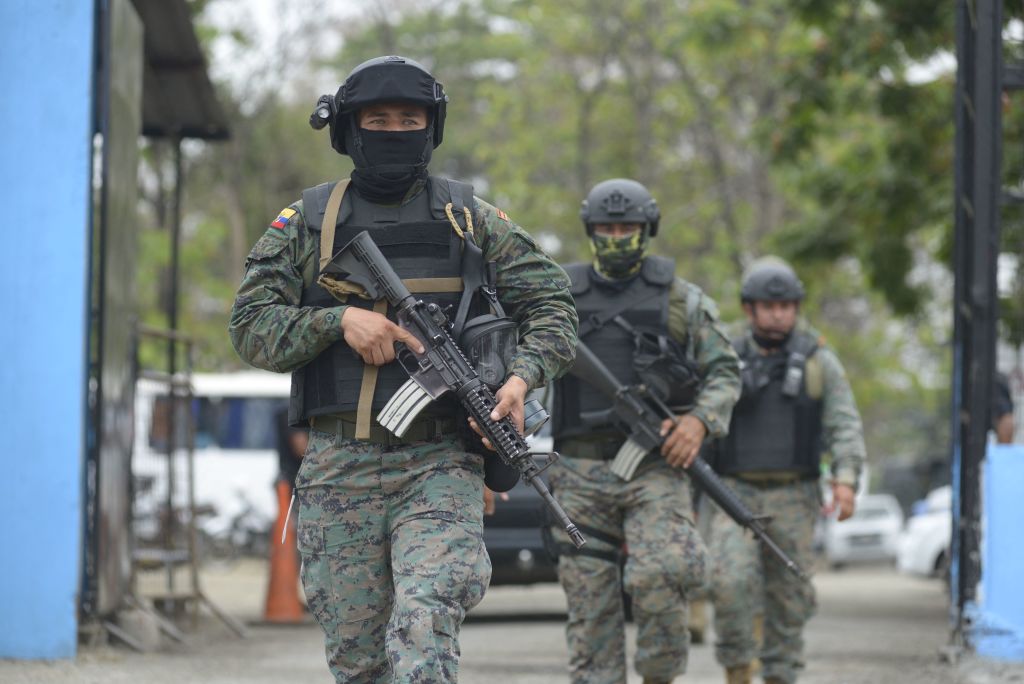 Lasso remains relatively popular, with support of just under 50% in recent surveys. But that will be difficult to sustain amid persistently high levels of informality and unemployment, as well as demands for more aggressive social spending to reverse a slide in living standards that has been aggravated by the pandemic. The recent spike in oil prices could provide the government with some additional political leverage. But it will also give fuel to populist arguments from the left, where there are hopes to regain power and make use of the new fiscal windfall.
An institutional mess
Ecuador's security crisis is unfolding against a backdrop of institutional trouble left over from past administrations. Since Lasso's victory, markets have been quick to forget that traditionally, Ecuadorian politics have been chronically unstable, with former President Rafael Correa's decade-long rule being the exception to the rule. Correísmo's success at maintaining political stability was closely tied to the concentration of unprecedented political – some say authoritarian – power in the hands of the executive branch.
The correísta state found itself under attack, however, when Correa's successor, Lenín Moreno, turned against his mentor and made efforts to dismantle the prevailing political order from the inside. But these efforts were left half completed, leaving a hodgepodge of non-functioning and discredited state entities, rather than a new, durable alternative institutional framework that could take its place.
Today, the Lasso administration and the opposition in Congress are engaged in a struggle for control over these institutions. This tug-of-war includes efforts to impeach government allies who lead these entities. Lawmakers recently ousted the superintendent of banks and are planning trials against the attorney general, state comptroller, and members of the citizens' participation council, a powerful oversight body that names most state authorities.
Should the opposition succeed in taking over many of these institutions and turn their eyes toward destabilizing the government, Lasso is likely to invoke the muerte cruzada – a term referring to his power to dissolve the legislature and call snap elections.
Conflicting economic views
Unlike the Correa and Moreno governments, President Lasso's win was not accompanied by the election of a pro-government majority in congress. In fact, Lasso's CREO party lost two-thirds of their seats in 2021 as the electorate voted overwhelmingly for left and center-left parties in Congress.
Predictably, the ideological differences between an overwhelmingly left-leaning congress and a right-wing government have been a source of instability and have frustrated the process of setting policy. While left-wing parties seek to defend the status quo of Ecuador's closed economic model, encapsulated by the 2008 socialist constitution, the Lasso government promises bold structural reforms aimed at turning around years of economic stagnation. This agenda thus far has found little support among lawmakers, who have not yet passed a single bill presented by the executive and indeed seek to reverse certain reforms (for example, the proposed repeal of the recent IMF-supported tax bill, approved via executive authority).
But it's not only Congress that remains unconvinced of Lasso's economic vision – it's also the general public, who seem to have voted for him for other reasons. Street protests last year led the government to suspend a push for fuel price liberalization.
Lasso's government is still relatively new – and his approval rating still remains higher than his opponents, which has limited the scope of his opposition in Congress and of anti-government protests. But if his government fails to make progress tackling the country's security crisis and attracting support for its economic agenda from the public, his opponents can only gain ground in the months to come.
—
Hurtado is president of PRóFITAS, a political risk consultancy based in Quito.
Tags:
drug violence
,
Economy
,
Ecuador
,
Guillermo Lasso