Reading Time:
4
minutes
Peru's appetite for investment has again led it deep into the Amazon jungle. This time a new hydroelectricity project, the Inambari Dam, is poised to bring irreversible social and environmental changes to the region.
Inambari, to be developed in the buffer zone of the Bahuaja-Sonene National Park, will be the largest hydroelectricity project in Peru and the fifth largest in Latin America. It was conceived as one of six potential projects to be developed as a result of a 2008 cooperation agreement with Brazil. Once built, the $4 billion project will have an installed capacity of 2,000 megawatts of electricity. But it will also flood over 400 square kilometers (around 150 square miles) of land, including a portion of the new Inter-Oceanic Highway, and displace over 3,200 locals.
Although the Inambari Dam could supply about half of Peru's energy consumption, reports are that Inambari will be almost completely devoted to exporting power to Brazil for at least the first few years. Under the 2008 Peru-Brazil energy cooperation agreement, both countries agreed to look into possible avenues for integration and to assess whether future hydroelectricity projects could export power from Peru to Brazil.
This is the agreement's first test, and if not handled correctly, it could turn explosive. Already street protests in Puno last week ended in a police confrontation and three people sustained injuries. As with the land grab attempts that ended in popular unrest last June in Bagua, Mr. García's new strategy to attract investment does not acknowledge or address the context in which investment would take place: the embattled Amazon.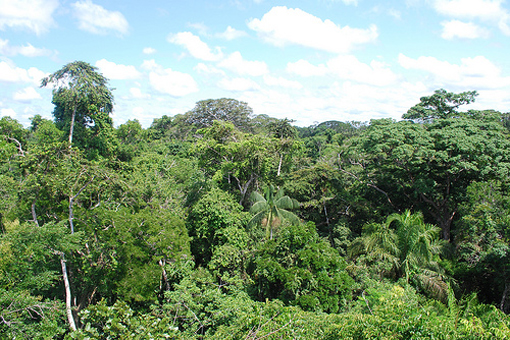 The Amazon Rainforest in Peru.
(Image courtesy of Ivan Mlinaric)
The Peruvian public, already up in arms about the priority to export Camisea's gas supplies rather than its use for domestic consumption, is infuriated that Inambari's energy will mostly flow to Brazil. Camisea is the first major gas development initiative in the Peruvian Amazon, and although it currently supplies the internal market, exports of liquefied natural gas to Mexico are set to begin next year. This move has outraged some critics, and in a bid to appease them, last month the Ministry of Energy and Mines (MINEM) introduced an amendment to the gas regulations tying export licenses to the projected domestic demand and a minimum level of proven reserves.
A Need for Local Dialogue
But the real problem in the Amazon is the unwillingness of President Alan García's administration to engage in meaningful discussions with the public and local authorities regarding development priorities and resource extraction.
Early engagement with the public, in an open and transparent manner, is of great importance. This is particularly so because the institutional and legal framework that governs environmental and social impact management in Peru is extremely weak. Inambari is also located in one of the most socially explosive areas of the country. In neighboring Puerto Maldonado, Madre de Dios, regional government offices were set on fire in 2008 by protesters demanding the repeal of several laws infringing on their rights to land and resources. Nearby, the petroleum exploration concession granted to Hunt Oil (lot 76) is under siege—both on the ground and in court—by indigenous groups demanding the company's withdrawal from their territories. The area is also the setting for a heated battle between Peru's new Ministry of the Environment (MINAM) and thousands of illegal miners.
The Inambari Dam is currently in the pre-concession stage, which means the concession-holder—in this case the Brazilian consortium of Egasur—has the right to undertake feasibility studies due by June 2010. Under Peru's framework electricity law the holder of a pre-concession has priority rights to the concession which, once granted, is to be held indefinitely. This is an opportunity Brazilians don't want to miss, and already the Brazilian development bank, BNDES, has committed $2.5 billion for the project. 
The Ministry of Environment (MINAM) has no say in the environmental and social impact assessment (ESIA) or in the approval of energy development projects. Both are entirely in the hands of the MINEM, which includes an overloaded Environmental Affairs Directorate where 15 officers review an average of 260 cases per month. But the ESIA process—with regulations that call for an extensive information gathering exercise but do not then spell out how to use data to assess project desirability—virtually guarantees that a project will be approved provided that all the necessary steps are followed. One requirement is public and indigenous consultation, but this is a formal and mostly cosmetic procedure that, in a different context, had given rise to the protests in Bagua.
As tension around the Inambari project builds, the environment minister, Antonio Brack, seems to be walking on thin ice. In August, he suggested that the concession should be cancelled, but two months later spoke publicly of the potential benefits of the project while calling for greater consideration of its environmental impacts and compensation for any damages.
President Luiz Inácio Lula da Silva's trip to Peru last week solidified the countries' resolve to advance their common hydroelectricity development plans. This means the people around Inambari are caught between a powerful and energy-hungry neighbor and a government determined to develop the Amazon's riches at any cost.
To ensure that any benefits from development are felt in Peru as well as in Brazil and, most of all, that development is politically sustainable, Peruvian authorities should engage in open, good faith consultations with those who will bear the brunt of the environmental and social impacts. Only after listening to the locals should the government then determine whether, on balance, the pros outweigh the cons.  If anything, the popular uprising in Bagua demonstrated that the people are ready to stand up against what they consider to be illegitimate government advances.
*Lila Barrera-Hernández is an environmental and natural resources lawyer and the author of "One Step Forward, Two Steps Back: Peru's Approach to Indigenous Land and Resources and the Law," a chapter in the forthcoming book, Sustainable Futures: Comparative Perspectives on Communal Lands and Individual Ownership. Her article titled "Recent Developments in Social Impact Management in Extractive Resource Development in Peru" will appear in the Fall 2009 issue of the McGill International Journal of Sustainable Development Law & Policy.
Tags:
Alan García
,
Amazon rainforest
,
Bagua
,
Inambari Dam
,
Luiz Inácio Lula da Silva
,
Peru
,
Peru-Brazil