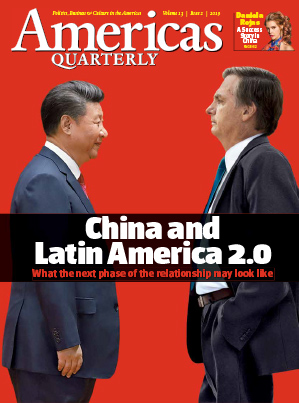 China-Latin America 2.0
Many Latin Americans are delighted by China's growing presence – and largesse. But there is a clear need for change.
By RICHARD LAPPER
Brazil's Jair Bolsonaro talked tough on China during his campaign, but his tone has changed now that he's in office. Deep business ties help explain why.
By EMILIE SWEIGART
A look at nine Latin American countries' relationships with China.
By MARGARET MYERS
China's interest in the region has cooled – and that trend will continue, writes a leading expert on Sino-Latin America ties.
By GUO CUNHAI
Studying Latin America's culture and history would help officials better grasp the how - and why - of its politics, writes a Chinese scholar.
By BEN MILLER
A visual guide to Chinese financial interests in Latin America.
By FRANCISCO MONALDI
Beijing helped keep chavismo afloat. Now it needs to help rebuild the country.
By ERIC FARNSWORTH
As China strengthens ties with Latin America, the U.S. government needs to change how it trades with, and talks about, the region.
By LUCIA HE
A day in a classroom in Argentina, speaking Mandarin.
AQ profiles five Latin Americans who show what it takes to thrive in China.
By YANRAN XU
After years of negotiating with leftist leaders, China is learning to work with the "New Right."
By FERNANDA URIEGAS
Chinese consumer goods, from drones to bike shares, are gaining ground in Latin America.
By CECILIA TORNAGHI
What it takes to be a global currency.
By BENJAMIN RUSSELL
A mysteriously timed land and tax deal becomes a source of tension for China – and a sign of its growing interst in Central America.
By ROBERT SOUTAR
Chinese companies gained a reputation in Latin America when it comes to the environment. Cleaning it up will take more than solar panels.
By NATALIA MUÑOZ and LORAND LASKAI
As China fuels innovation in the region, countries must prepare to mitigate the risks.
By SUSAN SEGAL
The next chapter in this relationship would profit from looking at the recent past.
By PAULA MARTÍNEZ
Misconceptions about China hinder what could be a rich exchange with Latin America.
By TOMÁS FUENTES BENÍTEZ
Starting a business is already hard. Starting one in China is another story.
By PETER GORDON and JUAN JOSE MORALES
When Mexican coins circulated in China.
Special Section: Elections 2019
An in-depth look at the leading candidates, their policy proposals – and why they might win.
Argentina | Bolivia | Guatemala | Panama | Uruguay | Full List
By BRIAN WINTER
The 2010s will be remembered as the "hangover decade" – and extended letdown from the commodities boom.
Cultura
By SEBASTIÁN ZUBIETA
Our reviewer takes a fresh look at an old favorite, and recommends two current artists at the top of their game.
By BENJAMIN RUSSELL
An energetic film about sex, drugs and rock 'n' roll by Mexican director Hari Sama.
By BRENDAN O'BOYLE
Love, madness and revolution in the Andes.
By MANUELA ANDREONI
Corner poetry from Rio de Janeiro's Ciudade de Deus favela.
Departments
By ROBERTO SIMON and EMILIE SWEIGART
The fall of Chavismo, seen from U.S. courts.
By BRENDAN O'BOYLE
An interview with Laura Zommer, executive director and editor-in-chief of Chequeado.