Reading Time:
14
minutes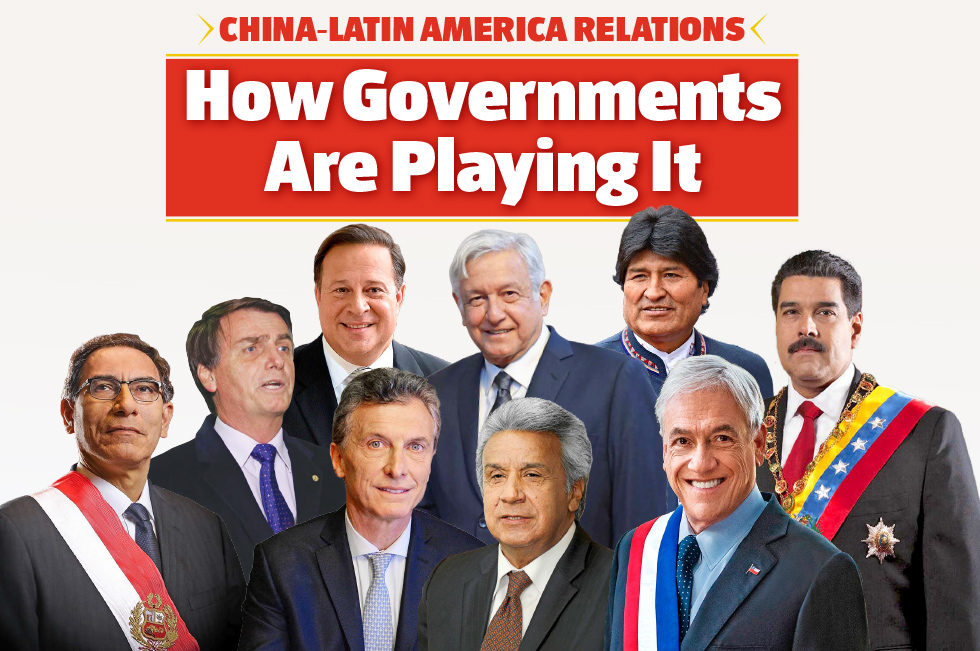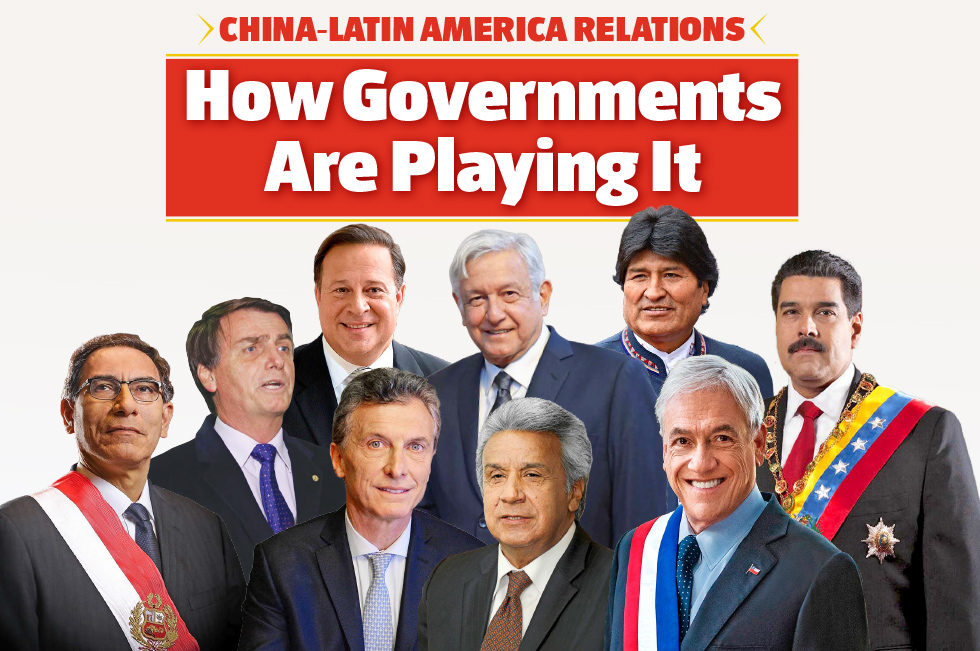 How to deal with China is a key policy question for all Latin American governments. Some presidents have sought to reset bilateral ties, while others are continuing established pro-China policies. AQ looks at how nine governments are managing the relationship
CLICK ON A PRESIDENT TO LEARN MORE
English | Español | Português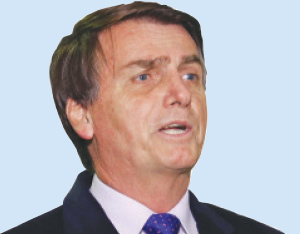 Jair Bolsonaro
IN OFFICE SINCE 2019
WHAT BOLSONARO HAS SAID
"This might put Brazil in the hands of China."
October 2018, on the potential sale of state power company Eletrobras
"Our great economic partner is China. In second place, the United States."
March 2019
WHAT BOLSONARO'S GOVERNMENT HAS DONE
Bolsonaro made headlines with strong anti-China statements during his campaign. His controversial trip to Taiwan while still a candidate in February 2018 led to a rebuke from the Chinese embassy in Brazil, which described the visit as an "affront to Chinese sovereignty." However, since entering office, Bolsonaro has tempered his rhetoric, likely in recognition of productive economic ties between the nations. China has been Brazil's main trading partner since 2009, and bilateral trade reached $75 billion in 2017. Brazil is a prospective member of the AIIB, and in recent years, several Chinese banks have set up shop. Chinese firms have been especially involved in Brazilian energy, mining, infrastructure and agribusiness. Bolsonaro requires support in Congress from the rural caucus, whose constituents are cattle breeders and soy farmers that depend on trade with China. It seems that Bolsonaro's divisive comments have not caused lasting damage—plans to bring his administration in closer dialogue with China are already in the works. High-level trade talks not held since 2015 are set to resume later this year, and Brazil is hosting the BRICS (Brazil, Russia, India, China, South Africa) Summit in November, which Xi will attend. Bolsonaro also announced that he will visit China during the second half of 2019.
RECENT CHINESE INVESTMENTS OR FINANCING
| | | |
| --- | --- | --- |
| | $5 billion | Energy debt financing agreement between China Development Bank and Petrobras |
| | $5 billion | Oil production loan from China Development Bank |
| | $4.1 billion | Controlling stake in Companhia Paulista de Força e Luz |
| | $3.7 billion | 30-year deal to operate two hydroelectric power dams |
| | $2.2 billion | Transmission line from Belo Monte hydroelectric dam to Rio de Janeiro |

Back to top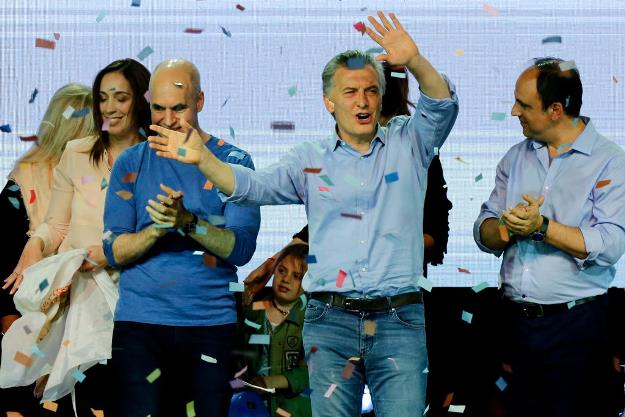 Mauricio Macri
IN OFFICE SINCE 2015
WHAT MACRI HAS SAID
"China is willing to revise agreements where we see errors and expand relations rather than reduce them."
April 2016
"We are complementary countries. We are growing ever closer."
December 2018
WHAT Macri'S GOVERNMENT HAS DONE
Macri kicked off the relationship on a rocky note, attempting to cancel the construction of two Chinese-backed hydroelectric dams shortly after taking office. He argued they were harmful to the environment and were agreed to in a non-transparent process under his predecessor, Cristina Fernández de Kirchner. However, Macri reversed that decision in 2017 — and has sounded a more constructive tone overall on China in recent years. Following the 2018 G20 Summit in Buenos Aires, Macri signed over 30 agricultural and investment deals with Xi Jinping worth more than $5 billion, including a $1 billion modernization of 634 miles of railway connecting Rosario and Mendoza. Argentina is a prospective member of the China-led Asian Infrastructure Investment Bank (AIIB). Meanwhile, overall trade has almost quadrupled since 2001, mainly due to trade in soybeans—China has been the largest importer of Argentine soy since 2000.
RECENT CHINESE INVESTMENTS OR FINANCING
| | | |
| --- | --- | --- |
| | $18.7 billion | In 2018, the Argentine Central Bank expanded a currency swap program with China by $8.6 billion, bringing the total to $18.7 billion |
| | $5.7 billion | Two hydroelectric dams in Santa Cruz, Patagonia |
| | $2.1 billion | Expansion of the Belgrano rail network |
| | $331 million | China's Exim Bank and Argentina cofinanced the Cauchari solar parks |
| | $50 million | Satellite and space mission control station in Neuquén |

Back to top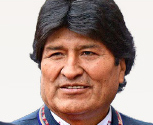 Evo Morales
IN OFFICE SINCE 2006
WHAT MORALES HAS SAID
"China and Bolivia are geopolitical allies for the liberation and development of Latin America."
October 2016
"China's support and assistance for the economic and social development of Bolivia never entail political conditions."
June 2018
WHAT MORALES' GOVERNMENT HAS DONE
Amid a difficult relationship with Washington, Morales has enthusiastically turned to China for investments in mining, energy and transport infrastructure projects — and reaped considerable rewards. Bolivia is a member of the Belt and Road Initiative (BRI) as well as a prospective member of the AIIB. Morales made a state visit to China in June 2018 and signed a strategic partnership agreement with Xi, opening China to Bolivian agricultural products and funding highways and a national security system. China is already Bolivia's main source of imports, at 21 percent. The Asian giant is also Bolivia's largest bilateral creditor. As of June 2018, Bolivia's debt to China stood at $786 million, compared to $38.6 million in 2006. Bolivia has extended collaboration to aerospace—in 2013, China Development Bank financed 85 percent of the Túpac Katari 1 communications satellite, to the tune of $251 million. However, the December 2018 triumph of a German company over its Chinese rivals for a lithium mining agreement thwarted China's plans to dominate the South American lithium market.
RECENT CHINESE INVESTMENTS OR FINANCING
$10 billion
In 2015, China granted a $7 billion credit line to Bolivia, and increased it to
$10 billion in 2016
$2.3 billion
49 percent stake in a lithium mining company
$1 billion
Rosita hydroelectric power plant
$600 million
Highway connecting Rurrenabaque and Riberalta
$422 million
El Mutún steelworks and iron ore mining project

Back to top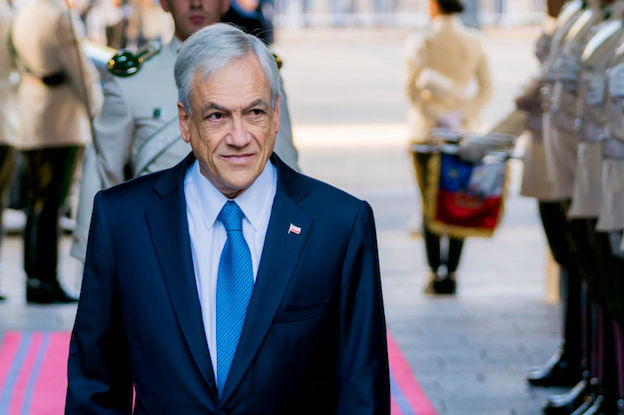 Sebastián Piñera
IN OFFICE SINCE 2018
WHAT PIÑERA HAS SAID
"China is Chile's leading trade partner and we are going to strengthen that relationship."
December 2017
"The relationship with China is expanding beyond commercial matters, to investment and cooperation in science and technology, environmental issues and other fronts."
March 2018
WHAT PIÑERA'S GOVERNMENT HAS DONE
Piñera is continuing his predecessor Michelle Bachelet's policy of openness toward China, Chile's largest trading partner. In 2005 Chile became the first Latin American country to sign a free trade agreement (FTA) with China, joined the BRI in 2018, and is also a prospective member of the AIIB. China Construction Bank and Bank of China are authorized to operate in Chile. In 2018, Chile was the largest exporter of fresh fruit to China, with exports worth $1.68 billion, and Chile is hosting the Asia-Pacific Economic Cooperation (APEC) Summit in November 2019. Piñera was the only Latin American head of state to attend the Second Belt and Road Forum held in Beijing in April, where he signed several bilateral cooperation agreements with Xi. The Chinese lithium company Tianqi's $4 billion purchase of a stake in Chilean mining giant Sociedad Química y Minera (SQM) marked 2018's largest transaction on the Santiago Stock Exchange. The deal went through despite opposition from SQM's majority shareholder, Julio Ponce, and from Chile's economic development agency CORFO, which argued that the sale would cede too much control over the nation's lithium supplies (Chile has almost 50 percent of the world's lithium). As part of the deal, Tianqi is banned from placing its employees on the SQM board and must report any lithium transactions with SQM to Chilean regulators.
This article was updated in April and May 2019 to reflect new data and information
RECENT CHINESE INVESTMENTS OR FINANCING
| | | |
| --- | --- | --- |
| | $4 billion | Tianqi Lithium Corporation bought a 24 percent share in SQM from Canadian firm Nutrien |
| | $1.3 billion | 27 percent stake in power transmission company Transelec |
| | $173 million | Las Palmas hydroelectric dam |

Back to top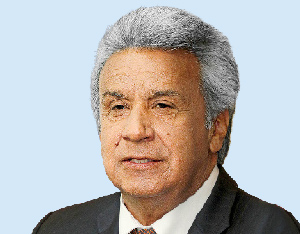 Lenín Moreno
IN OFFICE SINCE 2017
WHAT MORENO HAS SAID
"Ties with our fellow republic of China have always been of friendship, fraternity and reciprocal cordiality."
May 2018
"I will explain that we need an impetus for our development and that unfortunately the commitments that we made before are not the best options for the country's progress."
December 2018, before his state visit to China
WHAT Moreno's GOVERNMENT HAS DONE
Moreno has tried to undo several aspects of his predecessor Rafael Correa's cozy China policy, while not distancing himself from Beijing entirely. Correa signed several oil-for-loan deals with China and promised to ship 90 percent of Ecuador's exportable crude oil to China through 2024, but Moreno has questioned these deals. In February 2018, Ecuadorean prosecutors interrogated Correa about whether the oil exports harmed national interests. Moreno ordered further probes in January 2019 into $4.9 billion worth of petroleum-related infrastructure projects during Correa's administration. Ecuador owes China $6.5 billion, and in 2017, Moreno attempted to renegotiate with China the terms of oil sales and loans. Nevertheless, Moreno has sought additional Chinese infrastructure investments and financing. During a visit to China in December 2018, he obtained a $900 million loan and joined the BRI. Ecuador is also a prospective member of the AIIB.
RECENT CHINESE INVESTMENTS OR FINANCING
| | | |
| --- | --- | --- |
| | $3.5 billion | Two credit lines worth $3.5 billion from Chinese banks |
| | $2 billion | Mirador copper mine |
| | $1.7 billion | Coca Codo Sinclair hydroelectric dam |
| | $571 million | Sopladora hydropower plant |
| | $312 million | Minas-San Francisco hydroelectric power station |

Back to top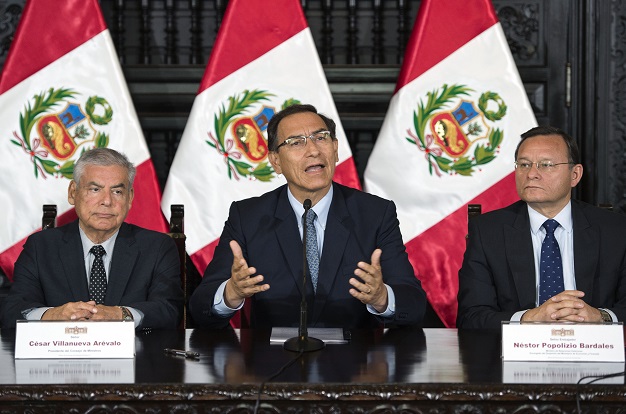 Martín Vizcarra
IN OFFICE SINCE 2018
WHAT VIZCARRA HAS SAID
"China has a series of investment interests in Peru, and we have welcomed these investments."
October 2018
"Friendship and trade ties between Peru and China have strengthened in recent years."
January 2019
WHAT VIZCARRA'S GOVERNMENT HAS DONE
Peru has become a major recipient of Chinese investment and trade, and Vizcarra has built upon that relationship since taking office after his predecessor's resignation. The two countries have had an FTA since 2009, and Peru is a member of APEC and a prospective member of the AIIB. Chinese mining firms have been active in Peru over the past decade, especially in copper and iron ore extraction. Recently, the bilateral economic relationship has diversified away from mining, with expanded trade in agricultural products and increased infrastructure investments. China's ambassador to Peru announced in June 2018 that China is planning to invest $10 billion over the next three years across several sectors in Peru, including energy and mines, telecommunications, construction and financing. In August 2018, Vizcarra's Foreign Minister Néstor Popolizio and Chinese Foreign Minister Wang Yi committed to upgrade the Peru-China FTA to facilitate the entry of Peruvian agricultural products into China. Peru joined the BRI during the Second Belt and Road Forum in April. This article was updated in April and May 2019 to reflect new data and information
RECENT CHINESE INVESTMENTS OR FINANCING
| | | |
| --- | --- | --- |
| | $7 billion | Las Bambas copper mine |
| | $2.5 billion | Expansion of Pampa de Pongo iron ore mine |
| | $1.5 billion | Expansion of Marcona iron ore mine |
| | $1.4 billion | Peru's third-largest hydroelectric dam, Chaglla |
| | $1.3 billion | Expansion of Toromocho copper mine |

Back to top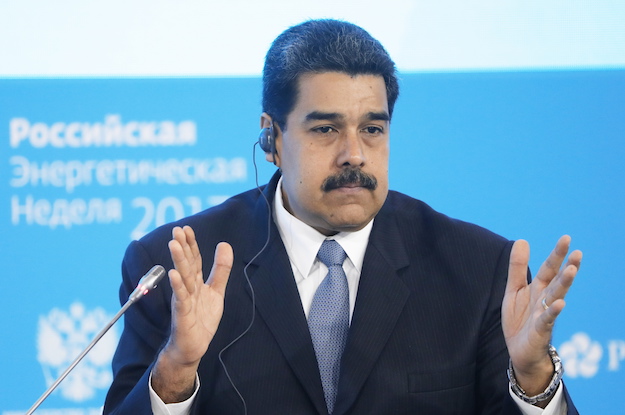 Nicolás Maduro
IN OFFICE SINCE 2013
WHAT MADURO HAS SAID
"Thanks to the solid Venezuela-China relationship, today Venezuela is on its feet. It is fighting and it's in better circumstances than ever before."
January 2015
"We have come here with the same spirit of deep fellowship with China, with the relevant role that the Peoples' Republic of China is playing in the construction of a new world."
September 2018
WHAT MADURO'S GOVERNMENT HAS DONE
Chinese loan-for-oil deals have become a lifeline for Maduro's government during its economic collapse, even as the pace of Chinese financing has dropped off dramatically compared to the Hugo Chávez years. Venezuela received a record $21.4 billion from China in 2010 compared to 2018's $5 billion loan to boost oil production. Venezuela shipped 24 percent less oil to China in 2018 than in 2017. In addition to oil, Chinese firms have been heavily involved in Venezuelan mining and technology. Huawei has been an active investor in Venezuela, as well as telecommunications firm ZTE, which introduced the "fatherland card," a smart identity card rolled out in 2018 that is linked to social services and tracks the voting activity and location of 18 million Venezuelans. China still recognizes Maduro as the president of Venezuela and maintains a policy of non-intervention, but pragmatic concerns drive China's decision-making on Venezuela, not political and ideological ties forged during the Chávez era. Venezuela owes China $19 billion, and China seeks to protect its investments.
RECENT CHINESE INVESTMENTS OR FINANCING
| | | |
| --- | --- | --- |
| | $5 billion | Renewal of China-Venezuela Joint Fund Tranche B loan for energy investment |
| | $4 billion | Renewal of China-Venezuela Joint Fund Tranche A loan for infrastructure investment |
| | $2.2 billion | Oil sector development loan from China Development Bank |
| | $400 million | Joint venture between Venezuelan state mining company, Chinese firms and Colombian coal company to restore port and mining operations |
| | $180 million | Development of Venezuelan nickel industry |

Back to top

MEXICO
Andrés Manuel López Obrador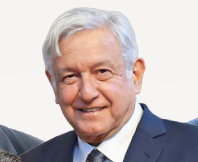 Andrés Manuel López Obrador
IN OFFICE SINCE 2018
WHAT FOREIGN MINISTER MARCELO EBRARD HAS SAID
"Andrés Manuel López Obrador seeks a new chapter in Mexico's bilateral relationship with China."
November 2018
"China is one of the key countries in president-elect Andrés Manuel López Obrador's economic diversification strategy."
November 2018
WHAT AMLO'S GOVERNMENT HAS DONE
Foreign Minister Ebrard has said that AMLO wants a deeper relationship with China, but the president has not yet articulated a clear China policy. Although Mexico is an APEC member, China has been much less involved in trade with Mexico than with other Latin American countries in recent years. Unlike many of its southern neighbors, Mexico's main trading partner is the U.S., not China. Direct Chinese investment in Mexico has had a problematic past. In 2015, two high-profile Chinese infrastructure projects fell through, and construction of a Chinese-backed hydroelectric power plant is on the brink of cancellation. However, Chinese companies have expressed interest in constructing the Tren Maya, AMLO's planned $8 billion rail network connecting the main tourist attractions on the Yucatán Peninsula.
RECENT CHINESE INVESTMENTS OR FINANCING
| | | |
| --- | --- | --- |
| | $475 million | Chinese firm CNOOC won two sections of deepwater oil fields in the Gulf of Mexico |
| | $386 million | Chicoasén II hydroelectric power plant in Chiapas |
| | $230 million | Carlos Slim's Giant Motors and China's JAC Motors joint venture to manufacture cars for export and domestic consumption |
| | $180 millionn | China-Mexico Fund invested in Altán Redes broadband network |
| | $140 million | China-Mexico Fund invested in Mexican oil firm Citla Energy |

Back to top

panama
Juan Carlos Varela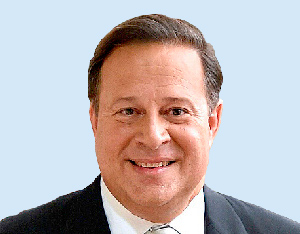 Juan Carlos Varela
IN OFFICE SINCE 2014
WHAT VARELA HAS SAID
"I'm convinced that this is the correct path for our country."
June 2017, on his decision to recognize China
"Our ties were strengthened with more investment and an increased presence of Chinese companies in our country. "
November 2018
WHAT VARELA'S GOVERNMENT HAS DONE
Varela announced in June 2017 that Panama switched its recognition from Taiwan to the People's Republic of China. Since then, he has rapidly deepened ties with China—Panama was the first Latin American country to join the BRI. China has also recognized Panama's strategic importance as a logistics hub. It is the second-largest user of the Panama Canal and the main exporter to the Colón Free Trade Zone. Following his visit to China in November 2017, Varela secured most favored nation status for Panama, which reduces tariffs for Panamanian ships at Chinese ports. During Xi's visit to Panama in December 2018, he and Varela signed 19 accords that included aid for projects in Panama (the amount was undisclosed). Panama and China aim to strengthen their trade relationship and are negotiating an FTA, which Varela seeks to finalize before his term ends on July 1.
RECENT CHINESE INVESTMENTS OR FINANCING
| | | |
| --- | --- | --- |
| | $1.4 billion | A fourth bridge over Panama Canal |
| | $1 billion | Panama Colón Container Port near Caribbean entrance to Panama Canal |
| | $900 million | Martano electricity generation facility |
| | $193 million | Convention center near the Pacific entrance to Panama Canal |
| | $165 million | Cruise port on the Amador Peninsula near the Pacific entrance to Panama Canal |