Reading Time:
6
minutes
This was supposed to be the year of Rio de Janeiro. The 2016 Olympics were meant to showcase a safer, modernizing city that could not only provide for its more than 6 million citizens, but also play host to a marvelous global party. Unfortunately, it hasn't turned out that way – Rio has been badly hit by Brazil's worst recession in 80 years, and violence is once again on the rise.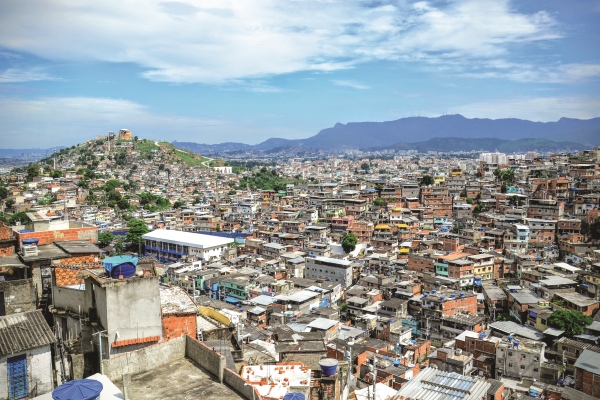 As a result, residents of Complexo do Alemão – one of Rios largest and poorest collections of favelas, or shantytowns – face even greater challenges than usual. Unemployment is rising, people are spending less on even the most basic needs, and Brazil's boom years of the late 2000s are becoming a distant memory. Police are trying to wrest control of the area from drug gangs, and shootings are rife. But the Complexo is also a hotbed of entrepreneurial energy that Brazil needs to get back on the right path, as the following photo essay by local journalists shows. This is a portrait of a community under pressure from all sides.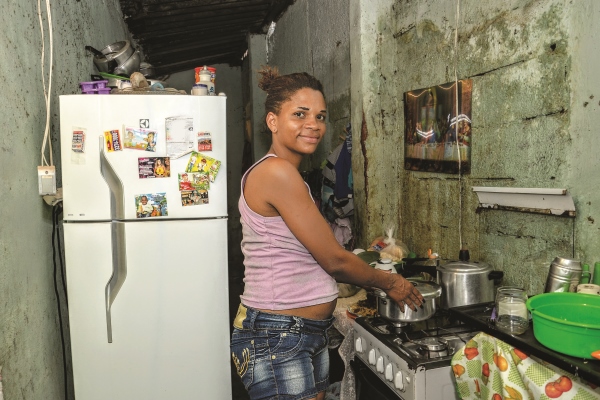 "I'm happy that [the Olympics] gave me work. But the Olympics don't happen here. So many things in Rio are more important."
Catarina Souza, 30, stands in the narrow kitchen alley of her one-bedroom home. For the mother of six, life is looking up with her new job as a cleaner in Rio's ritzy southern neighborhood of Barra da Tijuca, which has seen a blitz in housing development to handle the influx of tourists for the mid-2016 Olympics. Souza earns 1,100 reais ($293) a month, but she said she still depends on aid from the government's Bolsa Familia welfare program – which some in Congress have threatened to cut amid the recession.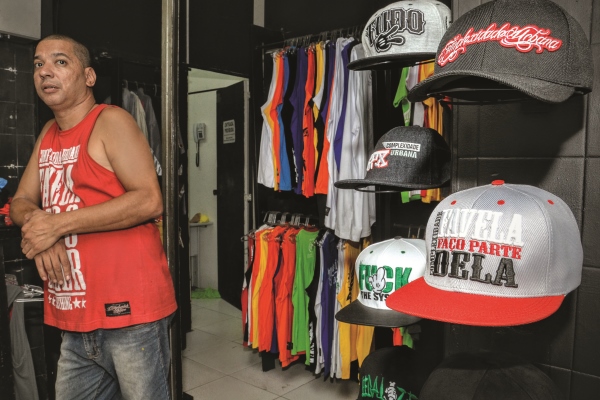 "The word 'favela' now is not a slur – it's a symbol of pride."
Denis Torres, 40, remembers the boom years in Complexo do Alemão, when strong economic growth from 2003 to 2013 lifted more than 26 million Brazilians out of poverty. Riding that wave, in 2010 he started Brazil's first favela-themed clothing line and quickly licensed seven franchises around Rio. But whereas he once counted daily sales of around $750 at his flagship Complexidade Urbana shop, sales have now plummeted to around $15 a day, forcing him to lay off six of his 10 workers. Four of his stores have closed.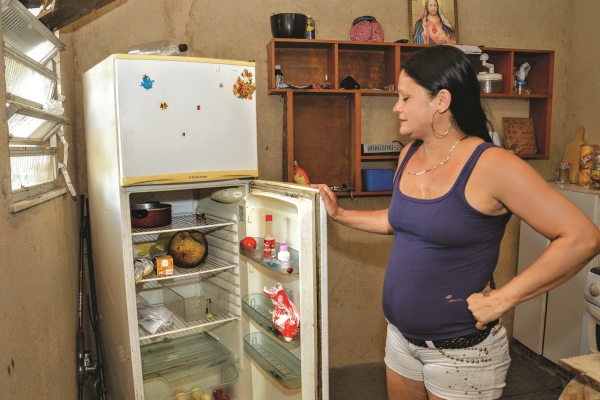 "Now I just buy the basics."
The empty shelves of Anita Maria da Silva's refrigerator reflect her pinched pocketbook. The 34-year-old was forced to shutter her food stall business in early 2015 amid the worsening recession and rising violence, and now her family relies on a Catholic charity for gifts of rice, beans, coffee and pasta. Their troubles have been compounded by a mudslide that destroyed their home in 2012 – a relatively common occurrence in Rio's hilly favelas. Once Silva's husband finishes building their new one-bedroom brick dwelling, they plan to sell the property and return to her hometown in the northeast state of Paraíba. "Everyone living here knows someone who has died," she said. "I fear for my kids."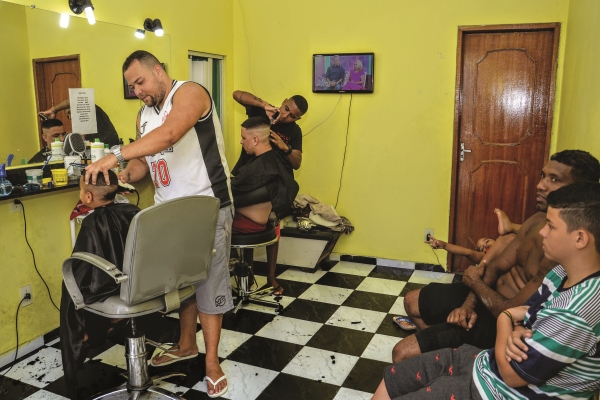 Barbershop owner Renato Aguiar, wearing the white sports jersey, said he raised the price of a haircut by 50 percent to 15 reais ($4). That's because of Brazil's double-digit inflation, which has hiked his costs for basic items such as electricity and hair gels. More pain is expected with the economy forecast to contract another 2 percent in 2016, after an estimated 3 percent recession in 2015, spelling the longest recession since the 1930s. Complexo residents are cutting back on non-essential purchases – and waiting longer between trims, said Aguiar.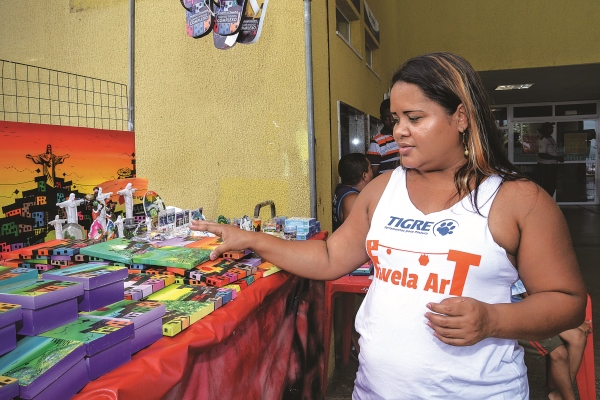 "When there was only drug violence, the media said nothing. But when the violence was between the police and gangs the media got interested. Now there's fewer tourists."
Mariluce Mariá capitalized on the tourism that came with the opening of a cable car (teleférico) through Complexo do Alemão in mid-2011 by creating a line of teleférico-themed flip-flops and paintings. But with the rise of gang-police shootings in 2015, the iconic cable car became associated with violence in the favela and visitors dropped off. "Every time the media has a report about a shooting here they show the teleférico, so people think it's happening by the teleférico," said Mariá, whose sales have dropped to less than 100 reais ($26) a weekend from a high of 1,200 reais ($310).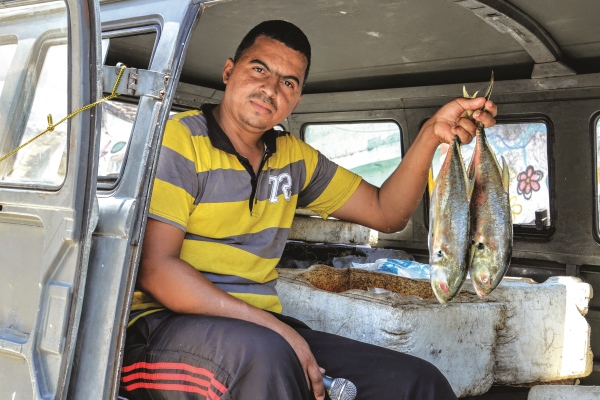 For the past 16 years, fishmonger Gil Pontes has driven the hilly streets of Complexo do Alemão selling fresh-caught sardines, shrimp, tilapia and corvina out of his Volkswagen van.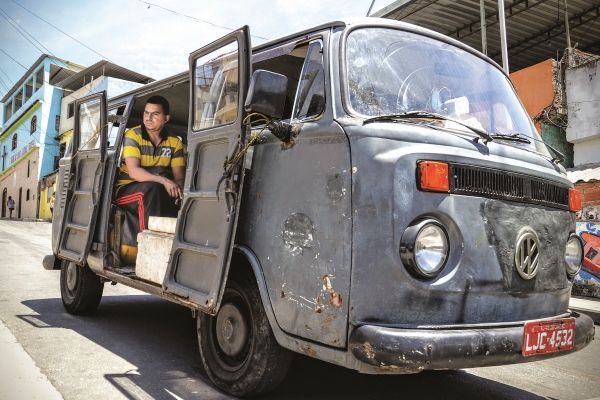 "[The increase in sales] has been good for me."
Pontes, 31, proudly said he's selling more fish than when he started in 1999. He now earns about 1,000 reais ($270) a day – a good living here, and a credit to the growing population and general rise in incomes in Complexo do Alemão. But he said the recent flare-up in police-gang violence now prevents him from entering certain areas.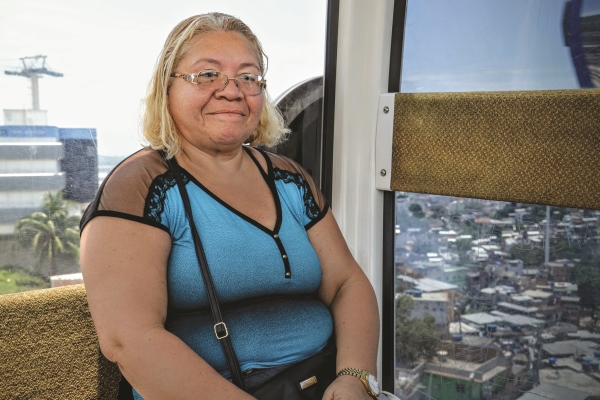 "Everything is more expensive in the market."
Josinete Hermínio, 52, rides the cable car during her daily commute to work as a maid in Rio de Janeiro's affluent Zona Sul (south zone), which includes the beachside neighborhoods of Copacabana and Ipanema. She said she earns about 800 reais a month ($213) but added that wage increases haven't kept pace with rising costs of basic items like chicken, which has doubled in price to 8 reais per kilogram over the past year – highlighting how the poor are especially vulnerable to price shocks.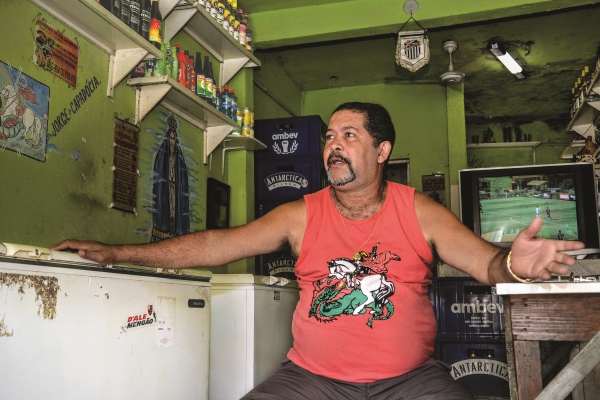 In the media, this place is the terror of Rio de Janeiro. Before, we had drug dealers in the streets, but this wasn't a problem. Now, we have police and drug dealers shooting all the time."
Like the dragon-slaying saint on his t-shirt, favela resident Genilson dos Santos is in the middle of a battle. "We're not selling anything," said the long-time owner of Amigos Bar. He said he lost many customers when he was forced to relocate during the building of a nearby cable car stations. Another sap on demand has been the police ban on raucous funk music parties. Other former customers have simply disappeared altogether, squeezed out by the combination of recession and heightened violence in Complexo do Alemão.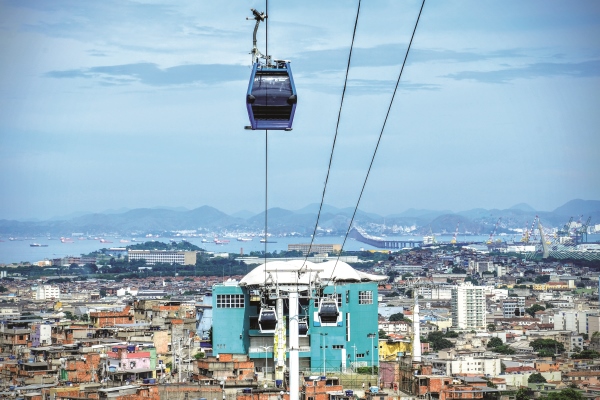 All photos by Carlos Coutinho.
—
Coutinho was born and raised in Complexo do Alemão, and is a photographic reporter with the media group Coletivo Papo Reto. His work has appeared in The New York Times, Sydney Morning Herald and Fusion.
Medeiros is a reporter for Coletivo Papo Reto, and lives in Complexo do Alemão. His work has appeared in The New York Times, BBC and VICE.
Kurczy is based in Rio de Janeiro, has been a Brazil correspondent since 2013 and is a special correspondent to Americas Quarterly.