Reading Time:
3
minutes
The 1992 Olympic Games in Barcelona marked an inflection point in the history of international basketball, as it was the first time that the U.S. sent NBA players to represent the national team, the original "Dream Team." That year the share of international players in the NBA was just 5%.
The impact of the Dream Team was so significant that it triggered a rapid integration process of the NBA with the rest of the world. The league developed a broader international fanbase and the share of foreign players rose five-fold to 25%. As the league continues to pursue a global audience, the case for further international team expansion has become almost unavoidable, and Mexico is center stage.
The NBA is by far the best-run professional sports league in the U.S. It has taken a progressive approach to the internet and social media, developing easy-to-consume content and giving plenty of leeway for players to develop their own brands. The league also understood early on the importance of cultivating a global fanbase. It began many years ago organizing summer clinics and other promotional events in Asia, Africa and Europe, taking advantage of international stars. In 1995, the NBA expanded internationally for the first time by adding new franchises in Vancouver and Toronto. It recently announced a new professional league in Africa in partnership with FIBA. The league has also started hosting regular season games overseas, first in Tokyo in 1999 and then also in London, Mexico and more recently in China.
The rationale of the strategy is very simple. From a talent perspective, there is no reason to neglect players available outside the U.S. From a business perspective the arguments are even stronger. The economic power of a truly global fanbase and international TV contracts are evident in the massive success of soccer's World Cup tournament.
But the potential for the NBA to become an even more international product is constrained by a simple and powerful factor: geography. It is simply not possible to have a widespread local presence for an ongoing league tournament because the teams cannot be based in cities that are too far apart from one another and in significantly different time zones. That's why Mexico holds the key to the NBA's future expansion.
How Large and Far Apart Are NBA Cities?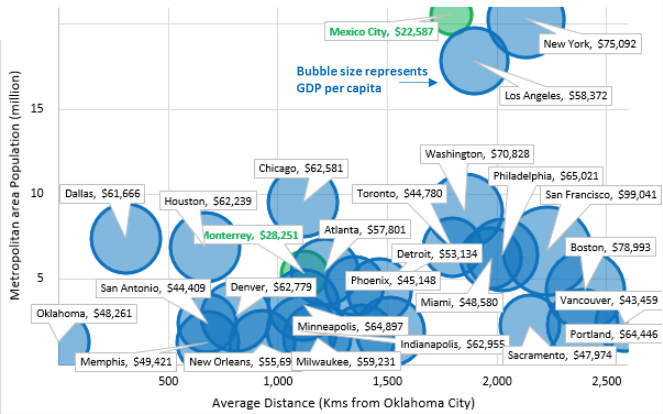 Source: OECD; Pop. refers to metropolitan area. GDP per capita expressed in PPP base year 2010.
There are at least two cities in Mexico that have the population and economic gravitas to sustain an NBA franchise: Mexico City and Monterrey. The two cities have populations of more than 5 million and are located at about the average distance of other NBA cities (see graph). It is true that income per capita is lower in Mexico, but at $28,000 per person, Monterrey's figure is around two-thirds of cities like San Antonio, Phoenix or Memphis. A team in Mexico would also have the potential to develop widespread interest around the country and over time become something of a national NBA team. Additionally, the NBA's revenue-sharing agreement would operate as a safety net for the first few years of the expansion team's operation, until a loyal fanbase is developed and the business model becomes sustainable. The NBA already appears to be willing to test the waters with the recent announcement of a new G-League development franchise in Mexico City.
An NBA team in Mexico could also operate as a regional hub for Latin American talent by exploiting social and cultural similarities. The team could become a magnet for regional talent, adding to a list of successful Latin American NBA players that includes Manu Ginobili (Argentina), Al Horford (Dominican Republic) and Nene Hilario (Brazil). It would also help the NBA avoid missing out on great players who never played in the U.S., such as Oscar Schmidt, the Brazilian Hall of Fame forward who is arguably the most prolific scorer to ever play the game.
Mexican basketball has struggled for many years to develop a solid talent pool that can compete internationally. The men's team has missed every Olympic Games since Montreal 1976, and in a country of more than 120 million people, only one player (Eduardo Najera) has found consistent playing time in the NBA. A Mexican franchise would help revitalize national basketball in Mexico and bring publicity to the country as a whole.
There are significant challenges that would need to be addressed to have an NBA team based in Mexico, but with proper planning it could be a reality sooner than people think.
—
Rodríguez is Portfolio Manager for Emerging Markets at BlackRock and a former Mexican Undersecretary of Finance
Tags:
Culture
,
Mexico
,
NBA
,
Sports