Reading Time:
4
minutes
In late 2014 and early 2015, Mexican President Enrique Peña Nieto's Partido Revolucionario Institucional (Institutional Revolutionary Party—PRI) faced violent protests and demands for his resignation after the disappearance of 43 student teachers in the town of Iguala in Mexico's southwestern Guerrero state.
The turbulence led some academics, such as John Ackerman, to hastily predict the beginning of "a second Mexican revolution."
Six months later, however, as Mexicans prepare to go to the voting booths for midterm elections on June 7, the PRI stands to hold its power position in the legislature and maybe even make gains. In Guerrero, the epicenter of the protests against Peña Nieto's government, the PRI looks like it could possibly win back the governorship from the leftist PRD party.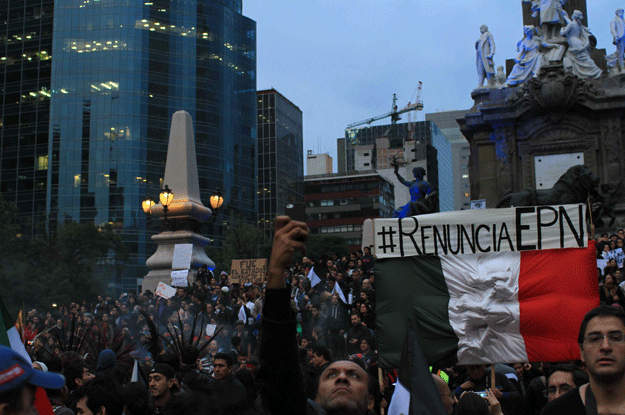 Protesters in Mexico City.
Carlos Petersen, a Mexico analyst at the political risk consultancy Eurasia Group, told AQ that "regardless of the generalized discontent and the political crisis the government is facing since the last quarter of 2014, the PRI still has an advantage and will remain the strongest political force in the lower house."
In any case, the governor's race will be a showdown between the PRI and the PRD, the two parties with the strongest political machinery in Guerrero. Despite all of the controversy, independent candidates have not garnered much attention.
Guerrero's elections, however, are not likely to pass without some challenges.
Security problems in Guerrero will provide a serious test for Mexico's elections. The tense dynamic has been acknowledged by the candidates themselves. While announcing his candidacy for governor of Guerrero, PRI candidate Héctor Astudillo Flores acknowledged that in his state, "politicians have failed society" and turned Guerrero into a "land devoid of justice."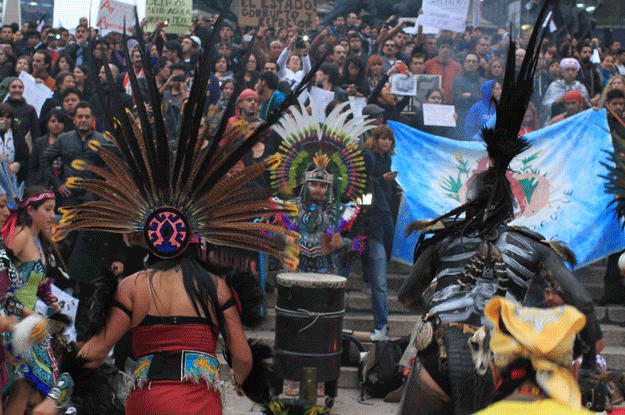 Prosters rally in Mexico City on December 1, 2014.
In January 2015, protesters in the town of Tixtla, Guerrero, sacked the offices of the Instituto Estatal de Participación Ciudadana (State Citizen Participation Institute) and spray painted the message "there will be no elections" on the walls.
In mid-March, Aidé Nava González, a candidate running for office in the town of Ahuacuotzingo, was killed after being abducted while driving on a highway near Chilapa, the town where 300 armed gunmen recently kidnapped several dozen residents. Nava's killers left a note next to her body that said, "This will happen to all the f***ing politicians who don't get in line."
Later that month, a group of public school teachers held a protest outside the office of the Instituto Nacional Electoral (National Electoral Institute) in Chilpancingo and held up a sign that said "Guerrero needs justice, not elections" and demanded that the 43 missing students from Iguala be returned alive.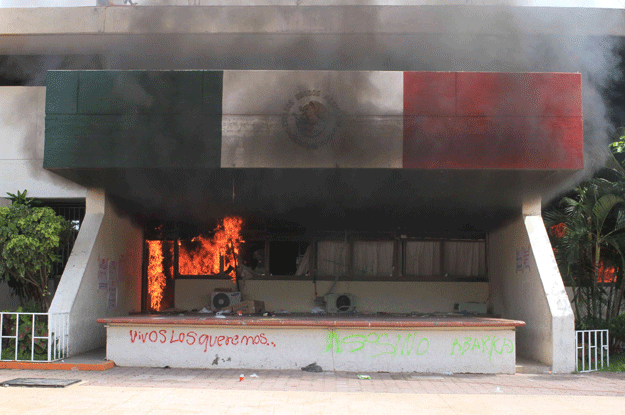 The mayor's office in Iguala, Guerrero burns after protesters set it ablaze in October 2014.
In April, Beatriz Mojica Morga, the candidate from the leftist PRD party running for Guerrero's governorship, said "we need security […] to allow the possibility that Guerrero's residents will go out to the voting booths.
On May 1, Ulises Fabián Quiroz, a candidate from the PRI who was running for mayor in Chilapa, was killed.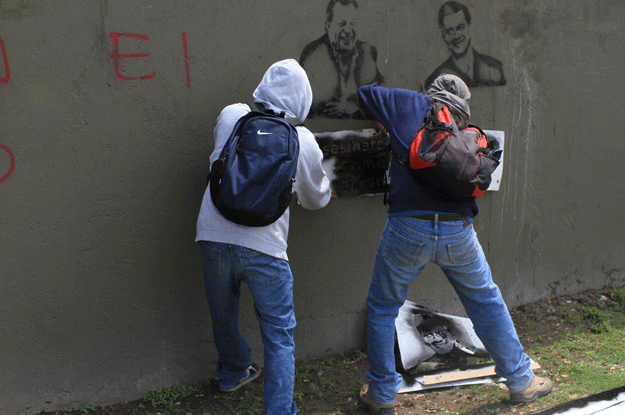 Young men wearing masks spraypaint a stencil outline of Peña Nieto and the message "Narco-Government" on the wall of the army barracks in Iguala, Guerrero.
Security problems are certainly not isolated to Guerrero, but Guerrero does present a unique profile of challenges. The state is home to a mix of drug trafficking groups, their offshoots and affiliated street gangs, as well as militant teachers groups and armed leftist guerrilla groups.
In a recent article, Mexican political scientist and Woodrow Wilson Global Fellow Luis Rubio said, "It would appear obvious that our essential problem is not corruption, violence or criminality, but the absence of a system of functional government: that is, the three levels of government and the three branches of government."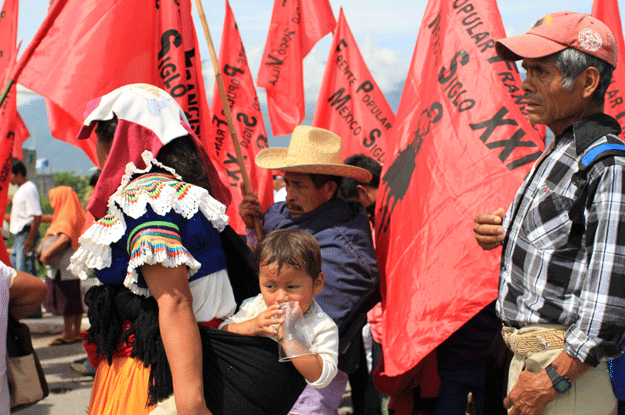 Protesters march in Iguala, Guerrero.
Perhaps in no state is this analysis more applicable than Guerrero. While Michoacán and Jalisco have developed highly profitable export sectors for products ranging from avocados to 3D-animation, IT services and automobile production, Guerrero's economy continues to rely on tourism revenue, the illicit proceeds from the drug trade, and transfers from the federal government.
Peña Nieto's government has promised to launch serious economic development projects for Guerrero, but it's still not clear whether these new programs will have a real effect in a state that has suffered decades of neglect.
Whoever wins the election will be faced with the difficult task of coordinating policy with Guerrero's local governments and Mexico's federal government. In any case, winning the approval of the public will prove far more difficult than coming out ahead on election day.
All photos courtesy of the author.
Tags:
drug violence in Mexico
,
Guerrero
,
Mexican Elections