Reading Time:
4
minutes
While the U.S. has remained transfixed by caravans with several thousand Central Americans winding their way northward to the United States, a much larger and faster migration flow is taking place only a few thousand miles south. More than three million Venezuelans have left their country in the past three years, fleeing political conflict and a dramatic economic collapse that has left stores without basic goods and hospitals without medicine.
There was a brief pause in the number of people leaving when the National Assembly declared Juan Guaidó the constitutional interim president of Venezuela in January, as many Venezuelans hoped that things were about to change. But now the numbers have picked up again. It's become clear that any scenario for change may still take a long time to materialize.
Upwards of 80 percent of these migrants have settled in Latin America, a region that has never seen a migration of this size and scale before. In fact, this is quickly becoming one of the largest and fastest movements of people anywhere in the world.
A lesson for the U.S. and others?
Contrary to the prevailing winds in the United States and much of Europe, which have moved towards placing greater restrictions on immigrants and refugees, Latin American governments have largely tried to keep the door open to the Venezuelans who are fleeing their country. And several, as we document in new Migration Policy Institute research, have developed innovative ways to help ensure that these new arrivals have some form of legal status that allows them to work and access public services.
Colombia and Peru, which between them have received over 1.8 million Venezuelan immigrants and refugees, have implemented massive regularization campaigns to give these new arrivals temporary legal status. Around 1 million Venezuelans have taken part in these efforts, gaining work permits and the right to use public services. In Peru, temporary residents can adjust status to permanent residency after a year.
Argentina has used a reciprocal agreement through the Mercosur trade pact to extend legal residence to most of the 130,000 Venezuelans who have arrived there, despite Venezuela's suspension from Mercosur years ago. Meanwhile, Ecuador, with over 250,000 Venezuelans, has allowed immigrants to apply for work visas if they can obtain formal employment. Mexico, with 40,000 new arrivals, has gone out of its way to grant asylum to Venezuelans who apply for it, as well as work visas to those who can find jobs.
Population of Venezuelans in Top Receiving Countries, Late 2018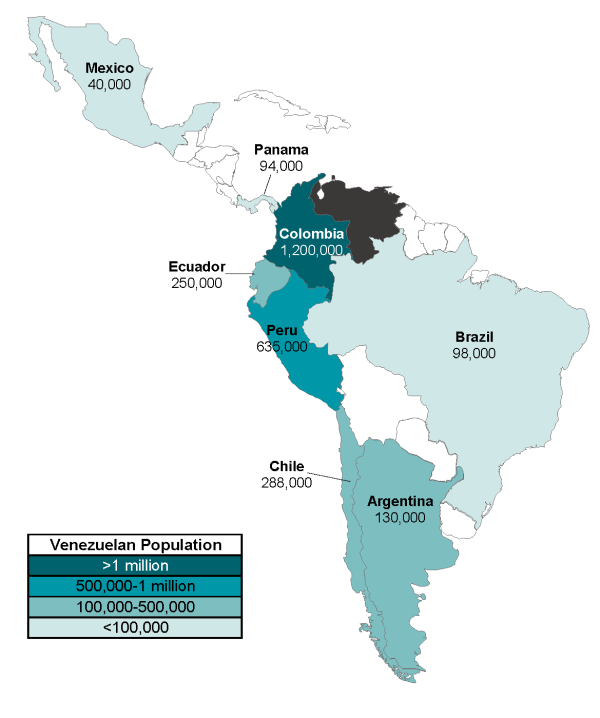 Source: Migration Policy Institute compilation by Andrew Selee, Jessica Bolter, Betilde Muñoz-Pogossian, and Miryam Hazán, January 2019, based on figures from the IOM and UNHCR.
These measures are partly a show of solidarity with Latin Americans who are fleeing an almost unimaginable crisis in what was once one of the region's most prosperous countries. In many receiving countries it is also an extension of foreign policy too, as they try to pressure Venezuela's authoritarian government to change course.
Yet these governments have also made a pragmatic calculation that they will be better off knowing who is entering their country and providing them with legal status than having a large unauthorized population living in the shadows. In particular, policymakers have told us time and time again that they wanted to avoid having a large pool of irregular workers who would undercut the wages of native-born workers.
A policy cooling ahead?
Today there are some important signs that Latin America's open-door policies towards Venezuelans may not be sustainable if current flows continue, at least not without significant support from the international community. Schools, hospitals and public services, already overburdened in most of these countries, are under significant strain as more people arrive. If current trends continue, another 2 million Venezuelans could join the exodus by the end of this year.
A number of countries, including Chile and Panama, have started to impose restrictions on new Venezuelan entrants and others could follow in the coming months. Ecuador, which had long pushed for more open borders, is now requiring some Venezuelan migrants to present their criminal records and identification documents at the border, a nearly insurmountable requirement for those fleeing quickly.
Latin America is hardly immune to the stresses and strains that large-scale immigration, especially in such a short time period, can cause. As these countries absorb one of the world's largest migration flows, the relative lack of drama so far remains surprising at a time when the rest of the world has been pulling in a different direction. So too is their almost unanimous decision to try to ensure that these arrivals have legal documents so that they can work, attend school and seek medical attention at hospitals.
Most Latin American countries appear to be making a bet that finding legal pathways for immigrants and refugees to come in the front door, rather than the back way, is a better approach to ensure optimal outcomes not just for the newcomers but for the communities where they settle.
The question is for how long they can extend that bet.
—
Andrew Selee is president of the Migration Policy Institute, an independent, nonpartisan think tank that analyzes immigration policy and trends in the United States and internationally. He tweets at @SeleeAndrew.
Tags:
Latin American migration
,
Venezuela
,
Venezuelan migration